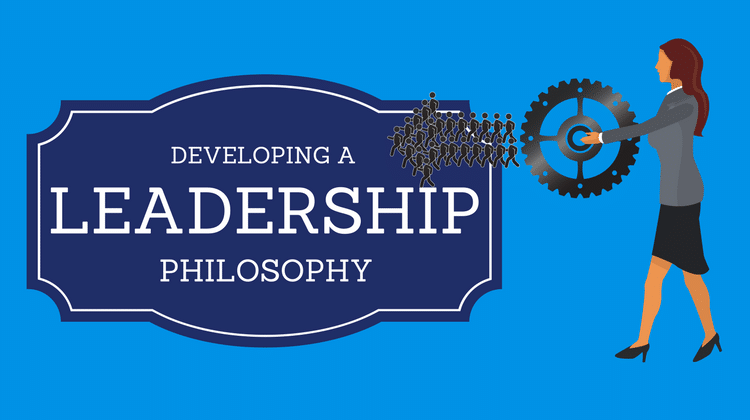 Sponsored by Aurora University:
At the beginning of each advanced leadership workshop session, business thought leader John Spence asks attendees how many currently have a written list of their key leadership values. Much to his surprise, only one or two out of 100 to 150 executives raise their hands.
As a result, Spence wonders how executives successfully lead their organizations. "I just have a hard time believing that if you've never taken the time to truly think through what kind of leader you want to be, what your leadership values are, what sort of leadership legacy you want to leave … and then write those things down so that you have a clear and focused guide for your self-leadership … that you would be a truly effective leader of others," he wrote.
Defining your leadership philosophy and then completing your personal leadership philosophy can help guide and direct how you'll lead others.
What Is a Leadership Philosophy?
A leadership philosophy provides insight into the ideas, values, attributes and expectations that comprise how you approach leadership. Your leadership philosophy reflects what is important to you as a leader, so that you'll be grounded in it and so that others can understand what you stand for and what they can expect from you as a leader.
Leadership coach Deb Calvert identifies three defining aspects of a leadership philosophy.
It's personal. There is no right or wrong.
It's something that you choose. Not having a leadership philosophy leads to an "accidental" philosophy that is vague and unclear to others — as well as to you, even. By having a leadership philosophy, you're making a deliberate and intentional choice based on reflection and determinations.
It's meant as a foundation. Your leadership philosophy provides clarity to guide decisions and a focus for everyday activities and responsibilities.
There are key elements in your leadership philosophy that you'll want to model as a leader. Spence noted some of the most important characteristics people feel make an "ideal leader."
Honest/integrity/character
Visionary
Highly competent
Excellent communicator
Team player/collaborative
Innovative/risk taker
Decisive
Fair and supportive
Creates clear goals and direction
Respect/recognition
Passionate/inspiring
Personally accountable
Proactive/action oriented
Customer/quality focused
How to Develop Your Personal Leadership Philosophy (PLP)
While some leaders may be aware of their leadership philosophy, few have written down these leadership characteristics. For communicating your personal leadership philosophy (PLP), Calvert provides a description of what it means to have a PLP, with bolded verbs that create a step-by-step process for building your PLP.
Successful Leaders know their Personal Leadership Philosophy (PLP) and communicate it by living it passionately every day in all they say and do. They have taken the time to determine who they are, their values and priorities. They know their course and have set their internal compass, which gives them greater self-knowledge, greater self-confidence, and improved effectiveness as a leader. This is accomplished by writing a Personal Leadership Philosophy, which states the core values you live by, what you expect of your people, what they can expect of you, and how you will evaluate performance.

–Ed Ruggero, The Leader's Compass: A Personal Leadership Philosophy Is Your Key to Success
1. Know Who You Are
You can't develop a meaningful PLP without first determining who you are as a leader, including your values and priorities. What do you believe? What values do you refuse to compromise? What causes you to have these values? What is the single most important thing to you?
2. Communicate Your Core Values and Expectations
The act of writing out or communicating your PLP is important. By putting it in writing, you:
Provide clarity and objectivity
Signal that you're serious
Make a commitment
Keep your values and expectations consistent
Cause self-reflection
Make yourself accountable
Make it easier to share
You need clarity, commitment, consistency and accountability. By putting something in writing, you'll take a step back and evaluate your PLP more objectively. Writing it down will help you insert a great deal of thought and analysis — not just emotion — into your philosophy.
3. Determine Who You Are Through Your PLP
The next step involves becoming intimately familiar with your PLP.
"You have to know your own PLP so well that you live and breathe it," Calvert says. "If it is to guide your actions and provide examples to others of who you are and what you stand for, then you need to be intimately familiar with your PLP. This can't be an occasional thing that you bring out when it suits you … It needs to be a constant expression."
Once you truly know your PLP, you'll have a strong hold on what you believe in and what you stand for. This leads to authenticity, credibility, clarity, determination and other outcomes.
4. Set Yourself to Your PLP and Live by It
Let your PLP guide how you lead others. By doing this, you'll project confidence because you know exactly where you're going and you'll have no doubts how you're going to get there. Others will notice, get inspired and be more willing to follow you.
5. Writing Your PLP Communicates What Matters to Those You Lead
Communicating your PLP takes place through your actions and by distributing it to others. Make sure you're clear and confident in what you stand for; you shouldn't change your PLP very often. Allow some time for it to reach a point where you can live with it for a long time.
Personal Leadership Philosophy Examples
There are different styles of PLPs that you can emulate when you write your document. Leadership training company Academy Leadership has several examples of PDFs. The second example is especially noteworthy for its structure and approach.
"My Leadership Philosophy is based upon the [principles] that I have learned through the study of both strong and weak leaders," Dennis C. Parker, president and CEO of Active Minerals International, wrote in the introduction of his PLP. "It is my belief that following these [principles] will be the most profitable and rewarding way to lead my life and positively impact the lives of those around me."
Parker used the following headers to structure his PLP.
I lead by: Making and keeping commitments, integrity and character, setting goals and earning credibility, along with other leadership qualities.
I place great value in: Honesty, trust, credibility, communication, knowledge, quality and other traits.
What I expect: Telling the truth in a timely manner, showing respect through words and deeds, being a team player and other expectations.
Things I do not accept: Unsafe working environments and safety violations, lying, negligence, types of disruptive or disrespectful behavior and other negative behavior and motives.
Understanding and applying leadership principles requires a strong understanding in business theory and practice. Aurora University's online MBA program helps students develop the knowledge and skills needed to lead others and advance their careers.