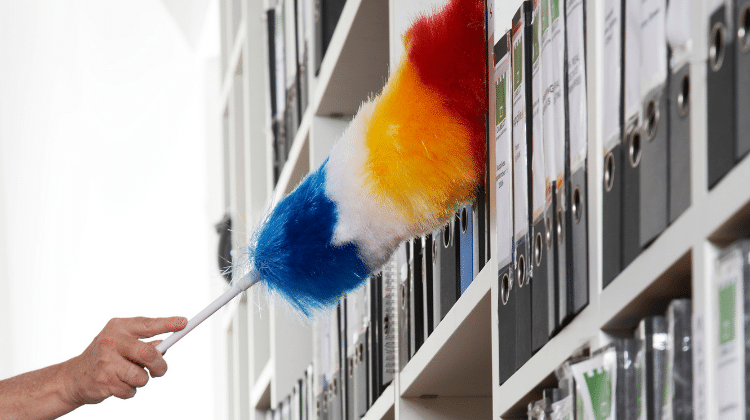 Brought to you by America's Cleaning Service LLC:
Both business owners and employees generally spend most of their waking hours at work, so the cleanliness of their workplaces has to be a top priority. While many businesses use a commercial cleaning services, the actual cleaning is often minimal at best. That is, the cleaners empty the trash bins and quickly vacuum the floor, and that's about it.
Unfortunately, there is a lot more dirt, allergens, dust, and so on firmly lodged in the carpets, on the blinds, and sometimes deep within the upholstery of the office furniture. To solve the problem, it's important to hire a reliable and thorough professional janitorial service for your company.
Here are the key advantages of hiring a professional commercial cleaning company whose employees are really good at their jobs.
A Steep Increase in Employee Productivity
Your employees will be more productive when the office they spend so much time in is clean and fresh. In fact, the very air will not only smell sweeter, but it will also be a whole lot healthier to breathe. Unfortunately, many companies understand the need for holding employee training seminars every week, yet they don't pay attention to one of the single most important factors in increasing productivity – clean air.
In spite of the many studies that have been conducted on the risk of polluted air to human health, many businesses still don't seem to realize the substantial impact of breathing unhealthy indoor air at work on a daily basis.
Take, for instance, the fact that airborne dust particles may be carriers of different bacteria and other germs. Not only will they contaminate the air, but this contamination will be circulated continuously in the same room by the HVAC (heating, ventilation and air conditioning) system.
One by one, your staff members will get sick and this will lead to increased absenteeism and a drop in productivity. Furthermore, the circulation of dirty and unhealthy indoor air will also diminish the cognitive functions of your employees.
If you really want a team of eager, bright and productive employees, then you should ensure they're able to breathe fresh, clean air all the time. Professional cleaning, if regularly performed, will leave your office air both fresh and clean, thereby revitalizing your entire workforce.
A Highly Professional and Positive Appearance
Picture two separate scenarios:
Scenario One: You walk into an office that has dusty desks, stained carpet, and smelly, overflowing trash bins.
Scenario Two: You walk into a corporate office that looks and feels absolutely pristine, smells fresh, and is squeaky clean.
Based on these two scenarios, it's obvious which business you would want to work for or with — Scenario Two.
It's pertinent to note that the image you project to not just customers, but also your vendors and employees, is a critically important factor in the overall success of your company. As a matter of fact, a dirty and shoddy appearance will almost inevitably create the impression that your office and products are equally shoddy.
On the other hand, a clean and sanitary appearance will have a positive effect on clients, customers, and visitors alike. This will, in turn, cause them to have more confidence in your products or services.
A Great Way to Boost Morale
It can be assumed that the cleaner the environment of a business, the higher the morale of the people working there. If your office environment is sloppy, then not only will your workforce dress sloppily, but their output will also suffer.
Remember that your employees are your brand ambassadors. Therefore, they're in a position to elevate people's perceptions of your brand or pull those perceptions down. From word of mouth to social media, your workforce will be talking to other people about the environment at the office. If their feedback is negative, then it will be difficult to acquire the talent you need to ensure your business keeps growing.
Conversely, a neat and clean environment will have the opposite effect, and more employees will speak positively about the atmosphere at the workplace.
Long-Term Cost Savings
Maintenance of electronic appliances is also an integral part of any commercial cleaning service. The service you hire should clean the HVAC vents, the air conditioning filters, and the space between the blinds and other hard to reach areas.
If these troublesome areas are improperly cleaned or ignored, dirt and grime will accumulate. Not only will that dirt and grime create a foul smell, but also, it will significantly decrease the service life of your electronics and equipment.
Higher Standard of Cleaning Services
Not all office cleaning companies are equal when it comes to cleaning standards. Some go through the motions, while others take their jobs seriously. In order to ensure maximum benefits from the company you hire, your cleaning service should offer the following services:
Drapery and blind cleaning
Carpet and area rug cleaning
Upholstery cleaning
Tile and grout cleaning and restoration
Air duct cleaning
Filter cleaning
Daily washroom cleaning
Concrete floor care, repair, and restoration (when needed)
Wall cleaning
These are the basic services that any good commercial cleaning service will provide. Anything less than the above is a compromise that you shouldn't make.
Conclusion
Based on the information above, it's clear that hiring commercial cleaning services is essential, whether your business is in Manhattan, NY or any other part of the country. Not only will it result in creating a great first impression, but your workers will also become more productive in the long run. If you're looking for a reliable and thorough commercial cleaning service in NYC, check out America's Cleaning Service NYC.