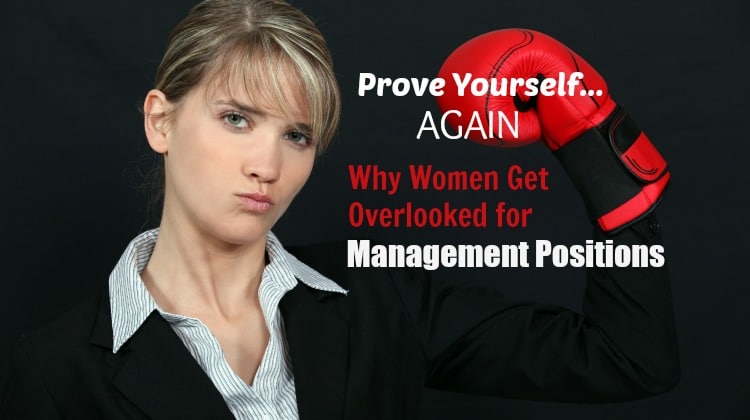 As a woman, do you feel like you have to work twice as hard to prove yourself half as much? If so, you've had first-hand experience with "Prove It Again" bias.
Joan C. Williams, a distinguished professor of law at University of California, Hastings College of Law, interviewed 127 women in high-ranking positions as part of an ongoing research project. Almost every woman spoke about "Prove It Again" bias, in which women have to prove themselves again and again to get selected for management jobs.
In addition to uncovering the details of "Prove It Again" bias, Williams has documented ways that successful women overcome it. If you see yourself in these scenarios, it's time to prove yourself once and for all.
How 'Prove It Again' Works
When we picture CEOs, government leaders, or prestigious scientists, we still visualize men rather than women. As a result, women get judged on their performance while men get opportunities based on their potential. Because we see female leaders as more of a risk, they have to prove themselves again and again.
In addition to the potential-performance dichotomy, Williams uncovered several other "Prove It Again" patterns:
Women's mistakes are noticed more often and remembered longer. Women are penalized for making errors while men are praised for taking risks.
Women's successes are attributed to luck. Men get ahead because of skill; women's successes are viewed as pure luck.
Women are judged more rigorously. When managers evaluate men and women against a set of evaluation criteria, women get judged more precisely while men receive more leniency.
Women receive polarized evaluations. When compared to a man who achieves less than she does, a woman tends to receive a superstar evaluation. Compared to a man who's a slightly better performer, she receives much lower evaluations.
Women's ideas don't ignored. Women often offer an idea, and the idea becomes overlooked. When a man states the same idea later, he receives acknowledgement and praise.
How to Fight Back
In most cases, gender bias isn't deliberate. It's a subconscious state of mind, influenced by years of conditioning and structural inequality. Under equal conditions, research undeniably shows that men and women receive different treatment.
Williams uses the example of applicants for an open management job. When female or minority candidates apply, they're more likely to be set aside if they haven't finished a graduate management degree.
The man who hasn't earned his graduate degree — because men are evaluated based on potential — still gets considered for the job. Certain sectors, like health care, not-for-profit, post-secondary education, and human resources will see double-digit growth in management job opportunities. Professional women, including you, deserve to be in the running for those jobs. Here are a few of Williams' suggestions:
Write Down Your Accomplishments
Keep a daily diary of metrics you've met and things you've accomplished. Write them down at the end of each workday so that you don't forget what you've done. Then, when you ask for a promotion, use specifics from your diary to demonstrate your on-the-job performance.
Form a Workplace Posse
When women promote their accomplishments at work, they're often seen as pushy and overly self-promotional. Because co-workers prefer women to project an image of community orientation and modesty, Williams recommends building an informal, mixed-gender posse that deliberately promotes its members' accomplishments.
Call Out "Prove It Again" When You See It
In a non-confrontational way, make a point of calling out "Prove It Again" in action. For example, if a man repeats an idea that belongs to a female employee, say, "You know, she mentioned it earlier, and I think it's great that you picked up on it."
Also, if a hiring manager unfairly sets aside a woman's resume, don't lose your cool. Instead, say, "Let's take a second look to be sure that we've found all the best candidates."
Don't Hold Yourself Back
When a management job ad lists nine requirements for a position, Williams says women wait until they've fulfilled 10 to apply. Men, on the other hand, will throw their hats in the ring if they meet six of the nine requirements. If you want to be a manager, don't keep your head down until you've crossed off every requirement. Instead, ask for the chance to lead, and prove that you can do it. Women deserve to be in charge.
Sponsored by: Catholic University of America