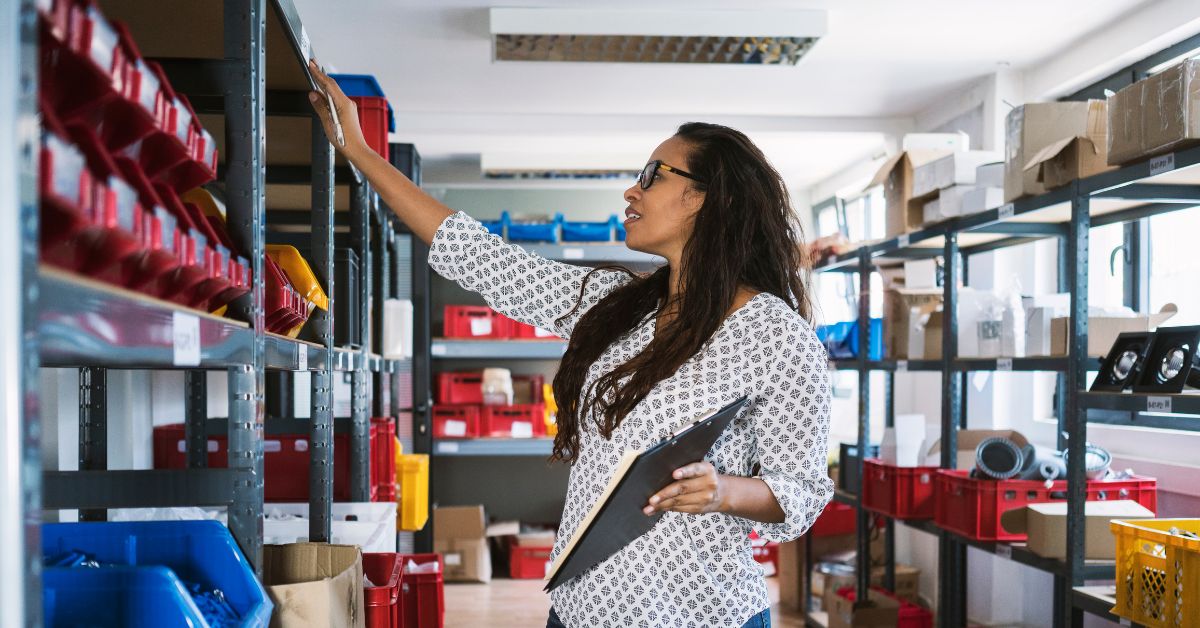 Brought to you by Expensify:
When it comes to owning a retail business, efficient inventory management isn't just a good idea — it's a non-negotiable. It not only helps you meet customer expectations but also ensures you maintain a healthy bottom line and foster long-term growth for your business. But if it's so important, why is it that the average retail store in the US operates with a modest inventory accuracy rate of only 63%?
Retailers often struggle to maintain the right stock levels — which can lead to either lost sales or excess costs. Fortunately, company credit cards can alleviate this by offering financial flexibility, aiding timely inventory purchases, and automating the expense management process.
This article explores the benefits of using a business credit card to streamline your retail business' inventory management process — so you can keep your stock in check, without breaking the bank.
Business Credit Cards for Inventory Management
What exactly are business credit cards and how do they compare to traditional business loans for inventory management?
Business credit cards are a type of financing that allows companies to make purchases and withdraw cash — much like personal credit cards but are used solely for business expenses. They offer benefits like financial flexibility, rewards, and the ability to manage inventory spend, allowing businesses to purchase stock as needed and pay at a later date, thus aiding in cash flow management.
In comparison, traditional business loans provide a lump sum of money upfront, which needs to be repaid over time with interest. They can be restrictive and less adaptable than business credit cards.
Benefits of Using Business Credit Cards for Inventory Management
The benefits of using a business credit card for inventory management go beyond the convenience of purchasing. Company cards streamline your entire expense management process, making it easier to track, control, and report spending in real-time. These benefits include:
Streamlined Purchasing: With a business credit card, purchasing becomes more efficient, enabling you to adapt quickly to market trends and maintain optimal stock levels.
Real-time Expense Tracking: Tracking expenses in real-time can significantly enhance decision-making. A business credit card provides instant insights into spending, offering a clear view of inventory costs.
Flexible Payment Terms: Business credit cards often provide the advantage of extended payment terms, offering financial flexibility that can be particularly beneficial for managing inventory.
Efficient Cash Flow Management: Deferring immediate payment for inventory purchases through a credit card helps optimize cash flow, ensuring funds are available when most needed.
Rewards and Discounts: Selecting the right business credit card can also unlock rewards, cashback, and discounts, reducing inventory costs and adding value to each transaction.
Credit Card Tips for Retailers
Choosing and effectively utilizing a business credit card to manage your inventory requires thoughtful consideration and discretion in regard to spending. Below are some tips to navigate the process.
Tip #1: Choose the Right Card
Before you choose a company credit card, carefully weigh the features of available cards against your business's operational patterns and financial habits to ensure you select a card that's in sync with your needs.
Start by evaluating the specific needs of your retail business. For instance, if your inventory comprises high-ticket items, a card with a higher credit limit might be necessary to accommodate large purchases.
Then, consider interest rates. If there's a possibility you might carry a balance month-to-month, opting for a card with a lower APR can save you from accruing hefty interest charges.
Lastly, check out the rewards programs. Some cards offer cash back on every purchase, which can directly offset inventory costs. Others might provide points redeemable for travel, merchandise, or gift cards, which can be beneficial depending on your business operations and spending habits.
Tip #2: Budget Wisely
Establishing and adhering to a realistic budget is fundamental for maintaining financial equilibrium.
Start by assessing your average monthly inventory needs and identifying seasonal variations. Knowing your peak sales periods will help you anticipate increased inventory costs and allocate funds accordingly.
Consider using a card that can assist in tracking and categorizing expenses, like Expensify's Company Card. By staying within a well-thought-out budget, you prevent unnecessary debt accumulation and foster a financially stable environment, allowing your business to thrive even in challenging market conditions.
Tip #3: Make Timely Payments
Timely payment of your credit card balances is non-negotiable for several reasons.
First, it helps you avoid costly interest charges that accrue when balances are carried over month-to-month, thereby preserving your profit margins.
Second, punctual payments positively impact your credit score, which is crucial for securing favorable terms on future financing or credit increases. Setting up automatic payments or calendar reminders can be instrumental in ensuring you never miss a due date.
By cultivating a habit of prompt payment, you safeguard your business's financial health and fortify its foundation for future growth.
Leveraging Business Credit Cards to Grow Your Business
Business credit cards are more than just a convenience; they're a valuable resource. When utilized effectively, they facilitate smoother inventory management, a crucial aspect of retail business success. The flexibility and efficiency offered by these cards enable retailers to optimize operations and capitalize on opportunities as they arise — so no opportunity is ever missed.
Plus, business credit cards provide financial insights that can be pivotal for strategic planning. The perks and rewards associated with them can also translate into tangible savings, enhancing the overall profitability of your business. In essence, it's about making your funds work smarter, not harder, propelling your business toward sustained growth!
Embrace the Advantage of Business Credit Cards
Business credit cards are not just financial tools; they're catalysts for growth. By improving efficiency and managing cash flow effectively, they open up opportunities for investment and increased profitability.
Incorporating business credit cards into your inventory management strategy is a wise step toward achieving stability and growth in the retail sector. Your next step? Explore your options, make informed choices, and watch your retail business thrive.