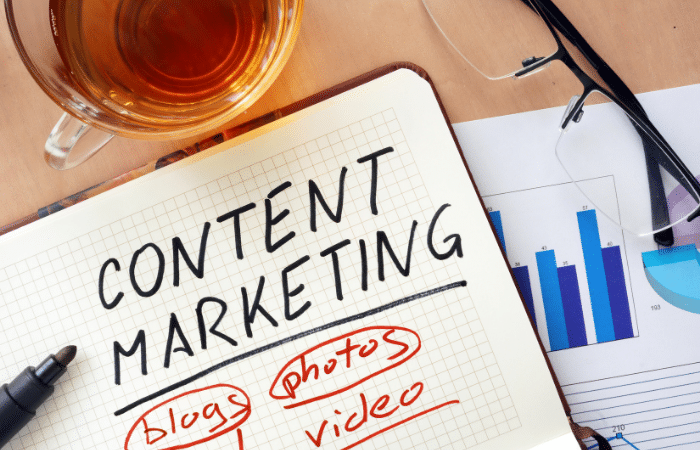 Brought to you by Uplers:
Research shows 92% of marketers and businesses agree that content is a critical asset. It's baffling to guess what the other 8% believe. Furthermore, businesses that publish blogs got 126% more traffic to their websites than their counterparts who didn't post blogs, and 61% of customers say they made a purchase when they read recommendations on a blog.
You'd be spending 62% less than traditional marketing with content marketing. Amazed by the efficiency and effectiveness of content marketing? Well, here is another figure for you right here: In 2019, writing a blog required an average of 3 hours 57 minutes. This was a 65% increase from the average time required in 2014.
And why has the time required increased so drastically?
The length of the content has increased. Long-form copy has proven effective.
The quality of the content has to be impeccable in order to stand out from the ocean of content that is already available on the internet.
And in such situations, you desperately need white label content marketing services. This means you can buy content from white label content marketing agencies and resell it to your clients as if it was written in-house by your agency. It could be a one-time deal or a long-term contract.
But why white labeling?
Top Reasons to Opt For White Label Content Marketing
1.  Cost-effective if You Need More Content
It's important to post content on your blog frequently. With 16 plus blog posts per month, you can get 300% more traffic.
Now, if you're an agency offering digital marketing services and you're managing a portfolio of 30 clients, you'll need 480 blog posts to yield maximum returns. And for 480 pieces of content, you need quite a few writers and freelancers. And to hire, onboard, and manage them, you'll need several hours.
Also, 60% of marketers post at least once every day. To keep up with the competition, a lot of content needs to be generated and marketed on a daily basis. And not to forget you have other things to do too.
With white label content marketing services, all this hassle is taken off your shoulders. Also, with white label agencies, you have the option to pay per piece of content and not pay by the hour. You have to spend only when you need content and there are no retaining charges that you'd have to pay your in-house team.
This can account for up to 36% savings per year.
2.  Saves Time as the White Label Agency has Expertise in the Job
Emails, landing pages, case studies, blogs, press releases, infographics, ebooks, whitepapers … the types of content that can be used for your content marketing strategy are plenty. Which one of these will work for you? You can find the answer to that question with trial and error, or you can let the experts take over.
White label agencies have been in the business for a long time. They have probably worked with an organization similar to yours, and they have their finger on the pulse of your content marketing. They know what will work and what won't, which saves you valuable time trying and failing a couple of times before you finally hit the bullseye.
3.  Authoritative Content
There is a lot of content already available on the internet. People with a command over the language and access to the internet can easily paraphrase content that has already been published and present it to you, but that won't bring you any returns.
You need your content to stand out, and you need experts to write unique, well-written content that offers value to your readers. If you were to look for writers on your own, you would only be able to find the best matches with a magic lamp.
But a white label agency would fare much better than you. For one, they have expert talent acquisition experts who'd be able to sniff talent from miles away. With the expert writers working for a white label agency, you can tap into global potential. This gives you access to expert-written content that can help you stand out.
4.  Your Brand Image is Enhanced
With a white label agency, you can offer quality content to your audience, which is likely to have a positive image on your brand. 72% of marketers believe that branded content offers much more effective results as opposed to traditional marketing.
White-label content marketing services can be a major aspect of your digital marketing efforts and brand awareness campaigns, and you don't need to be told why brand awareness is important, given that 91% of customers are likely to purchase products from 'popular brands.'
If you have quality and effective content sourced from white label content marketing service providers, you can brand that content as your own and get higher returns. When your digital audience associates your brand with engaging, valuable, and informational content, they are more likely to trust you.
5.  Content is on Par with the Competition
Your competitors have a documented content marketing strategy. How do you know that? Well, research shows 69% of B2B marketers have a well-planned strategy to market content. If you're in the remaining 31% of that statistic, you're already behind. Plus, you don't have any idea about what content marketing strategies your competitors are using.
Thankfully, white-label content marketers know that, and with knowledge comes powers. With knowledge about what kind of content your industry competitors are using comes the power of being able to create in par, if not better, content.
Just content won't work. You need the right content that is on par with what your competitors are offering. Using white label content marketing services is the best way to do that.
6.  You Can Focus on Your Brand's Core Competencies
If content is not what you know or excel at, you shouldn't be doing it. It's as simple as that. Do you have the right data to generate trustworthy content? 27% of businesses mention a lack of data as the biggest hurdle when it comes to generating their own content.
Plus, content marketing strategy isn't just writing content. Freelancers would just write to you. What about the other aspects? You need to market that content too.
Do you know what the best channels are? Do you know if videos, infographics, images, or audios would be useful for your content or not? Do you know the strategically best times to post content to get the maximum traffic? Do you know how to search engine optimize your content?
Instead of looking for answers to all of those questions and probably getting even more confused, it's wise to look for agencies that can offer you white label content marketing services. Choose one with a global talent pool and a long-standing history of proven success.