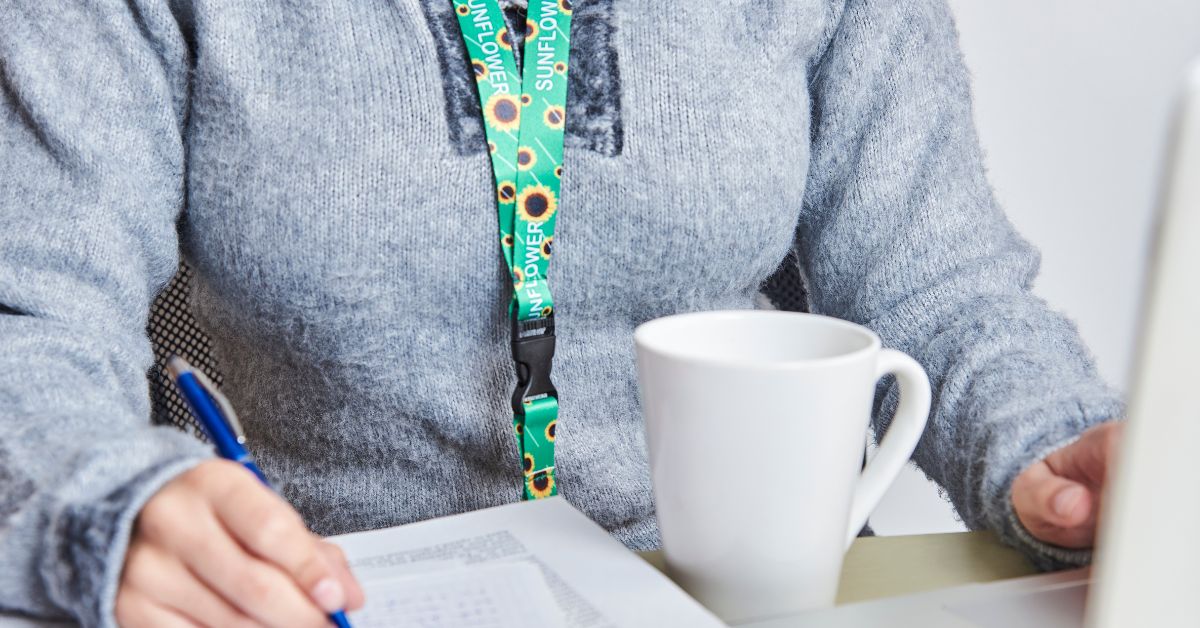 Brought to you by EasyPrint:
In today's fast-paced business world, it's crucial to find the most effective ways to streamline operations and promote your brand. One often overlooked item that can accomplish both is the lanyard.
Lanyards provide a practical solution for displaying identification and access cards, but their benefits go far beyond that. This article explores why lanyards are a must-have for all businesses and how they can enhance your brand image, improve security measures, and boost employee morale.
Enhancing Brand Image and Visibility
When it comes to establishing a strong brand presence, every little detail matters. Lanyards offer a unique opportunity to showcase your brand identity while serving a functional purpose. By customizing lanyards with your company logo and colors, you create a cohesive and professional look for employees, instilling a sense of pride and unity.
Consider this: Imagine attending a corporate event where each staff member dons a personalized lanyard bearing the company logo. Not only does this create a more polished and memorable impression, but it also reinforces your brand image in the minds of attendees.
Lanyards act as walking billboards, effortlessly promoting your brand wherever they go, whether it's at trade shows, conferences, or even casual outings.
Improving Security Measures
Maintaining a secure and controlled environment is crucial for any business, whether large or small. Lanyards play a vital role in enhancing security measures, ensuring that only authorized individuals have access to certain areas.
By equipping employees with lanyards containing identification or access cards, you establish a visual indicator of authority. This creates a barrier to potential security threats and can deter unauthorized personnel from attempting unauthorized access.
Additionally, lanyards provide a convenient way for security personnel to quickly identify staff members and ensure that everyone is in the designated area at all times.
Boosting Employee Morale
Employee morale is a key factor that contributes to a productive and positive work environment. Lanyards can serve as a simple but effective tool in boosting employee morale and creating a sense of belonging.
When employees are provided with customized lanyards, they feel valued and appreciated. Seeing their own name and company logo displayed on a lanyard creates a sense of ownership and pride in their work. This small gesture can go a long way in establishing a loyal and motivated workforce.
Furthermore, lanyards can act as conversation starters, fostering connections and camaraderie among team members. When employees wear lanyards that reflect their shared professional identity, it becomes easier to strike up conversations and build relationships, ultimately leading to a more cohesive and collaborative work environment.
Different Viewpoints about Lanyards
Expense vs. Value
Some individuals may argue that investing in lanyards seems unnecessary or wasteful, especially considering the cost involved. However, it's important to consider the long-term benefits and cost savings that lanyards can bring.
By using lanyards, businesses can reduce the need for expensive access control systems or constantly reprinting identification cards. Lanyards serve as a cost-effective solution for displaying ID cards, allowing for easy identification without the need for additional technology.
Creativity and Customization
On the other hand, some might argue that lanyards are too generic and lack creativity. However, with customizable options available, businesses can unleash their creativity and design lanyards that truly reflect their brand identity. From different materials, colors, and printing techniques, lanyards can be customized to match any brand aesthetic.
By considering the different viewpoints, it becomes clear that lanyards can offer a balance between practicality and creativity, meeting both functional and expressive business needs.
Benefits of Using Lanyards for Business
When it comes to finding high-quality and customizable lanyards, EasyPrint is a leading brand that offers a wide range of options to suit every business requirement. The company offers durable, comfortable, and stylish lanyards that can be tailored to match your brand aesthetics and specifications.
You have the flexibility to choose from various materials such as polyester, nylon, or eco-friendly options, ensuring that your lanyards are not only visually appealing but also sustainable. Additionally, their printing techniques guarantee sharp and long-lasting designs, ensuring that your brand is prominently displayed.
Personal Perspective
I, too, have experienced the numerous benefits of using lanyards in my own business. Not only did they serve as a practical solution for displaying identification badges, but they also sparked conversations and fostered a sense of belonging among employees. Seeing my company logo displayed on lanyards made me proud of what we had achieved and motivated me to keep pushing forward.
Conclusion
In a world where branding and security play crucial roles in business success, lanyards offer a simple yet powerful solution. They enhance brand visibility, improve security measures, and boost employee morale, making them an essential accessory for every business. By choosing appropriate lanyards, you gain a reliable and customizable tool that brings your brand to life and sets you apart from the competition.
Key Takeaways
Lanyards provide a practical and cost-effective solution to display identification and access cards while enhancing brand visibility.
They contribute to a safer workplace by streamlining security measures and creating a visual indicator of authority.
Lanyards boost employee morale and foster connections among team members, creating a positive work environment.