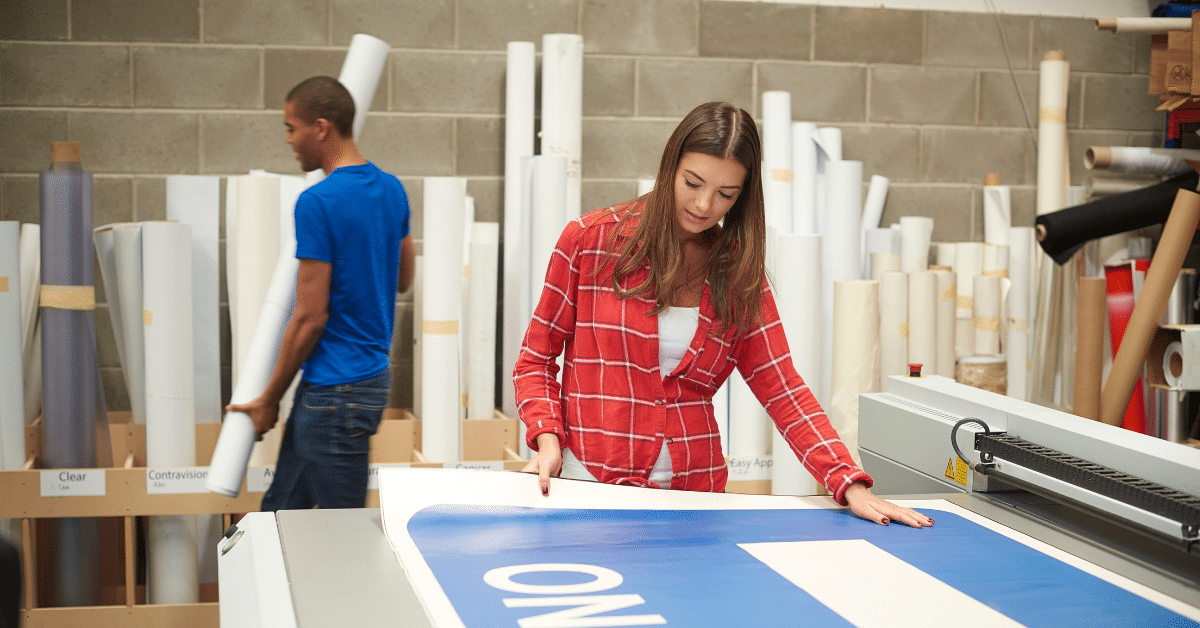 A study by FedEx showed that a huge 68% of people believe a sign accurately reflects the quality of your products and services, so you want to make sure that yours look good!
Your business signage will talk about you behind your back. It will let people know all about you, even when you're not there, so make sure that what it's saying is all good with these top seven tips on creating new business signage.
1. Consistency
One of the most frequent mistakes that new businesses make with their branding is not being specific enough with their design choices; essentially wanting to include every design feature, font and color that they like. This comes out even more when there are multiple signs, especially if they vary slightly, such as the sign above the door vs. a sign above reception, then the letterhead on paperwork.
Try to have one set design style from the get go, one that is simple enough to be replicated and which won't age too quickly or degrade by being used in various formats. You don't want separate signs and branded items to look like they belong to a different company!
When in doubt; hire a designer. If money is tight, look at design students who need help building their portfolio, they can do it for a fraction of the price.
Another aspect of this is when you get the same sign items made by different companies or at different times. Keep careful note of the color codes for the exact shades you use as well the font names and sizes so everything matches, no matter when or where they're produced. The best case scenario is to get everything made at the same time, by the same people so it all matches without any problems.
2. Less is Usually More
We know what it's like, you've just started a new business and you want to shout from the rooftops about all of the wonderful things that you sell and do. However tempting it is, try to avoid putting every ounce of information in your sign.
Plus these things are likely to change, especially in new businesses. Even if you have a large surface area for your sign, refrain from using it as a listing ground for all the services that you offer.
You may find that your biggest performer stops being popular after a year, so do you still want to rave about it on your permanent business signage? Make use of other surfaces for this – windows and walls can be great places to put up less permanent decals or graphics.
Keep it simple and to the point. For your actual business sign, you want to display your name and a logo, what it is you do, and maybe some contact information.
3. Quality
You could have the best design for a sign in the world, but if it's poorly executed or made with below par materials, it's going to look cheap and possibly harm the image of your company (or harm actual people if it isn't made up to code).
This goes back to the design specifics too. If you don't know what you're doing, you could end up with a pixelated logo or unmatched colors or worse. Leave the design to professionals as much as you can, or at least, make sure you invest in the signage that your business deserves.
4. Know Your Audience
As soon as you're open for business, the needs and wants of your customers, unfortunately, trump yours. What that means is you may like pink sparkly designs, but if your customers aren't into it, those pink sparkles may hurt your business.
Take the time to research your industry and your potential customer base, taking into account your local area too. Look at what your competitors are doing and try to do it better, without outright copying. No one wants a replica of something from an untested newbie when they can get the real thing from someone they know.
Equally, try adding some personality to your signage if you're in an industry that it's appropriate for. For example, coffee shops and micro breweries may rely on puns for their marketing and product names. What's a few days worth of research when it comes to designing the signs that will hang above your business for years to come?
5. State What You Do
This may seem like it's obvious, but try not to be too mysterious when it comes to naming what it is you do, especially if you're a brand new business. A large percentage of success at gaining new business stems from clarity.
If your company name doesn't spell it out (such as if it's named after someone), consider a tagline or image that will. When in doubt try to explain what your business does in one sentence, and go from there. Take into account how you work, what problems you solve, and who your target audience is too, as this may help describe your business better. 
Avoid including random items just because you like them. If you love turtles and want it to be part of your design or your mascot, then go all in with it and make it a part of your logo or branding assets, not just here and there in an inconsistent way. There's nothing weirder than a company that has unconnected pictures of animals on some of its branding without any explanation. Consistency always!
6. Location
You may think that having duplicate signs will help with brand consistency, but this is not always the best course of action. Thinking about the specifics of each sign as individual jobs can help you make the most out of each opportunity to communicate with a potential customer.
For example, the sign about your shop will most likely be huge, so you can put a larger amount of information on it. If you simply made this sign smaller for wayfinding signs or stand alone signs further from your location, then some of the wording may no longer be legible.
It may take a little longer, but try to alter and design each sign based on where it will be located, taking into account the size, the conditions of the area, and whether it will need to be lit up at night.
If you are unsure of where to place signs, try walking around as if you were a customer – starting from where they park the car, through the direction to your store, and then around your premises, all from the customer's point of view.
7. Careful Color Consideration
Even the most conservative businesses can gain something from using an eye-catching shade in their signage. You may think of black and white as professional, but unless it has been done in some clever way, it will at best, fade into the background, or at worst, look like a temporary fix while awaiting a permanent sign.
However, there is a careful line to tread between eye catching and a headache. Try to stick to three colors maximum for consistency, and think about the background as much as the actual components of the sign.
While the choice of font for the wording matters, the background has as much to play in whether a sign is legible or not. Colors close together on the color wheel won't contrast enough and will make your letters hard to distinguish, such as a purple on a blue background.
A tip for free: don't be afraid to stand out, just make sure it's for the right reasons. Always check over your signage ideas with mockups before going to production. We've all seen the online lists of business vans that say something different (and hilarious) when the doors are opened and the name is partially obscured.
Equally, gimmicks and jokes may seem like a good idea, but you want your sign to be timeless, not a cringey throw-back that dates really quickly.
About the Author
Zarna Feltham is a Business Support Administrator at Boon Edam Ltd. Previously, she worked as a Production Manager at Medash Signs.