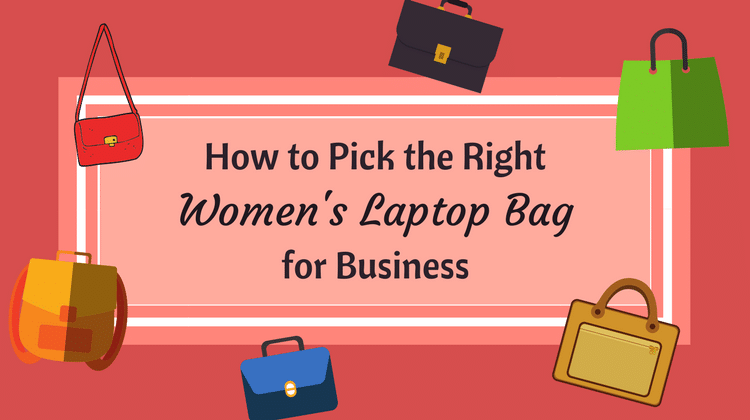 Sponsored by My Best Friend is a Bag:
If you're a busy business woman like me (and who among us isn't, right?), then you know how important it is to stay organized. Even the slightest delay in getting things done could be the difference between staying sane and completely losing it (please tell me I'm not alone here). That's one of the reasons why you need a well-designed women's laptop bag.
Have you ever been in a business meeting or at an airport fumbling through your bag trying to find your plane tickets or other documents? I've been there, and it motivated me to actually invest in a really good and really functional laptop bag.
For me, it's all about being hands-free (if you don't already know, I have triplets, so I've been conditioned over the years to always want my hands free). For you, it might be all about quality or style. No matter what's most important to you in choosing a laptop bag, you don't want to make a decision without considering multiple factors. After all, you'll have to carry this thing all the time. You want to make the right choice!
Here are six things you should evaluate when choosing your laptop bag for business use:
1. How You'll Use It
Before you buy, think about how you'll use your laptop bag. What do you have to carry? For example, when I'm on a business trip and don't want to have to bring an extra carry-on, I need a bag that's big enough for me to fit some extra personal items that I don't want to put in my checked luggage but don't fit in my purse.
Do you need a hands-free bag like me? If so, you need a bag with a shoulder strap or a backpack. Do you need to carry your bag for long periods of time? If so, that shoulder strap better be comfortable and adjustable!
2. Size
Measure your laptop before you start your search for a new laptop bag. The goal is to find a bag that isn't too big or too small. Ideally, it will have a special compartment for your laptop that's just the right size so it fits but doesn't slide around a lot.
Of course, you should consider other items you need to fit in your bag. As I mentioned in #1, how you use your bag will affect the size you should buy. But be careful that it doesn't get too big if you want to be able to fit it under the seat in front of you on an airplane!
3. Protection
A laptop bag shouldn't just be a bag to carry your laptop. It should also be a bag to protect your laptop. That means it should be padded (at least the compartment that holds the laptop should be padded).
Make sure the padding is durable enough to keep your laptop safe from daily jostling as well as in the unlikely event it's dropped. We never think we're going to drop our laptops, and then suddenly… You know how that story ends.
4. Features
Again, think about how you're going to use your laptop and choose one that offers the features you need. For example, it's handy to have internal compartments to hold your pens, business cards, and cell phone. A clip for your keys is not just handy – it makes walking out of office at night a whole lot safer! It's much easier to find things when they're organized into their own compartments in your bag!
Easily accessible exterior pockets are also useful, so you can quickly get things you need frequently like your airline tickets and boarding pass when you're traveling. And as mentioned in #3, it goes without saying that a padded sleeve to protect your laptop is mandatory in a great women's laptop bag.
5. Quality
Quality matters when you choose a laptop bag because you want it to be comfortable, easy to use, and long-lasting. Don't just look at the material used to make the bag. Examine the zippers, the stitches on the seams and pockets, and the padding.
Keep in mind, quality materials shouldn't make your bag weigh a ton before you put anything in it! For example, a premium quality faux vegan leather bag will reduce the weight of your laptop bag significantly compared to a genuine leather bag. Ultimately, you'll need to weigh (no pun intended) the materials, style, and cost to find the perfect laptop bag for you.
6. Style
All the above means nothing if the laptop bag looks out of place in your work environment. The fact that you have a lot to carry to and from the office every day doesn't mean the bag needs to look utilitarian if you don't want it to.
The Choice is Yours
Now that you know what to consider when you buy your next women's laptop bag, it's time for you to share your tips! What's most important to you when you buy a laptop bag? What do you wish you'd thought about before you bought your last bag? Share your thoughts in the comments below.