Here are my top five predictions in website trends. Believe me, there is so much information out there, but as someone who makes a living developing websites (and who has been doing so for the last 10 years), I highly recommend you configure your action plan for actively updating your website.
1) Go Mobile.
Have you created a mobile version of your website yet?
This should be as stripped out, clean code as possible, using basic XHTML tags and providing easy links and easier navigation.
mobisitegalore.com
mobify.me
It is possible, with most CMS systems (content management systems), to easily provide an auto-updated mobile version of your existing website. Ask your web developer for support on this.
2) Geo-location.
The web is moving the world back to your doorstep. Applications, coupons, listings, reviews, and businesses can be as simply found as a click on your mobile phone. Check trends on geo-locating and consider ways to extend your website with a local version, a community listing service, or leveraging Google Adsense and new mobile applications.
3) Open source.
Drupal, WordPress, Joomla and open source content management systems are leading the way. If you are continuing to pay an ongoing monthly maintenance fee to your web designer, consider switching to a content management system that you can manage in-house. Note: I am a big fan of Drupal and run this as our installation of choice for our upgrading and new clients.
4) Microblogging.
Get used to posting status updates in 140 characters or less.
Twitter is great because of its advanced search function. I take very high advantage of the search capabilities of Twitter to find other green women in business who are interested in the same things I am.
A sample search:
http://search.twitter.com/search?q=green+business+women
You can then use the @username tag to send a message to specific people, or "follow" them for their updates.
In Advanced search, you also find Twitter users near specific locations (e.g. green business within 10 miles of Honolulu), which is another wonderful way to network with others in your local community.
http://search.twitter.com/advanced
or type in the following into the advanced search box:
http://search.twitter.com/search
green business near:Honolulu within:50mi
where you replace "Honolulu" with your own city
Cotweet is a service for multiple people using single Twitter accounts (such as for customer service).
There are also external services such as Seesmic.com (which recently acquired Ping.fm) where you can centralize your posts and publish to multiple locations.
5) Social networking.
Do you have a plan? Do you have a presence?
If you don't have a listing now, when will you get one?
Here is a sample of all the places where I personally attempt to post: http://www.claimid.com/monicadear
Obviously, your job becomes easier when you have a service to aggregate your posts and auto-update to different locations. What about e-mailing directly to your blog? Look into http://www.google.com/search?&q=social+media+tips for other people's ideas on how to best manage their flow of information.
Over the last year I've seen some interesting reactions to social sites. The bottom line, In My Humble Opinion, is that each post you create, or each item you #fb, #linkedin, or tweet is an additional potential source of leads, sharing, and connecting: as a women in business you cannot neglect this area of your outreach.
My partners at BergerLodise.com are organizing social media packages if you are interested in receiving a one-time report with tips or outsourcing your social media for a monthly fee.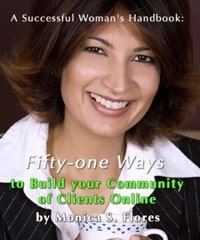 Special offer for Women on Business readers: purchase an e-version of my 240-page book on "Fifty-one Ways to Build your Community of Clients Online" for only $9.99 (use PayPal or your credit card to pay). 200 copies available. Use this discount code: womenonbusiness.
For instant download click to purchase