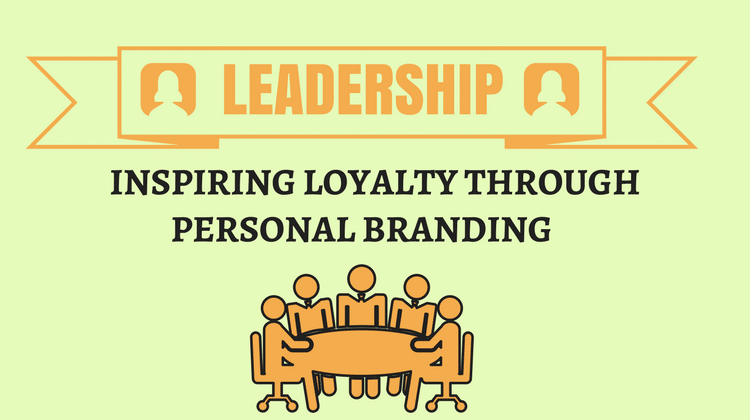 Whether you want to inspire your team at work or followers on social media, personal branding can be a powerful tool. Here are some tried and tested personal branding techniques to help you move smoothly into leadership and inspire loyalty.
Follow Your Values
What do you stand for? Digging deep to uncover your personal values and truly living in accordance with them shows others who you really are. Think of your values as an internal compass with which you can chart a course – from job moves to new friends and relationships.
If there's a proposal going around at work that clashes with your values of honesty and integrity you may (depending on the workplace) gain respect by sticking up for your values. Likewise, showing what issues or values you care for in your social media will attract people who share the same values, which cultivates loyalty in the long term. Following your values consistently will encourage others to come alongside.
Let Authenticity Shine
People can often sense when you're not being true to yourself. Call it careful observation, a sixth sense, or a gut instinct, but somehow, people know. Authenticity becomes more natural when following your values. However, it's still easy to fall into the trap of outright copying the attributes you admire in others, which can translate as incongruous with your genuine self. When looking toy our inspirations – whether these are role-models or mentors — for qualities you admire, it's critical to find ways to make these qualities your own.
Vulnerability and self-disclosure is part of authenticity, but it can be a tricky one to get right. People often come out on social media with their personal struggles, which is best done when it's a considered decision, one that feels right. When it's done well, it can be a very powerful tool, even if that isn't the main reason for doing so. For example, Prince Harry's recent interviews around mental health have boosted his brand immensely, revealing a more vulnerable, human side, and an altruistic one at that. Of course, getting this wrong also has risks of its own.
Exercise Emotional Intelligence
Emotional Intelligence (EQ) is one of the factors that explains why, despite equal background, ability, training, and experience, some people excel as leaders while others fall behind. Essentially, EQ involves the ability to connect with people and form relationships, the very foundation of good leadership. Maintaining ongoing communication with (and listening to) others is vital to creating loyalty. It also includes the ability to understand, regulate, and use one's emotions that are essential qualities of successful leaders.
Unlike IQ, EQ can be developed throughout your life, as the competencies that form part of your EQ can be learned and developed. So the good news is that you have the ability to strengthen the leadership side to your personal brand by working on your EQ. Invest time in measuring and developing your EQ to improve leadership effectiveness.
Be Reliable and Consistent
In both corporate and personal branding, trust is a main ingredient of creating brand loyalty, and the quickest way to inspire that trust and confidence is with honest communication, by giving trust to others, and being consistent. If people know what to expect — that you will deliver what you've promised and when you've promised it — you're creating brand loyalty. People like to know what they're getting and when, which is why surprising someone can sometimes go awry.
This doesn't necessarily mean that you need to be 100% predictable (which runs the risk of your brand becoming dull). A little surprise here and there has proven to be a good thing in branding, but in general, aim for an overall reliable, straightforward personal brand — one that consistently delivers. The same goes for your online presence. If your personal brand is more serious with your Facebook posts mostly ponderings on world affairs and you suddenly pop in a funny cat video, however much it tickles you, people are likely to be confused.
Create Brand Relevance
If you want others to "buy into" your personal brand, it needs to be relevant to your target audience. Brand relevance is what makes you compelling and meaningful to the people who matter. The first step is understanding what interests or needs your audience has or which objectives are critical. Then identify what would make you compelling and relevant to them, and find ways to effectively communicate this (e.g., in person, presentations or social media).
For example, do you hold specialized knowledge that can be beneficial to the team? Are you a calm trouble-shooter in a crisis or good listener when an ear is essential? You can't be everything to everyone, but offering something useful will strengthen your brand.
Practice Mutual Respect
Of course, you can look the part and communicate superbly, but if you don't have the respect that comes from doing what you do well and treating others well, then all the packaging in the world is not going to inspire people to follow you. Learning and honing your craft and investing in yourself is vital, and don't be afraid to promote your wins and successes to build up that reputation in your field. Research resources to develop leadership skills within your industry or in general. Good leaders are invested in self-growth.
Treating your coworkers and employees with respect and giving them time in the spotlight is essential to cultivating respect as a leader. Using EQ can certainly help here. An old boss of mine captured people's hearts and minds by giving people a chance and empowering them to shine. My fellow team members felt valued and respected and we, in turn, valued and respected him. Mutual respect goes a long way in building personal brand loyalty.
Mutual respect also includes the art of the apology and equally important, the art of accepting an apology. If someone offers an appropriate apology, whether via email or in person, accept it without delay. Failing to apologize when necessary or acknowledge an apology can quickly compromise brand loyalty and diminish relationships.
Show Generosity
Think of the business experts who give you lots of ideas and help for free, the colleagues who bend over backwards to help you complete a task when you're overwhelmed, the restaurant that gives you the glass of wine on the house for being a regular. Being truly generous and authentic with it inspires people in a way mere words cannot.
About the Author
Bringing together her extensive training, experience and passion in both psychology and branding, Dr. Lisa Orban founded Golden Notebook. A clinical psychologist, Lisa trained and practiced in New York City for eleven years before relocating to London. Lisa helps clients make a name for themselves by discovering their distinct and authentic personal brand. She takes a unique approach to personal branding that combines psychological assessment and theory with branding strategies to create for powerful and enduring individual change and personal impact.
Save