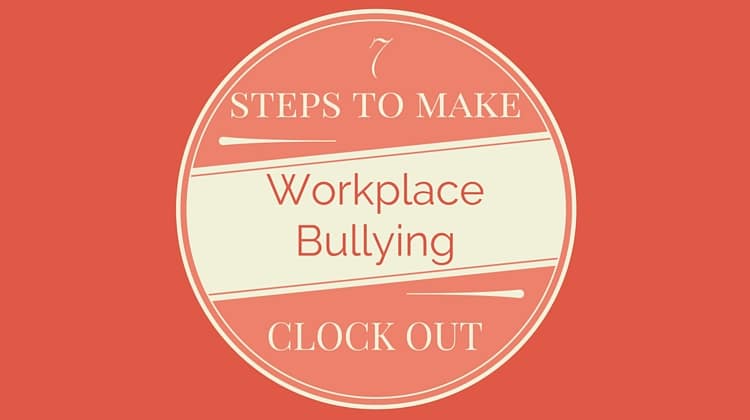 The word "bullying" is often overused and misused, but that doesn't discount the damage of the real thing. StopBullying.gov defines it as "unwanted, aggressive behavior among school-aged children that involves a real or perceived power imbalance." But bullies aren't just wreaking havoc on the playground. Bad behavior left unchecked during adolescence tends to continue into adulthood.
Workplace bullying is a major problem. More than a quarter of all Americans have "current or past direct experience with abusive conduct at work," according to the Workplace Bullying Institute. While bullying may feel like a term that should be left to letters from the principal's office, it takes the shape of threats, humiliation, intimidation, work sabotage, and verbal abuse at places of employment across the map.
With a decade of experience as an executive coach, I've helped to disarm many situations in which employees are being mistreated repeatedly on the job. Here's what you can do when you no longer have a parent or teacher to whom you can run but feel like you're swimming in shark-infested waters at work.
1. Think it Through
Is this really workplace bullying or are you just dealing with a challenging person with whom you clash? Don't cry wolf and point the finger if it's not repeated mistreatment or abusive conduct. Instead, make goals to engage in more positive communication and build a better working relationship with that individual.
2. Ask for Change
When confronted with true bullying as an adult, first make an effort to work it out one-on-one. For example, "John, you probably do not mean this or realize it, but when you speak to me like that, you make me feel uncomfortable and even stressed. My request is that we find a better way of interacting. Is that something you would be willing to work on with me?"
3. Get Some Help
If the abuser does not respond positively, go to human resources and/or management and share the facts about what behavior is occurring and how it impacts you, others, and the business.
4. Keep It Confidential
While it is tempting to overshare your story in the spirit of venting and seeking alignment with others, revealing too much can be destructive to your mindset and productivity. Try to keep the situation in a tight circle, only discussing it with those directly involved and those who are accountable for helping you to resolve the matter at hand.
5. Seek Emotional Support
Stress takes a toll on our well-being and our bodies. If your company has an Employee Assistance Program, be sure to take advantage of this benefit and talk to a counseling professional. If your company does not offer such support, you can seek it on your own with a counselor or psychologist. Mindfulness practices and yoga can also be great activities, outside of the workplace, to manage your energy and remove the toxicity from your life.
6. Stay Focused on What Matters
Rather than dwelling on what's beyond your control, devote your energy to doing your job and doing it well. Go home on time to be with the people you love and to take care of yourself, and remain as peaceful and centered as possible, despite the obvious turmoil you are working to overcome.
7. Don't Settle for an Unhealthy Workplace
If your company does not take responsibility for correcting the problem, consider a role with a new organization. Revise your resume and transition to a company with a culture more aligned to your values.
If you're among the one in four Americans dealing with repeated mistreatment while trying to earn a living, get over the stigma of the "b" word, and stand up for yourself; everyone deserves a healthy workplace. It's not tattling when it's abuse.
About the Author
Leigh Ann Errico is a Georgetown University-certified leadership coach and the founder and managing director of LAErrico & Partners, which focuses on executive development, coaching and HR strategy consulting.