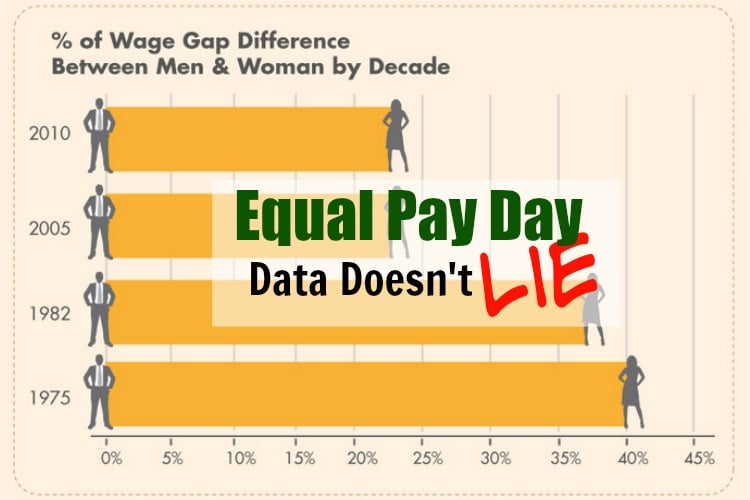 Here we are again. Another year has passed and we're still talking about the gender pay gap. It's Equal Pay Day, so let's take a look at some of the latest statistics because data doesn't lie.
According to a report from The National Partnership for Women & Families, An Unlevel Playing Field: America's Gender-Based Wage Gap, Binds of Discrimination, And A Path Forward, if the wage gap were eliminated, on average, a woman working full time, year round would have enough money for approximately:
86 more weeks of food for her family (1.6 years' worth)
7.6 more months of mortgage and utilities payments
12 more months of rent
34 additional gallons of gas
[Tweet "Equal pay would allow women to pay for 86 more weeks of food for their families"]
The report also found that women who are employed full time in New York are paid just $0.86 for every dollar paid to men in the same jobs. That equates to an annual gap of $7,300 for each woman, and it means that collectively, New York working women lose more than $21 billion per year that could be used for basic goods and services which help families and the economy.
Considering that more than one million households in New York have a woman as the head of household (28% of which are currently living below the poverty level), it's not hard to see how the gender pay gap negatively impacts more than just the woman earning less than a man doing the exact same job. The negative effects of the gender pay gap are far reaching.
It's also not surprising that CNN reports women are nearly twice as likely to retire in poverty than men. This data comes from a December report by the Employee Benefit Research Institute which found that the median retirement income for women in 2010 was just 59% that of men, according to the U.S. Government Accountability Office.
Pew Research Center put together a video that tracks the history of the gender pay gap (watch it below), which shows that progress has been made to close the gap. The gender pay gap was $0.36 in 1980 and today, it's down to $0.16. It closed by 55% over the past 35 years. Doesn't sound as great when you put it that way.
[Tweet "The gender pay gap has only closed by 55% since 1980 (35 years)."]
The authors of the report from The National Partnership for Women & Families put the slow road to equal pay into perspective with some more data:
Nationally, women working full time, year round are paid 78 cents for every dollar paid to men with significant disparities for women of color. African American women are paid 64 cents and Latinas are 56 cents for every dollar paid to white, non-Hispanic men. The country's wage gap has been closing at a rate of less than half a cent per year since passage of the Equal Pay Act in 1963. At that rate, experts say America's women will not be paid equally to men for another 43 years."
[Tweet "At the current rate, the gender pay gap won't close for 43 more years."]
In 2013, I published the What's She Worth? The Slow Road to Equal Pay infographic that you can see below. It's disappointing to see that all of the data is still relevant two years later. Let's hope the gap starts to close more quickly and this infographic becomes outdated by Equal Pay Day 2016!