Please join me in welcoming A. Michelle Blakeley to the team of Women on Business contributors.
A. Michelle is an expert at growing small businesses with simplicity. She has over two decades of experience in sustainable, holistic and progressive business practices and will surely bring unique insights to Women on Business!
You can learn more about A. Michelle in her bio below.
A. Michelle Blakeley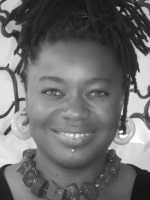 Micro Business Therapist™, A.Michelle Blakeley, is a small business professional with extensive experience in sustainable business practices who has successfully guided new and seasoned small business owners through the daily challenges of operating a small business with timely and transformative advice.
She is featured in Forbes.com and the Financial Post as one of 30 Women Entrepreneurs to Follow on Twitter, a contributor for the San Francisco Examiner and was the host of Simple Truths for Women Entrepreneurs on BlogTalkRadio.com.
You can find A. Michelle on her website, Simplicity Mastered, or Twitter (@simplicityinc).