Last week, I shared an infographic about outrageous CEO compensation here on Women on Business, and today, I received an incredibly insightful email about that infographic from Dr. Jane Karwoski, host of The Social Network Show and adjunct professor of psychology for the University of Nevada, Las Vegas.
Jane dug into the numbers a bit further and sent me the following message, which she kindly gave me permission to publish here:
"It appears at first glance that John H. Hammergren of McKesson is the outlier in this group, with 2.7 times the compensation of the next most highly rewarded exec, Ralph Lauren. However, when you compare compensation as a percentage of the company's revenue, an entirely different picture emerges.

"The true outlier by that standard is Michael D. Fascitelli of Vornado Realty Trust who is receiving 2.4% of revenue. Lauren comes in next, with not quite 1%.

"Even by this measure, Hammergren makes 2.5 to 3 times what the CEOs of the other three largest revenue companies receive. But if McKesson were rewarding him with the same percentage of revenues as Vornado pays Fascitelli, he'd be receiving $2.67 billion in compensation annually!"
Take a look at Jane's chart of salaries for all of the details and view the original infographic that sparked this anaylsis here: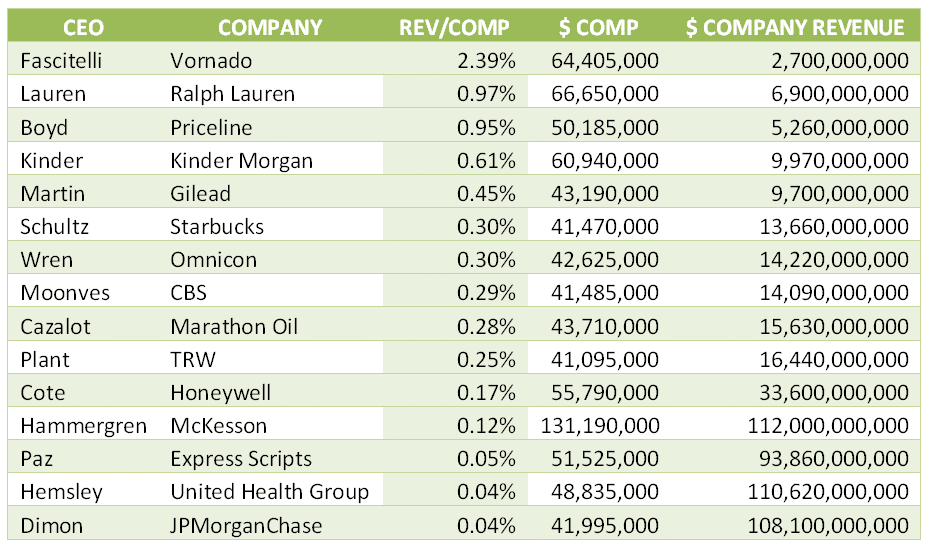 What do you think of CEO salaries looking at them from this perspective? Leave a comment and share your thoughts below.
Special thanks go to Jane Karwoski, PhD, LMSW, for sharing this analysis with Women on Business.