Maslow's hierarchy of needs is a theory in psychology proposed by Abraham Maslow in his 1943 paper "A Theory of Human Motivation." It has become a foundational theory in psychology in terms of optimizing the human experience.
To recap the theory, human beings must work their way up the pyramid of needs. If their physiological and safety needs aren't met, they can't embark on meaningful relationships with others. But once they are fed and safe, they begin seeking human connection. Next comes esteem, confidence and respect. Finally, the human being can seek Self-Actualization in which he becomes more creative, spontaneous and better able to ponder and solve complex problems.
MASLOW'S HIERARCHY OF NEEDS
For example, someone who is hungry and cold is not concerned with achieving his full potential – he is just trying to get shelter and food. Once he achieves these basics, he will seek safety in the form of permanent housing, a reliable food source and community support. Only then will he become interested in making friends and improving his station in the community. Finally, once he is completely secure in terms of physical and fundamental mental requirements, he reaches deeper into himself to seek self-actualization. Searching for purpose and meaning in life is a luxury only afforded to those who have the fundamentals of life covered.
Business Stages of Actualization
Organizations exhibit similar stages of actualization. Many small businesses struggle in the early levels of the pyramid. These unstable organizations constantly strive to generate enough revenue to make payroll and provide safety for their organization, their owners, and employees.
Many small business owners are stuck in a constant cycle of anxiety and tension and have very little opportunity to pursue growth.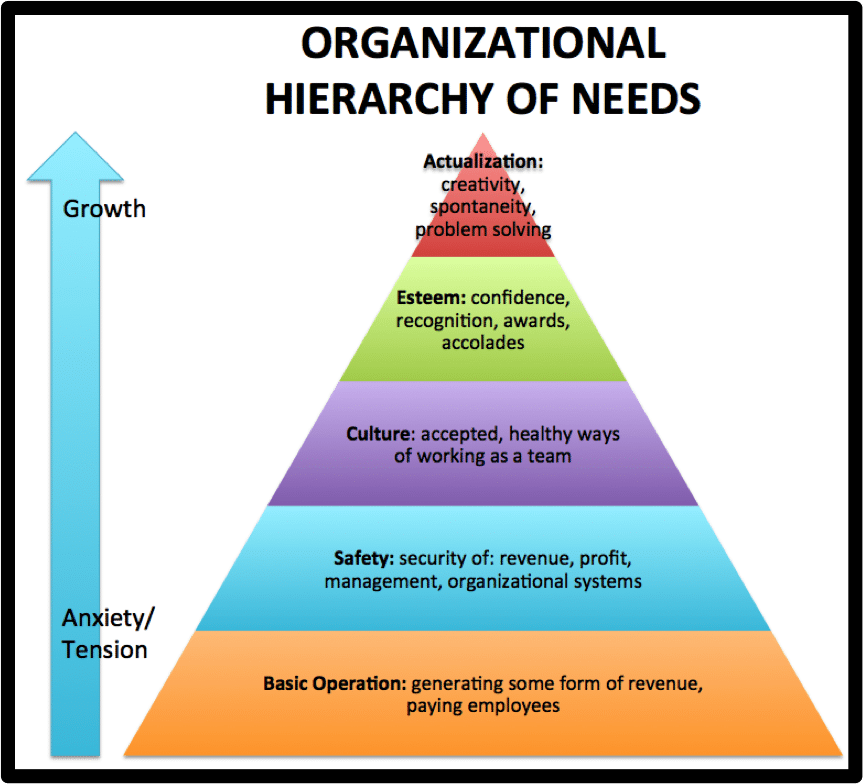 If an entrepreneur can overcome the lower levels of sustenance, she can jump into growth, pursuing a healthy company culture, high esteem in the business community, and finally, actualization of the organization in which it becomes highly creative, driving additional growth and success.
Apple, a highly creative, innovative company that has redefined design and technology standards, only has the luxury to pursue those brand goals because it has enough money to pay great employees, promote through multi-million-dollar marketing campaigns, and attract interest with high-end, compelling retail stores. These activities can feel out of reach to most businesses, which are simply trying to make payroll every month. Branding is a luxury only afforded to those who have the fundamentals of business covered.
Moving Your Business to the Next Stage
Are you struggling with the day-to-day anxiety and tension of the lower levels of this pyramid? If so, evaluate the business you are in and determine what it will take (and if it is possible) to get to the next level of development in your organization.
For example, if you are struggling to make payroll, then don't focus on innovation right now. Figure out how to make payroll consistently. What do you need to do to pay the bills? I'm not saying you can work in a vacuum here. Of course, focusing on innovation, culture, and the future of your company should play a role in developing a steady revenue stream, but don't overstretch at this point. Try to achieve sustained success in your current level of the pyramid before focusing too much on the next level.