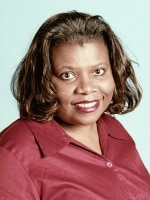 Please join me in welcoming Veronica Eyenga to the Women on Business writing team!
Veronica Eyenga is the President and CEO of VBP OutSourcing, a full-service marketing and accounting firm in Glen Burnie, MD. VBP is an MBE-certified, 100% woman-owned company offering a variety of solutions to suit any company's needs. Some of the services available include custom website and graphic design, marketing campaigns, copywriting/editing, DCAA compliant bookkeeping, and QuickBooks and Peachtree consulting or training.
Before starting her company, Veronica was quite the working woman and she was sure to leave her mark in every capacity that she held. A graduate of the University of Maryland University College with a bachelors degree in business administration, Veronica gained her experience by working for seven years as an administrative manager and three years as an interval procedural training supervisor. Post-graduation, Veronica also worked in sales for Cannon. In less than six months on the job, her drive to succeed landed her a trip to Jamaica.
Veronica established herself in the marketing industry by taking various web and graphic design courses and creating a safety manual and neighborhood publication that essentially fueled her desire to start VBP OutSourcing. In 1997, Veronica followed that desire and began her dream business from the basement of her own home. Her firm is still thriving today and has since moved into a 5,500 square foot office outside of Baltimore.
Veronica's hard work has not gone un-rewarded. In 2008, VBP OutSourcing was awarded a coveted spot on the Baltimore Business Journal's Top 50 MBE list. This past year, Veronica and VBP were featured in a variety of publications including the Baltimore Business Journal's Minority Business Special Publication. To kick off 2010, Veronica is slated to be featured in the January issue of SmartCEO magazine.
For more information on how Veronica's various marketing and accounting services could be of assistance to your company, please visit www.vbpoutsourcing.com.