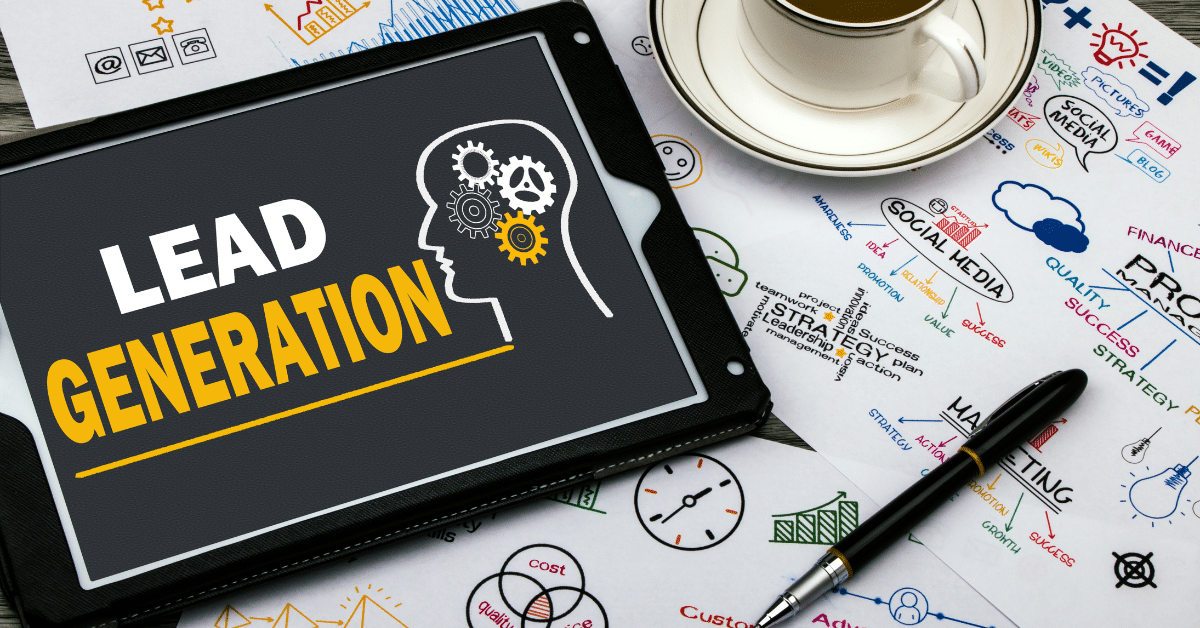 You're ready to generate more leads and achieve your sales goals. Women On Business is ready to help! In this guide, we'll walk you through the ins and outs of lead generation, from identifying opportunities and marketing programs to leveraging sales tactics and measuring results.
We'll also show you how to track your return on investment (ROI) to ensure that your lead-generation efforts are delivering the leads you need at a price you can afford. Let's get started!
Strategies to Generate Sales Leads
There are a variety of different ways to generate leads for your business. You could purchase a list from a lead-generation company (we don't recommend this) or use a marketing program like Google AdWords to create ads that drive traffic to your website (we do recommend this).
You could also hold a sales event, or if you own a business with a brick-and-mortar location, you can visit other local businesses and offer a discount if they refer new customers to you. Whatever you do, it's important to track the results of your efforts, so you'll know which investments deliver a positive return against your goals.
Digital Marketing Programs and Lead Generation Tactics
There are a variety of digital marketing programs and lead generation tactics you can use to get in front of your target market and start generating more leads.
For example, one popular tactic is content marketing. This involves creating valuable content that your target market will find useful, such as blog posts, ebooks, infographics, white papers, and more. You can then promote your content through social media, email marketing, and other channels to help you reach more potential customers.
There are a multitude of digital marketing programs and lead generation tactics to choose from, so it's important to find the ones that will work best for you and your business. Testing is key, so you can focus on the highest performing programs and tactics to achieve the maximum return on your investments.
Harness the Power of Social Media for Lead Generation
Social media can be a powerful tool for lead generation. By harnessing the power of platforms like Instagram, Twitter, LinkedIn, and Facebook, you can connect with potential customers and build relationships that could lead to sales.
But it's not as simple as setting up a few social media profiles and waiting for the leads to come flooding in. You need to develop a social media marketing strategy that will engage your target audience and produce results. And you need to track your efforts so you can see which programs are generating the most leads and ROI.
With the right strategy and tracking in place, social media can be a powerful tool for generating leads and achieving your business goals. Follow the 10 steps of social media marketing to get started.
Email Marketing Tactics to Generate More Sales Leads
There are a few different email marketing tactics you can use to generate more sales leads. First, you can use lead magnets. A lead magnet is a piece of content that you offer in exchange for an email address. This could be an e-book, a checklist, a webinar or anything else that would be valuable to your target audience.
Don't stop communicating with sales leads once you've managed to get them on your email marketing list. You need to continue nurturing those leads! Lead nurturing is the process of sending out email messages to subscribers over time, with the goal of moving them further down the sales funnel. The content you include in these emails should be helpful and educational, and it should gradually get more sales-oriented as the subscriber moves further down the funnel.
Finally, you can use email segmentation to make sure you're only sending relevant emails to subscribers who are likely to be interested in them. Email segmentation involves grouping subscribers together based on factors like their location, age, gender, interests, and so on. This way, you can send more targeted emails that are more likely to interest sales leads and motivate them to contact you and/or buy.
Invest in Online Advertising to Boost Sales Leads
Digital advertising is one of the most effective ways to generate leads and drive sales. By targeting your ideal customer with relevant ads, you can increase the chances that they'll take the desired action, whether that's signing up for your email list or making a purchase.
There are a number of different online advertising platforms you can use, including Google Ads, Facebook Ads, and LinkedIn Ads. Each platform has its own strengths and weaknesses, so it's important to choose the one that will work best for your business. Choose the one where your target audience spends time.
Once you've selected your platform, you'll need to create ad campaigns that are specifically designed to generate leads. For example, you could create an ad campaign that offers a free ebook in exchange for an email address. Or you could run a contest that requires entrants to fill out a form with their contact information.
You'll also need to create landing pages for your ads that are designed to convert visitors into leads. Your landing page should include a strong headline, persuasive copy, and a call-to-action (CTA) that tells visitors what they need to do next. For example, your CTA could be "Download our free ebook" or "Enter the contest today."
Once your campaigns are up and running, it's important to track your results so you can see what's working and what isn't!
Analyze the Data and Adjust Your Tactics for Maximum Return
As mentioned above, it's important to analyze the data to ensure you're getting the maximum return on your investments. Depending on your business goals, you'll need to track different metrics. For example, if your goal is to increase brand awareness, you should track website traffic and social media engagement. If your goal is to generate more sales, you should track the number of leads and conversion rate.
When you've determined what metrics you want to track, you need to set up a system to collect the data. There are many different software programs that can help with this, such as Google Analytics or HubSpot.
Once you've collected the data, it's time to analyze it. Look at the numbers and see if they're meeting your expectations. If they're not, then it's time to adjust your tactics. Try different marketing programs or sales tactics and see if the changes have a positive impact on the numbers. If not, try something else. The important thing is to keep testing new things until you find what works best for your business.
Key Takeaways to Generate More Sales Leads
Of course, the recommendations in this article are just the beginning. You need to put in hard work to get results, but with the right marketing programs and sales tactics in place, you can generate more sales leads and turn them into buying customers.
Use the tips discussed above to create a system for tracking leads and measuring your return on investment. With this data in hand, you can make informed decisions about where to invest your time and money in the future to generate the most sales leads and reach your business goals.