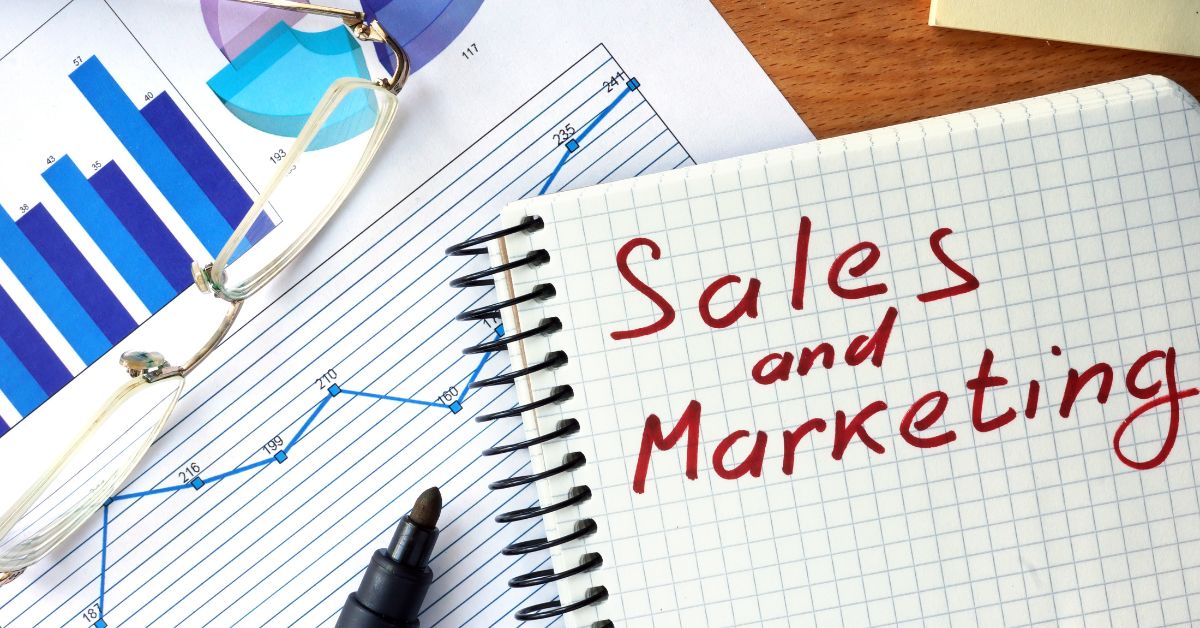 In today's dynamic and competitive business landscape, the terms "Sales" and "Marketing" are often used interchangeably.
However, they are not the same.
And understanding the difference between these two vital functions is crucial for any successful business.
While Marketing sets the stage for Sales, Sales completes the transaction. Both are essential components that work in tandem to drive revenue and foster long-term growth.
What is the Definition of Marketing?
Marketing encompasses a broad range of activities designed to promote a product or service to potential customers.
It is the art of understanding and influencing consumer behavior to build brand awareness, generate leads, and ultimately drive sales. Effective marketing aims to create demand for a product or service by communicating its unique value proposition, engaging with target audiences, and establishing a strong brand presence.
What is the Definition of Sales?
Sales, on the other hand, is the process of converting leads into paying customers.
It involves building relationships, identifying customer needs, and persuading them to make a purchase.
Sales professionals use their expertise to guide prospects through the sales funnel, address objections, negotiate deals, and close transactions. Their primary focus is on achieving revenue targets and maximizing customer satisfaction.
How Can Businesses Best Market Themselves?
1. Content Marketing
Creating valuable and relevant content, such as blog posts, articles, videos, and infographics, helps establish your expertise and builds trust with your target audience. Share informative content through various channels, including your website, social media platforms, and email newsletters.
2. Social Media Marketing
Leverage the power of social media platforms to reach a wider audience and engage with potential customers. Develop a strong social media strategy, create compelling content, and actively interact with your followers to build brand loyalty and drive traffic to your website.
3. Search Engine Optimization (SEO)
Invest in optimizing your website for search engines. Conduct keyword research and implement on-page and off-page SEO techniques to improve your website's visibility in search engine results. Higher rankings mean more organic traffic and increased chances of attracting qualified leads.
4. Email Marketing
Build an email list and create targeted email campaigns to nurture leads and stay connected with existing customers. Use personalized and relevant content to deliver value, promote offers, and drive conversions. Automation tools can help streamline the process and improve efficiency.
5. Influencer Marketing
Collaborate with influential individuals or bloggers in your industry who have a significant following. Their endorsement can help increase brand visibility, credibility, and reach a new audience. Identify suitable influencers and develop partnerships that align with your brand values and target market.
How Can Businesses Best Sell Their Products and Services Ethically?
1. Personalized Selling
Tailor your approach to each prospect by understanding their unique needs and pain points. Customized sales presentations and one-on-one interactions build trust and demonstrate your commitment to solving their specific challenges.
2. Active Listening
Effective salespeople listen attentively to their prospects. Ask open-ended questions and actively listen to their responses. This approach allows you to gain insights, address concerns, and position your product or service as the ideal solution.
3. Relationship Building
Building strong relationships is the cornerstone of successful sales. Invest time in nurturing connections with prospects and existing customers. Regular communication, networking events, and personalized follow-ups help foster trust, loyalty, and repeat business.
4. Product Demonstrations
Provide prospects with hands-on experiences or virtual demonstrations of your product or service. Demonstrations allow potential customers to see the value firsthand and better understand how your offering can solve their problems.
5. Effective Negotiation
Master the art of negotiation to secure win-win outcomes. Understand your customer's needs, present compelling arguments, and find mutually beneficial solutions. Skilled negotiation builds trust and helps close deals more efficiently.
What Role Does Design Play in Effective Sales and Marketing?
Design plays a vital role in Sales and Marketing as it directly impacts the perception, engagement, and conversion of customers.
Effective design has the power to capture attention, communicate messages, and evoke emotions, ultimately, influencing purchasing decisions.
Whether it's the layout and aesthetics of a website, the packaging of a product, or the visual elements of an advertisement, design has the ability to create a positive and memorable brand experience.
A well-designed Marketing campaign can differentiate a company from its competitors, establish brand recognition, and build trust with consumers. By incorporating thoughtful design elements, such as color schemes, typography, imagery, and user-friendly interfaces, businesses can enhance their sales and marketing efforts, effectively conveying their value proposition and appealing to their target audience.
Design, therefore, acts as a persuasive tool that can significantly impact the success of Sales and Marketing initiatives.
Sales and Marketing are Two Sides of the Coin
While Marketing creates awareness, generates leads, and lays the foundation for sales success, sales professionals convert those leads into paying customers.
Neglecting either function can hinder your business's growth potential. By combining effective Marketing tactics, such as content creation, social media engagement, SEO, email campaigns, and influencer partnerships, with powerful Sales tactics, like personalized selling, active listening, relationship building, product demonstrations, and negotiation skills, you create a comprehensive strategy that propels your business forward.
Remember, Marketing and Sales are not isolated entities but interconnected forces working together.
By embracing both disciplines, your business can reach its full potential, attract the right customers, and forge lasting relationships.
So, embrace the power of Marketing and Sales, and watch your business thrive in today's competitive marketplace.
About the Author
Tyneshia Dise is the founder of The Innovative Design Group. With clients in the USA and further afield, Tyneshia approaches design through a social justice lens and is a frequent podcast guest discussing sales and marketing.