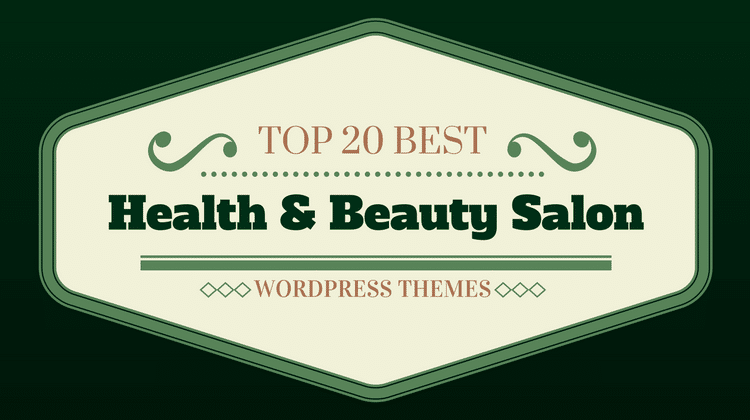 Today, it's commonplace for men and women to pay to take care of themselves — to visit beauty salons, spas, saunas, massage studios, and so on. The number of health and beauty related businesses is growing rapidly, and the competition is really tough. Creating an online presence for your business is imperative to attract customers.
Every day, people spend more time on the internet than walking. Therefore, bringing your business online with blogs, forums, social networks, AdSense, and more gives you opportunities to grow. Launching a website today is as easy as winking. You don't need to make everything from scratch. Just choose a ready-made template, and customize it to fit your needs. It's a piece of cake!
To give you an easy start we have already picked up 20 beauty salon WordPress themes for you, which you can see below. WordPress is an ideal choice if you've never dealt with web design or development before. It's easy and intuitive in management and customization. Even a complete beginner will be able to use it.
All the themes in this round-up feature up-to-date designs and follow all of the modern web design techniques. These themes feature valid W3C coding, which positively affects your site's performance in search engines and optimizes the back-end work of the website. All of these themes are responsive and will easily adjust to any handheld devices. Advanced flexibility with a built-in customizer and a library of shortcodes allows you to edit your theme without any coding skills.
Durand – Hair Salon WordPress Theme
This template uses pastel colors and trendy ghost buttons in its layout, which makes it look very feminine. A well thought-out structure makes all the information clearly visible and easy to skim. The template is extremely flexible and can be easily modified with the included drag-and-drop page builder. Multiple layout options and content modules will help you modify the look and contents of your website.
Madeleine – Spa Salon WordPress Theme
Madeleine is an aesthetically appealing WordPress theme that's perfect for spas and beauty salons. The design is relaxing with soothing pastel colors, rounded elements, and lots of white space. You can experiment with the page structure using multiple layout modules. Content modules will help fill your website up with diverse content. Your visitors will enjoy an opportunity to book an appointment online thanks to the built-in Appointment Manager plugin.
Hair Plastic – Hair Transplant WordPress Theme
This trendy looking theme is an ideal choice for the health and beauty industry. It catches the eye with a full-width slider to show off beautiful photos. Big background images highlight the content and orange call to action buttons add stylish accents. Parallax scrolling encourages visitors to see what's further down on the page. The Lazy Load effect optimizes the loading speed, which improves overall site performance.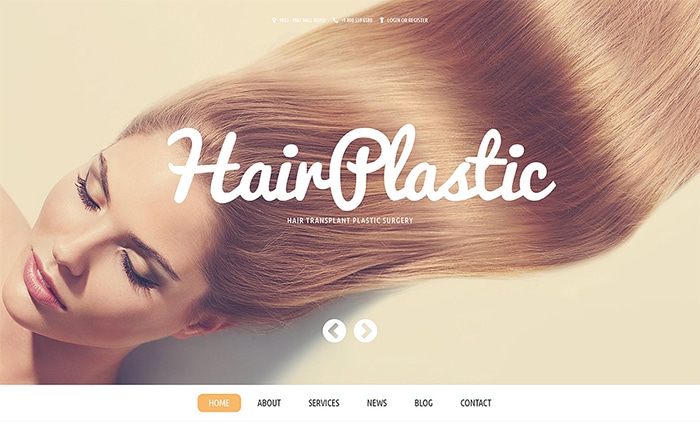 Fiona – Massage Salon WordPress Theme
This theme is all about relaxation. Soft colors, beautiful typography, rounded ghost buttons – everything about it makes this theme pleasant and soothing. It is licensed under GPL v3.0, meaning you can use it for an unlimited number of projects. WordPress Live Customizer makes it easy to make changes to the theme and to see the results instantly. Live search guarantees an easy browsing process.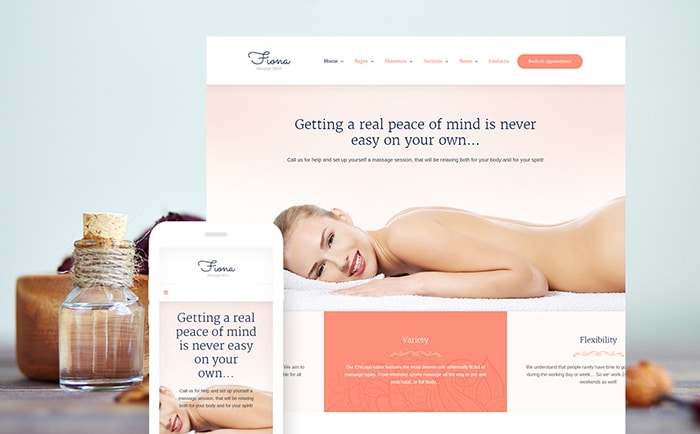 Creative Tattoo WordPress Theme
This template relies heavily on visual representation. Big background images, rounded elements, and ghost buttons create a stylish representation of your business. By providing the social media accounts of your artists and presenting a testimonials section, you can gain the trust of clients. Awesome parallax scrolling makes the website look energetic, and the lazy load effect ensures the website loads quickly and without any problems.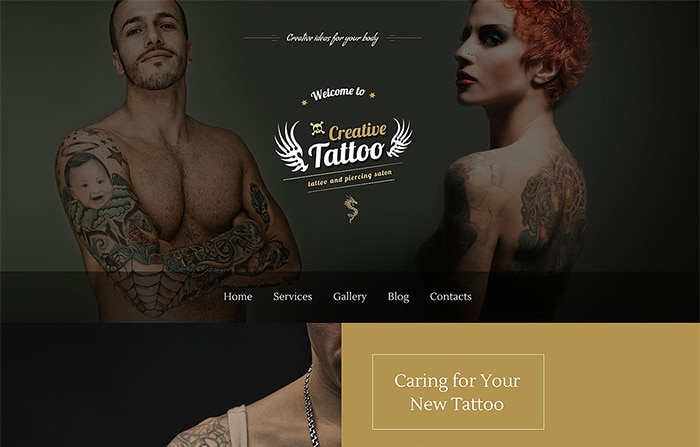 Spa & Relax – Spa Accessories WordPress Theme
The combination of great design and powerful functionality makes this template a perfect choice for your business website. The layout uses soft pastel colors with sunny yellow accents. A full-width slider welcomes your visitors and immerses them into an atmosphere of relaxation and rest. The design is very light, and the content is easy to look through without getting distracted by unnecessary details.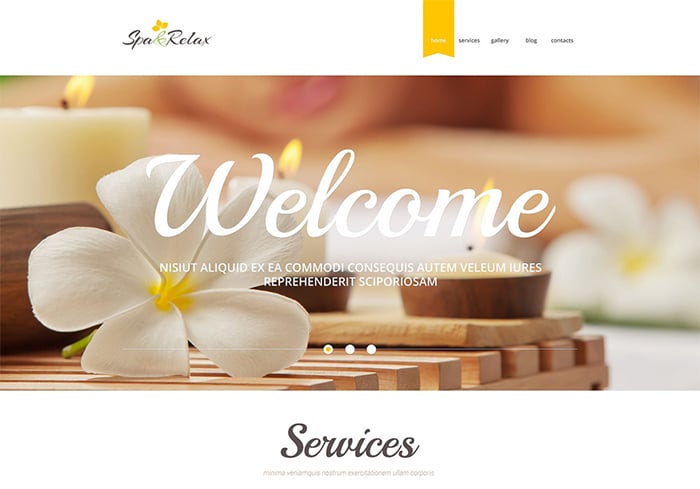 Samson – Hair Clinic WordPress Theme
Thanks to advanced flexibility this theme can be applied to a hair clinic or beauty salon website. The theme successfully combines textual and visual representation. The testimonial section will help raise clients' trust levels. The theme makes it easy for clients to book an appointments right in the header slider, and the full social integration will benefit both you and your clients. In addition, navigation is really intuitive and user-friendly in this theme.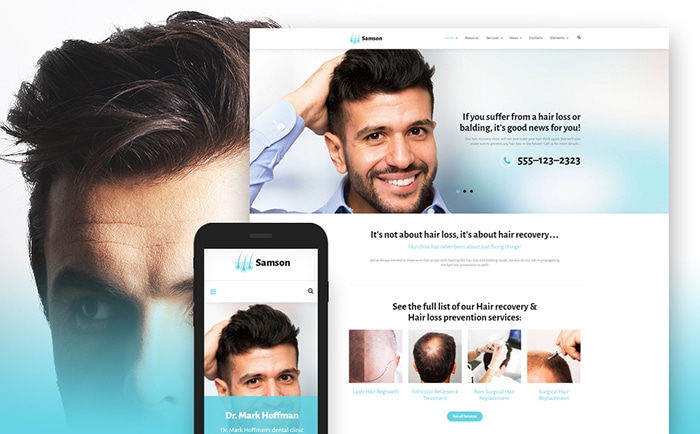 Style & Fashion WordPress Theme
This fully responsive template was designed using all of the modern techniques of web design. It's well-thought structure interlaces text blocks with stunning big images, making the page easy to skim. The theme comes with four different gallery styles, multiple post types, audio and video integration, and social media options. Being extremely flexible, the theme can be adjusted to any purpose.
Massage Salon WordPress Theme
This boxed layout is a great example of a landing page. The theme's fully responsive design will adjusts to any screen size, and the sticky drop-down menu makes navigation smooth and easy. The large contact form at the bottom of the page makes it easy for clients to book appointments or to keep in touch with you, and the testimonial section will be of great use as you build your brand. The theme can be customized effortlessly with the help of 80+ shortcodes.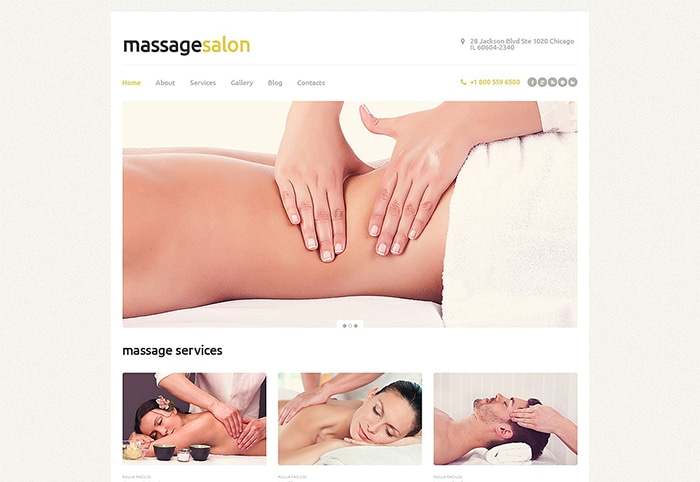 Sauna & Spa WordPress Theme
This template uses dark colors and a pleasant background texture, which gives the eye a chance to rest. The two-column layout makes it easy to organize content and additional navigation elements in the best way possible. Audio and video integration will help you to diversify your content and make it more dynamic. It is built using the Cherry Framework, which provides you with lots of advantages, such as powerful functionality and an advanced intuitive admin dashboard.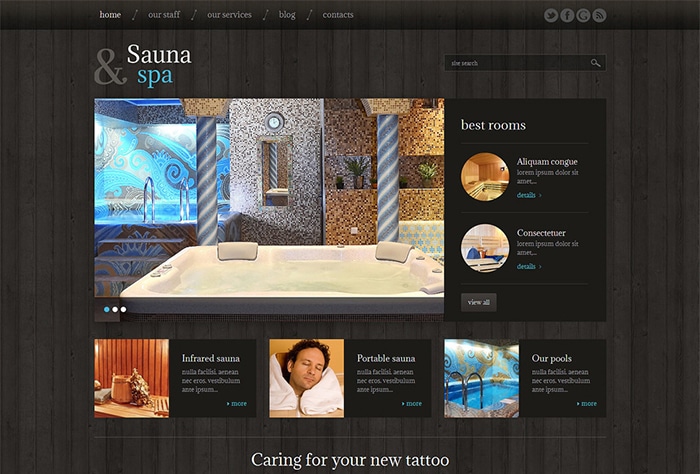 Miranda – Beauty Salon WordPress Theme
This fully-editable WordPress theme provides an excellent foundation for any project. The layout is simple yet functional, and the lavender color used in the design creates a soothing effect. The template is WPML-ready, which makes it easy to adapt the website for local markets. You can customize almost every element thanks to the unlimited color options, 600+ Google fonts, and 80+ shortcodes. You don't even need to touch the code to apply all of these features.
Hair Transplant WordPress Theme
This template features a clean, minimalist design, which makes a great first impression. The header slider with high quality images catches the eye, and the unusual list menu looks stylish while still being very functional. You can use the functional banners and carousel sliders to display information the best way. Custom post types serve the same purpose. It's very easy to customize this theme to your liking.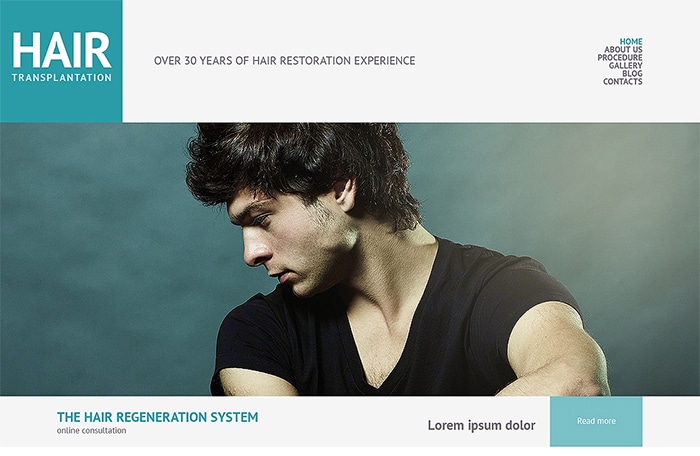 Neo Tattoo Salon WordPress Theme
This template is ideal for a tattoo salon. Its elegant design looks a little bit daring, using a black background color and bold images. Keeping focus on the pictures is a wise choice — let your words speak for you. The mega footer area is an ideal place for all of your secondary information. The built-in theme customizer will help you edit your template and adjust it to your needs. In addition, the blog functionality makes it very easy to start a blog.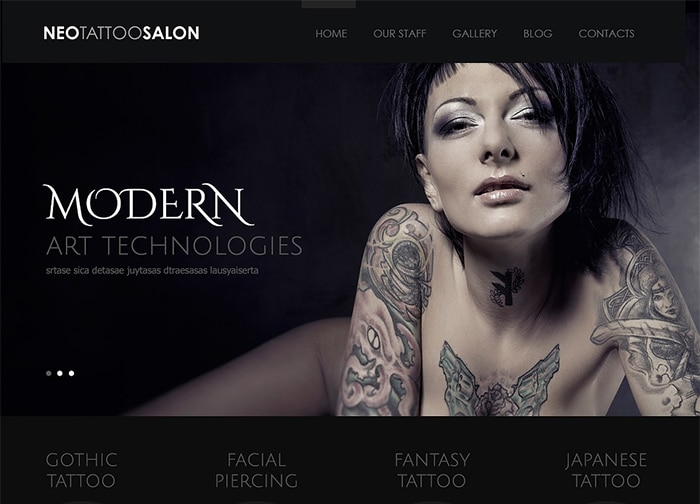 Sauna Responsive WordPress Theme
This original theme makes it easy for you to launch a sauna website. Its soft design with nice animation effects make it look aesthetically appealing. You can describe your services using the understandable icons. You can also start a blog to keep your visitors aware of the benefits of taking a sauna and pull them together into a strong online community. Various gallery scripts allow you to choose the best way to visually represent your brand.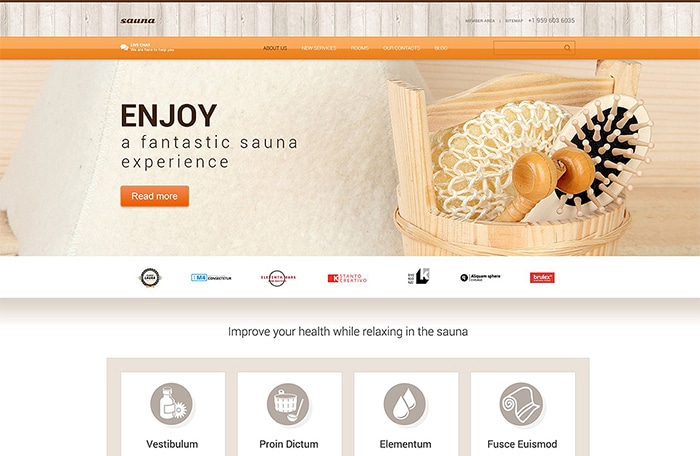 Acupuncture Salon WordPress Theme
Acupuncture is often used to improve your mood and regain your energy. An acupuncturist's website should convey this feeling as well. This template completely delivers on that task. Since it is built on the Cherry Framework, it provides advanced functionality and an intuitive, user-friendly admin panel. Bootstrap functionality makes the theme fully responsive and mobile-friendly. The blog and portfolio functionality, different gallery scripts, and video integration allow you to build a full-featured and versatile website.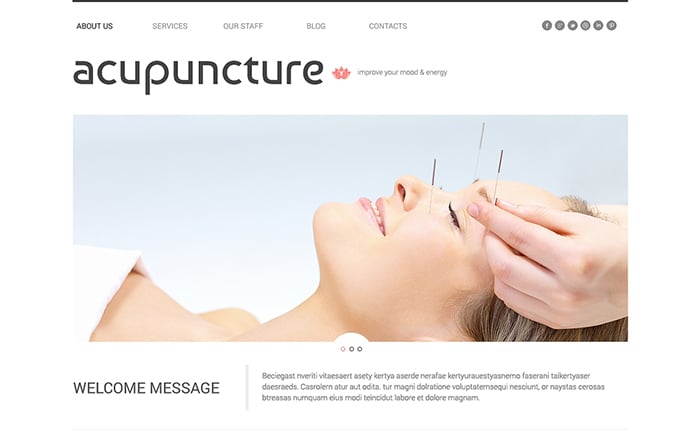 Spa Relax WordPress Theme
A health and beauty salon website should look elegant and stylish, and this theme delivers. It is designed in green and olive colors. The full-width background photo creates a cozy atmosphere, and the animated slider showcases your offers. The circular featured blocks present your top services and create a stylish look. Social integration will help build your reputation and can attract more clients to your salon. The theme is WPML-ready and SEO-friendly.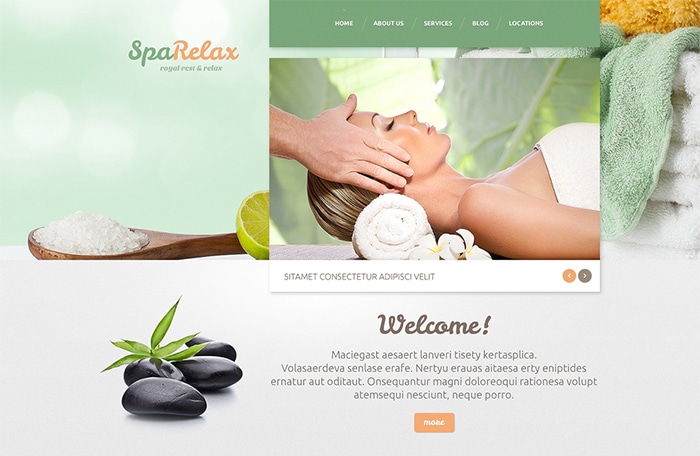 Creative Ideas – Tattoo Salon WordPress Theme
This theme greets visitors with a full-width slider displaying creative ideas for the tattoos. Its color palette combines black and a contrasting peach color, which creates an overall stylish and elegant look. The grid-based gallery can be used to show off your tattoo designs and attract attention to your work. The theme is well-documented and the Cherry Framework guarantees you'll have an easy 2-step installation. The built-in customizer assists you in the entire customization process.
Tattoo Studio WordPress Theme
This theme looks very original and memorable. The beautiful fonts and unusual list menu will make your website eye-catching and different from other sites. Advanced theme options along with the built-in customizer make it easy to adjust the theme for any project you like, and valid, clean coding guarantees better overall performance of the website. Responsive design and cross-browser compatibility enable your clients to use your website on any device they want and it will still look great.
Stylish Tattoo WordPress Theme
This is another stylish template for a tattoo studio. Its boxed layout makes it a good choice for a landing page. The leather background texture, black-and-white color scheme with bright orange elements, and original fonts create an elegant look for your website. The header slider attracts attention to your studio showcasing your most successful projects. Various gallery scripts make it easy to present your work in the best way while saving space at the same time.
Super Spa – Spa Salon WordPress Theme
This lightweight template is an ideal choice for the beauty industry. Its full-width slider with images, rounded images, pretty fonts, and pleasant background patterns create a positive and relaxing effect. The classy two-column layout is ideal for displaying your content, and the intuitive admin panel makes it easy to customize and manage your website. The template also provides blog functionality so you can create your own online community.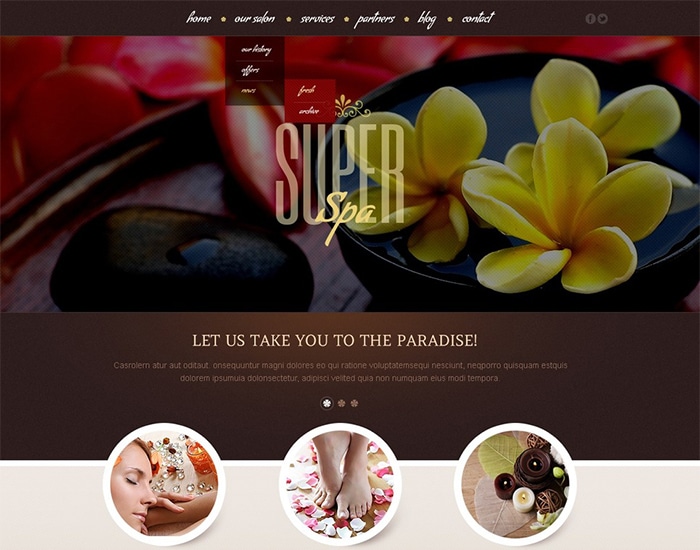 About the Author
John Walker is the head of affiliate programming for TemplateMonster, which has been providing website templates since May 2002 through partnerships with popular website platforms like Magento, Drupal, WordPress, PrestaShop, Joomla, WooCommerce, and many more.
---
Disclaimer: Women on Business is a TemplateMonster affiliate and receives a very small commission if you make a purchase using one of the links in this post. You are certainly not obligated to use one of these links if you decide to make a purchase, but if do, thank you for helping Women on Business keep on running!
Save