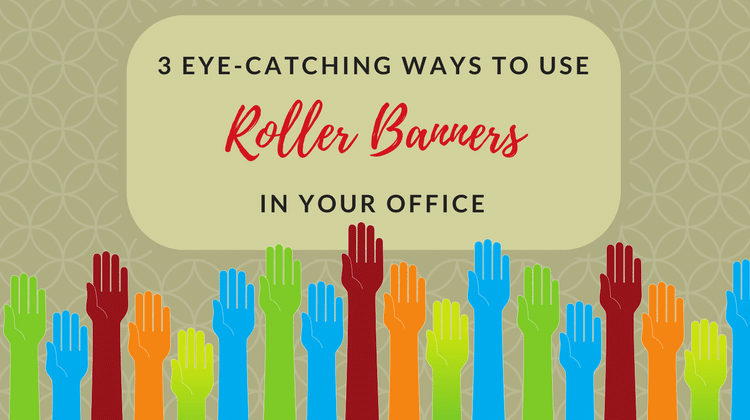 Sponsored by Roller Banners UK:
When you're looking for an economical and practical way to enhance your office surroundings, there is a simple solution. It always helps to create a good impression, whether or not you have clients or customers in your offices. You can easily create a more positive environment for staff and visitors alike when you use roller banners. Here are some ideas for creative roller banner placements in the office.
1.  Brighten Up Office Space
Most offices have a few dark corners that seem to collect old files and defunct office equipment. Have a clear out and replace this clutter with a well-placed pop up banner. It will not only fill the space but act as an enhancement, provided that the banner is well-designed. Roller banners are often more effective and personal than generic artwork on the walls of an office. This can miss the mark, particularly if it's too generic to have any relevance to the company or the work you do. Banners that are changed regularly provide color and interest while remaining an integral part of the company's ethos.
2. Promote Your Brand
When clients, customers, or prospective customers visit your office space, they are interested in learning about new developments, new products, and ideas that will help them with their business or in their personal life. A pull up banner focusing on the latest company developments will add value to their day. The bonus is that since roller banners are relatively economical to purchase, you can construct them for a variety of purposes, or use a banner where key parts of the design can be switched and changed to reflect updates.
3. Highlight Events
Roller banners work in the office to inform staff of upcoming events and also customers. By being able to place roller banners in prominent places in the office you can develop good communication and ensure that everyone knows what is going on. You could also use roller banners to highlight specific achievements in certain teams or overall progress in the company.
Of course, when you're using roller banners to create a good impression, it's important that the banners are well-designed and constructed from high quality materials. Choose a supplier with a focus on quality and customer service so you get a final product that is worthy of being shown to the world.