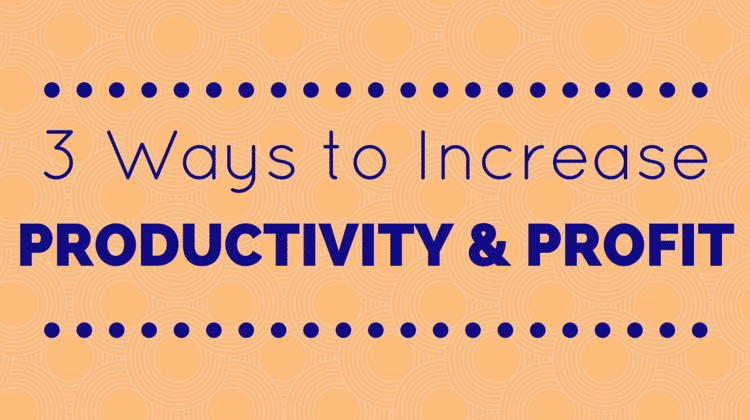 Increasing productivity and profit is a must in business in order for it to grow and reach its full potential. Often, increasing productivity means you will need more people on your team, especially if your business is rapidly growing.
The goal in business is to generate revenue to reach or exceed our profit margin. I would like to share three ways to increase productivity and profit:
1. Low Overhead Cost
Low overhead cost in business is a must. Overhead expenses include rent, utilities, phone bills, business-related fees (legal, accounting, marketing), software, etc. There are many corporate companies who are now taking into consideration the amount of money they spend on overheard. If this is something large corporations have reconsidered, it is certainly something small businesses should review, too.
Keeping your overhead cost low will "free up" funds that can contribute to your profit. Here are some examples of how to keep overhead costs low:
Allow your employees/interns to work remotely from home or meet at a public place that has free Wi-Fi
Use free email marketing services to communicate with clients
Create graphics using free online websites
Use free cloud-based services to store information online versus purchasing a records management software or using printers
Obtain a free business phone number that comes directly to your cell phone instead of buying a business phone
Hire college brand ambassadors
2. College Interns
College interns are my favorite. Though you have to take your time to do extensive interviews so you find the perfect candidate, it is well worth it. A lot of times solopreneurs or startups can't afford to hire full-time or part-time staff. Reach out to local colleges and universities. Most of the time, they will have a career center. Contact the career center and let them know what type of intern you are looking for and the qualifications. The school will send out the information to the students, and you can perform interviews with those who qualify.
The great thing about college interns is they want the experience (some will receive college credit for the internship), and they are willing to volunteer their time. I would suggest offering an incentive such as a gift card of some sort to show your appreciation. Interns should go through a thorough training period just as an employee would to ensure they are equipped to work independently. This way you can spend your time doing other tasks while the interns assist with the day-to-day operations.
3. Review Your Current Prices
When trying to increase productivity and profit, pricing is extremely important. Review your current pricing to ensure it is still accurate. Prices should be reviewed every six to eight months. The more you invest in your business and add value to your customers, your prices should increase. You always want to make sure you are being properly compensated for your work.
When reviewing current pricing, also remember to be aware of the amount of discounts you give to current and potential clients. If you are having a flash sale every week, you will eventually end up losing money versus making money because half of your customers will be receiving an abundance of discounts.
After reviewing the three ways to increase productivity and profit, I challenge you to apply the things you learned to your business!