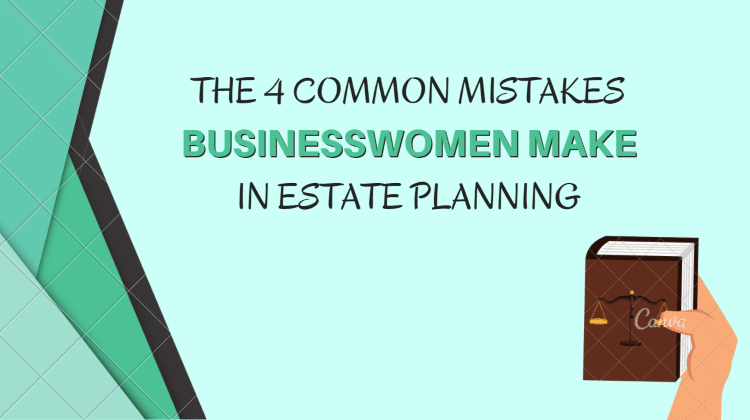 Sponsored by Katzner Law Group:
For years and years, studies have shown that most women outlive their male partners. While no one likes to think about the death of a loved one under any circumstance, planning for such an event is a necessary thing to do. It is even more important to prepare for the loss of a loved one when you are a businesswoman.
Estate planning lets you gain control over what will happen in the event of such loss. It also helps put a structure to the things that will happen after your death. Unfortunately, women still make the following common mistakes when it comes to estate planning.
Not Doing Estate Planning at All
This is the biggest and most common mistake both men and women still make today. Whether you are a professional or a business owner, estate planning is a must. It is even more important to have a plan in place when you have children and other relatives to take care of.
Estate planning gives you extra flexibility. You can allocate wealth for different purposes, have the wealth you have accumulated work in generating income for loved ones, and even deal with the succession within your business in the event of your death.
Not Getting Involved
It's essential that couples participate in estate planning together. The reason is simple. You're planning for what happens to your assets and children (if you have them) in the event both of you die or one of you dies.
Each person needs to fully understand what will happen if their partner dies. How will you pay the bills, maintain your insurance coverage, and deal with everything else on your plate in the event of your partner's death? These are not decisions that one person should make alone.
Not Doing It Properly
Another common mistake is not doing estate planning properly. You don't have to worry about the cost of hiring experts to help you. What you need to worry about is the risks you are exposing yourself to when you decide not to get proper assistance in doing estate planning, especially in getting the documents right.
Top firms such as Katzner Law Group make estate planning very simple. Experts with years of experience in navigating the estate law and other details about estate planning will make the whole process of getting your estate in order a breeze.
Not Thinking That You Will Live Longer
We're back to the studies again. It is worth noting that women, on average, outlive men by four to five years. It is essential to include plans to maintain a good standard of living during that period of time in the estate planning process.
Problems such as a loss of income, difficulties in transferring assets, and simply not having enough money to deal with taxes and insurance payments can be avoided with careful planning. All you have to do is avoid this mistake – and the other mistakes covered in this article – and start taking estate planning seriously.