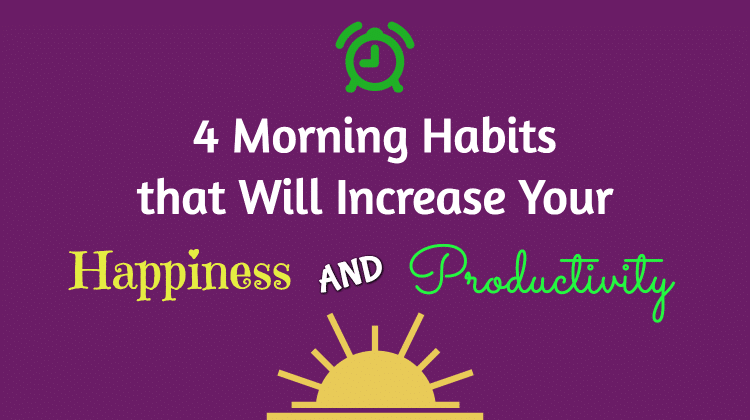 Do you hit the snooze button multiple times before getting out of bed, or do you jump up every morning screaming, "Woohoo! Let's start this day!"
If you are like most Americans, you're hitting the snooze button at least once before getting up–and this is delaying your happiness and productivity. According to a study by French tech-firm Withings, a consumer electronics company that sells wearable devices tracking sleep quality, 57% of Americans identified as "snoozers." Additionally, 58% of Americans confess that they stay in bed for more than five minutes every morning. Those are five important minutes that could be used to jumpstart your day.
If you change what you do first thing in the morning, you could actually change the results you produce throughout the day. Next time you think about hitting the snooze button, consider doing these four things instead:
1. Participate in Morning Meditation
In order to experience joy on the outside, you have to cultivate inner piece on the inside. Meditation is the perfect way to reset your mind and connect with the stillness and silence within before starting your day.
If you are new to meditation, Davidji has tons of resources that will get you started. I attended a Soulapalooza conference in Orlando and had the pleasure of hearing these powerful words by Davidji, "We transform the world by transforming ourselves. When you become more awakened, your world will shift."
So instead of hitting the snooze button, tune into one of Davidji's guided meditations or download the Insight Timer app to gain access to over 3,000 free meditations.
 2. Read Positive Messages
Set your brain for success by allowing it to see messages of prosperity when you wake up in the morning. You can post affirmations all around your house that force you to see yourself as the person you are becoming. Some examples of affirmations that you can use include:
I love who I am, and I am excited about who I am becoming.
The work that I am doing is preparing me for something greater.
I am an irresistible magnet who is attracting the most fulfilling opportunities into my experience.
If you want motivational messages delivered to your inbox, sign up for the notes from the universe. These notes are brief reminders that we all have been given dominion over all things. As a bonus, some days you'll receive a customized message that includes your unique goals. Reading your goal as if it was already accomplished can set the tone for an incredible day and week.
 3. Exercise Your Way to Success
If you're looking for an early morning fitness challenge, try Focus T25 Workout by Shaun T or P90X Power 90 Extreme exercise regimen by Tony Horton.
But there is no need to do a power-packed fitness routine if your mind and body are not prepared for that. There are quick exercises you can do in less than 10 minutes that can give you a sense of accomplishment early in the morning. Try these 10- minute calorie-burning workouts or the Squat and Push-Up 31-Day Bootcamp.
Try tracking your fitness progress with the help of a Fitbit; the Fitbit device helps you to stay motivated and improve your health by tracking your activity, exercise, food, weight, and sleep.
 4. Visualize Your Success
Most women on the move are obsessed over their "to-do" list. I admit, it's a great tool to have to organize your brain. It helps you to focus on specific things throughout the day. But it can be an overwhelming list to look at. You continuously pile on items from previous days. How about resetting your mind to think about everything you are about to accomplish? Write down what you wish to accomplish this week.
Now, close your eyes and imagine the details of the accomplishments that you have written down. For example, envision your success as a contestant in the Ms./Mrs. Corporate America pageant. You would think about receiving the crown and speaking all over the world to promote your message.
What makes this work is when you incorporate all of your senses: what are you hearing, seeing, touching, smelling, tasting, and feeling? Think about what you can do today to get closer to those accomplishments that you seek later. Now, write down the details that you are excited to create this week. How do you feel?