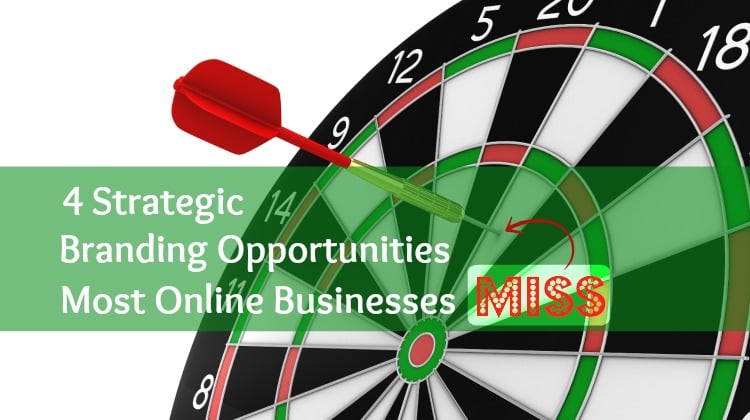 There's no shortage of ways to promote your business online. From social media to guest posting to traditional digital advertising … the possibilities abound.
Unfortunately, the online space is so crowded that it can be hard to stand out and get attention. In fact, much of the advice you'll find for building your brand is designed for companies that already have an audience. The reality is they won't do much on their own to get you discovered.
To overcome invisibility, here are four strategies to build brand awareness most businesses miss.
1. Take a Stand
Here's the harsh truth: only opportunists say yes to everything and try to please everyone.
Instead of being bland, iconic brands connect deeply with a network of fiercely loyal fans and customers.
How do you create these kinds of loyal fans?
By taking a stand.
Spend some time getting to know your ideal audience and discover the causes and worldviews that make them unique. Once you find out where your values and theirs overlap, make bold claims that resonate and create content to support and enforce these claims.
Don't be afraid to take sides, but be prepared to explain your position.
Have a vision and mission, and make sure that all the opportunities you take advantage of directly support these. If it doesn't contribute to your end goal, it's not worth it. No matter how cute, shiny, or popular it might be.
There are three specific ways to declare your worldviews (and those of your ideal customers) online. First, blogging is a great way to share your thoughts with the world.
Be like the snarky, irreverent Ash Ambirge, who proudly declares, "smart businesses don't do boring" on her blog The Middle Finger Project. Ash writes weekly posts that find new ways to say exactly that.
She curses, shares highly personal stories, and gives no-nonsense advice that's a little hard to swallow sometimes. Yet she has a ton of fans who love it and keep coming back because she understands them and they appreciate her for it.
Second, get others involved and start discussions, you'll want to consider getting involved in communities. Search LinkedIn, Google+ or Facebook for groups that speak to your ideal audience and join in on active discussions. Not only will you get great insight and content ideas, you also have the chance to share content from yourself and others that answer questions your target audience is asking.
Can't find any groups?
Then, third, make your own! Build your own community on the most suitable platform and name it based on your audience, not your business. Share valuable content, tips, and questions first, then invite others to join in.
That's what Andrea "Dre" Beltrami did when she founded her business, The Branded Solopreneur. She created her own Facebook group, The Badass Solopreneur Society, where she creates exclusive content and invites conversations around being a solo-entrepreneur to flourish.
2. Customize Your Autoresponders
This is a huge missed opportunity because most online business never even check to see what their autoresponders say.
When someone signs up for your list, do they get a generic email — "Thank you for signing up for our newsletter" — that looks like everyone else's'?
If so, you just wasted a perfect opportunity to display your brand and connect with them even further.
Imagine if that email had instead declared: "Congratulations … the angels are singing and a brand new kitten was just born in your honor! Why? Because you are now a member of one of the smartest, most exclusive, no-nonsense communities online. To prove it, here's an exclusive [item you know they would really want] from us. Enjoy!"
Huge difference, right?
Autoresponders allow you to create personalized, automated emails that are sent to a contact when they are added to a list. You choose the order, frequency, and targeted content of the message.
Start with a simple format and then rewrite it in your brand's voice. Offer personalized help, include your logo and brand colors, add images or a video from your business, and/or include an offer that helps to further convert them to loyal, repeat customers.
Take a look at the welcome email Derek Halpern sends to new subscribers of his blog, SocialTriggers.com. Notice that he's very conversational, not robotic, yet still manages to show his authority in the field. His encouragement to have the recipient reply to the email allows him to get personal and get to know each subscriber on a deeper level.
The term "hashtag" is one of those buzzwords we see mentioned everywhere.
Developing your own hashtags, if nothing else, allows people who follow your brand to keep track of related content.
For example, if you run an online clothing store named Grab Bag Clothing (made up name), you could encourage fans to share photos of their purchases and how they wear them on Instagram using the hashtag #grabbagclothing. Future customers can then search that tag to see what others are buying and get outfit inspiration.
Hashtags are also a great way to track brand mentions and measure your brand's social media impact. If you are executing a campaign, you can use a tool like Oktopost to create content around the campaign and use a dedicated campaign hashtag. Even better, through their campaign analytics platform, you'll be able to tell exactly how your content performs, by tracking engagement, shares, click-throughs, and hashtag usage across platforms.
But simply creating your own hashtag won't do much to attract people who haven't yet discovered your brand.
That's where newsjacking comes in.
As David Meerman Scott explains in his aptly titled book, Newsjacking, this is the process by which you inject your ideas or angles into breaking news, in real-time, in order to generate media coverage and attention for yourself or your business.
By jumping in on trending topics, especially on Twitter, you get to expose your brand message to the thousands tracking that hashtags.
Newsjacking, however, can be tricky, and you have to be very careful what hashtags you choose hijack. It is important choose a relevant hot topic, and be timely with your message, like Oreo did with their now famous 'Dunk in the Dark' tweet during the Super Bowl, and avoid any association with negative events, like Celeb Boutique accidentally did with the #Aurora hashtag which was trending due to a recent mass shooting in Aurora, Colorado.
Want to get people to pay attention to meaningful statistics and other boring forms of content?
Make it visual!
Infographics are a great way to present useful, but complex information in a pleasing, easy-to-understand way that audiences actually want to read. They can be used to present information such as:
Statistics from research
Survey results
How-tos guides
Flowcharts
Just remember to include your branding and a link to your website (or better yet, a relevant landing page to a special offer) to get the most traction.
Once you publish an infographic, be prepared for the image to be shared all over, particularly on Pinterest. This platform loves long, narrow images so it caters to the standard shape of infographics. Many Pinterest users even have boards dedicated specifically to the infographics they find online.
It may be a bit daunting to think about creating these on your own since they can often include complex graphic elements that take a long time to design.
Don't worry about it. Fortunately, there are quite a few tools to help you create beautiful, professional-looking infographics for your business, many of which are completely free.
Don't Miss Out
Stop being invisible. It's up to you to seek out unique opportunities that set your brand apart from and spread your message.
Just remember to take a stand, create engaging autoresponders to keep your leads hot, take advantage of hashtags and trending topics, and publish shareable infographics.
Being unique is the only way to stand out and build a brand worth talking about.
About the Author
Tamar Weinberg is a professional hustler and author of bestselling social media book, The New Community Rules: Marketing on The Social Web. She blogs about all things tech and social at Techipedia.