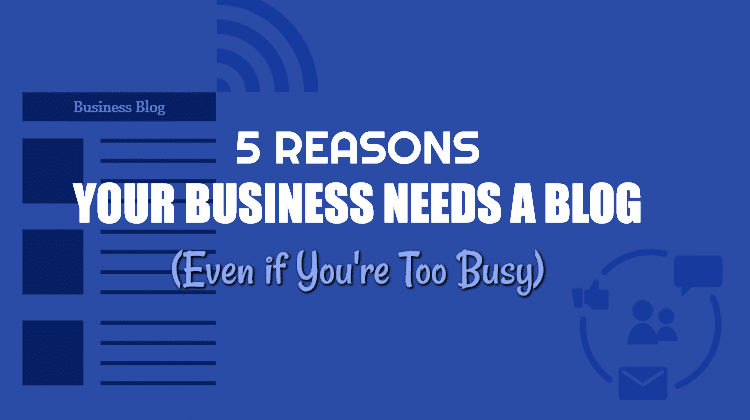 Are you thinking about starting a blog for your business… one day? When you're busy running a small business, it can feel like you don't have a spare minute in the day to dedicate to a blog. However, blogging is an essential activity for small businesses, and you need to make time for it. Here are five reasons why your business needs a blog, even if you're too busy.
1. A Blog Helps Increase Your Web Traffic
Without a blog, your business' website won't have many pages. You may have a home page, an about page, a contact page, and maybe a product page, and you can't fit much content into a few pages. With few pages and not much content, your business doesn't have a lot of opportunity to come up in search engine results.
When your business starts a blog, this changes. Every new blog post you publish is a new page for your website, and each new page can be optimized for your targeted keywords. This opens up new ranking possibilities, and your business has more opportunity to be found in search results. Since people will be finding your posts based on their search queries, your traffic will be highly relevant.
A regularly-updated blog can have a drastic effect on your web traffic. According to HubSpot, companies that publish 16 or more new blog posts per month get nearly 3.5 times more traffic than companies that publish fewer than four. With results like that, why would you wait to start a blog?
[clickToTweet tweet="Businesses that publish 16+ blog posts/mo. get 3.5X more traffic than co's that publish <4″ quote="Businesses that publish 16 or more blog posts per month get 3.5X more traffic than companies that publish fewer than 4 posts."]
Do you never know what to talk about on your business' social media profiles? There's only so much to say about your business, and if you don't have a lot to share, it's easy for your feeds to become spammy. Small businesses that constantly share updates like "buy my product" or "check out my site" will turn off their followers.
Your business' blog gives you something new and exciting to share with your audience. Every time you publish a new blog post, you can share it on your preferred social networks. Since good blog posts are helpful and interesting, they don't annoy your audience. Your audience will retweet or share your best posts, which lets even more people see your blog posts.
3. A Blog Helps Build Your Authority
Authority is very important in business. Customers want to know that they're dealing with someone who knows what they're doing. No one wants to give their hard-earned money to a business that may not be able to follow through.
Your blog is a way to show your potential customers that you're an authority in your field and that you're well-qualified to help them. Through blogging, you can share your expertise with your audience. By answering your audience's questions and helping them with their problems, you'll build trust. Once your audience trusts that you're helpful and knowledgeable, they'll be more willing to do business with you. Many people have become thought leaders through blogging, and you can do the same.
4. A Blog Helps Your Business Generate Leads
Finding leads is one of the hardest parts of running a business. Without a steady stream of leads coming in, you won't be able to make enough sales to remain profitable. You've probably tried a lot of lead generation strategies, but some are easier than others.
A blog is one of the best ways for businesses to generate leads. Your blog drives traffic to your site, and some of those viewers can be converted to leads. This can be as simple as offering email subscriptions on your blog to grow your email list. You can also include calls-to-action at the ends of your blog posts to prompt your readers to take a certain action, like calling your company.
5. A Blog Drives Long-Term Results
Some of the marketing actions you take for your business won't last for long. Once an ad campaign ends, for example, people may forget about it. Since you're so busy, you need to choose marketing methods that will continue getting you results.
A major benefit of a blog is that it drives long-term results. Once you publish new blog posts, they'll always be online (unless you take them down), so people will always be able to find them in search engines. The posts you write today could still be driving traffic to your site and helping you generate leads five years from now. These long-term results are a great reason to prioritize blogging for your business.
What are you waiting for? It's time to finally start your business' blog. The results of business blogging are worth it, so the time investment you make today will help your business continue to grow in the future.