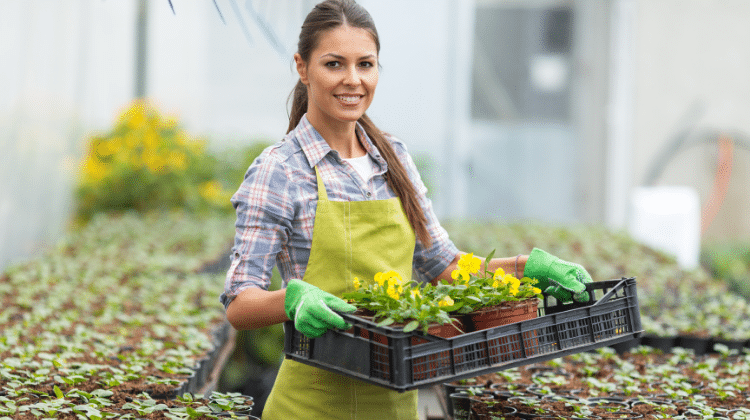 Brought to you by Palram:
If you love plants and gardening, starting a backyard plant nursery is an excellent way to turn your love for them into cash.
Many people think of a local garden center when they hear the term plant nursery, but most garden centers only produce a few plants. Most of the time, they purchase the plants they sell from specialty nurseries that grow a wide variety of plants.
One of the vital things you need to prepare is the nursery or greenhouse. If you want something that will be durable, weather-resistant, impact-resistant, and protect your plants from UV rays, building a nursery using polycarbonate roof panels is an excellent option.
After thinking of the design for your nursery, here are the other things to consider to start your backyard plant nursery business, which is an opportunity for those looking for a profitable stay-at-home business.
First Things to Consider
A plant nursery usually grows plants from saplings or seeds. The plants they raise are typically grown to the size that larger retail distributors, landscapers, and gardeners need to install into outdoor or indoor areas, floral borders, backyard gardens, and lawns.
It's vital to research your options because the size, selection, and quality of the plants you will produce will depend on the demographics of your locale. You'll make good money if you specialize in plants that are in demand, such as container-grown plants. If you're located in a rural area or a small town, you may have more income by focusing on wholesale plant sales. You can supply landscapers and retail nurseries in the area.
A plant nursery owner can buy wholesale and enjoy more discounts. In the wholesale nursery business, you can specialize in what the trade calls whips (unbranched young seedling), liners (from cuttings or tissue culture), and plugs (grown from seeds). These are different types of plant starters. When you get them, you replant them in bigger pots. It will take about a year for the plants to grow to the size where they're ready for sale. With this option, you can have outstanding profit margins. For example, your investment in the starter plant is $0.25. Within a year, you can sell the plant for $5.
Another good thing here is that you'll have a mother plant. That means you can propagate it through root division or cuttings, so there is no longer an investment cost and your income will be higher.
Starting the Business
All businesses start with a plan, and your business plan should contain all the specifics regarding the business.
Cost of Opening the Plant Nursery
This is a priority. You need land and preferably a good location. You have to consider the building of the greenhouse, and whether it should have plumbing, electricity, and heating. You may also need staff, a retail storefront, and supplies – from the startup plants to soil, tools, and fertilizers.
Ongoing Expenses
The bulk of expenses for a plant nursery comes from payroll, inventory, water, and chemicals. It would be beneficial if you can use private wells instead of connecting to a municipal water supply.
You'll earn more if you focus on selling more familiar, easy-to-grow, and hardy plants. Thus, it's vital to find which plants are in demand. Look for wholesale purchase prices for plants that do not require much attention, and sell them at retail.