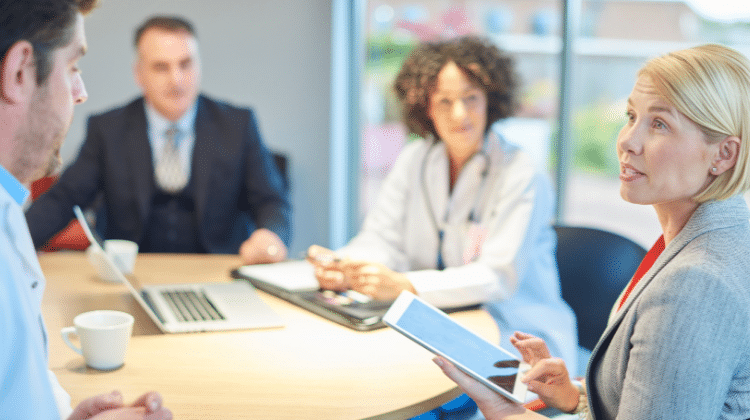 Brought to you by Carrington College:
When considering a business career, the healthcare industry offers many opportunities. The good news is, the Bureau of Labor Statistics reported that employment in healthcare occupations is expected to rise by 18% before 2026, which is a faster rate than average. In other words, there will be more employment opportunities in healthcare than any other industry during that time frame.
Therefore, it's a smart idea to consider business career options in the healthcare industry. Here are some opportunities to think about:
Health Services Manager
Medical and health service management is a leading administrative role in a healthcare facility, often referred to as healthcare administrator or executive. A medical and health services manager directs, plans, and coordinates critical health and medical services in a healthcare facility.
As a healthcare executive, you can manage a whole healthcare facility, a specific clinical department, a group of doctors of the same medical practice, or a particular floor in a healthcare facility. Some of your responsibilities would be:
Boost the efficiency of healthcare services in the hospital
Create work schedules for other employees
Come up with the hospital's goals and objectives every year
Ensure the facility is compliant with medical laws and regulations
Administrative Service Manager
An administrative service manager takes part in the medical administrative role. Their work is to plan, direct, and coordinate support services for a healthcare facility.
They supervise significant functions of a hospital, such as health record-keeping, distribution of mail, and the general upkeep of the healthcare facility. In a smaller facility, such a professional may be referred to as facility manager. Common duties include:
Supervising clerical workers in the various hospital departments
Develop, oversee, and manage hospital health records
Ensure the healthcare facility is safe and adequately maintained
Oversee the maintenance and repair of hospital equipment
Set goals and deadlines for various departments of the hospital
Pharmaceutical Sales Representative
With your business degree, you can work in the healthcare industry as a pharmaceutical sales representative. The work of a pharmaceutical sales representative is to market pharmaceutical products in medical facilities like hospitals, clinics, and other healthcare facilities as well as directly to physicians.
In most pharmaceutical companies, a sales rep promotes one type of medication that requires extensive knowledge about the drug's usage, benefits, contraindications, and potential side effects. Many pharmaceutical companies hire professionals with a science-related degree or business degree as sales reps.
Health Insurance Sales Agent
Health insurance professionals promote insurance policies covering healthcare, dental coverage, assisted living services, and disability insurance. You need a business degree to work as a health insurance agent and at least some experience selling insurance. Additionally, a health insurance agent requires licensing to practice in their state.
Health Insurance Underwriter
The work of a medical or health insurance underwriter is to assess applications for health insurance and determine whether or not to offer coverage. If the applicant is approved, a health insurance underwriter also determines the contract terms, including policy premiums, coverage, and limits.
Many employers expect health insurance underwriters to have a degree in business or other related fields like mathematics. Professional certification is also necessary.
Financial Manager
The work of a financial manager in a healthcare facility is to monitor and improve the efficiency of the hospital's financial health. They should produce financial reports for the hospital or facility, oversee investment activities, and develop strategies that work towards achieving the long-term financial goals of the healthcare facility.
Today, many healthcare facilities are under pressure to provide quality healthcare services at lower costs, and it is the work of a financial manager to bring that to fruition.
Human Resource Manager
A human resource manager interviews and employs new hospital workers in both clinical and administrative positions. They also work with the hospital executive manager or CEO to develop strategic plans to boost the efficiency and profits of the facility.
In the healthcare industry, the human resource manager needs to develop ways to increase the value of each employee for the betterment of the facility.
Conclusion
With a business degree, there are so many employment opportunities in the healthcare industry. Do your research and find the right match for you!