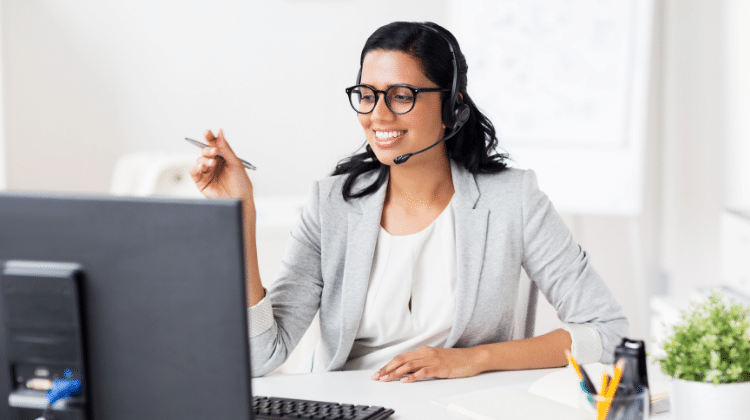 Brought to you by VoiceNation:
As the owner of a small business, you know how important it is to focus on one thing at a time since multitasking can lower your productivity. That said, in the days of virtual services, you can often find your phones ringing off the hook when you're trying to work hard. After all, people have become online shoppers, virtual students, and remote employees, so they will expect to be able to call your business and receive the help they need.
If you don't have the funds for an in-house assistant to handle these calls, a virtual receptionist might be a good idea. A reliable phone service, such as VoiceNation, can give you the ability to work in peace. Here are some of the ways this can help you get more done while you work.
Improved Customer Service
The last time you were interrupted from an important project to answer the phone, you were probably wondering why you chose such an incredibly stressful career instead of being upbeat, friendly, and dedicated to customer service. This will carry over into your conversation, meaning that the only way you can provide customers with top-notch service is to enter the call with the right mindset.
Fortunately, virtual phone services provide receptionists trained in customer service and understand how to make each customer happy. That means they will be able to warmly greet all of your clients, send any urgent calls your way, take detailed messages when you're unavailable, and gather all the information necessary for proper return calls when you're ready.
Aside from making your business seem more professional, this also ensures that you are uninterrupted while working on critical projects.
Streamlined Operations
While the phone services in the past were only used when offices were closed, modern receptionists are much more advanced. They go well beyond simply taking basic messages and sending them to your desk. Actually, the new technology and training that receptionists receive give them the ability to help improve your workflow.
In fact, most providers are eager to figure out how to handle different scenarios and instructions for incoming calls for each employee. This means that your receptionist operates much like an in-house staff member by answering questions commonly asked, giving driving directions to your shop, weeding out telemarketers, collecting important information from new clients, and identifying urgent and less important calls.
In other words, you'll spend less time being interrupted about calls and have fewer outgoing calls to make. Additionally, your receptionists can help you make outgoing calls, so you spend less time checking off your callback list and more time focusing on your projects.
Enhanced Reliability
Another major benefit is that your receptionist doesn't seem like a traditional service but rather a member of your team. That's because the best receptionists are dedicated to helping your business succeed, which reassures you that talented and well-trained people are handling all calls.
In addition, you get the benefits of an in-person receptionist by having your call service adjust how they handle calls when you're in a meeting or on break while avoiding the downfalls of an in-house staff member needing to take breaks and call in sick.
Instead, your calls will be answered by someone reliably there, meaning you don't have to worry about covering the phones. That gives you extra peace of mind, letting you spend more time focusing on your most important projects.
When you're at work, you want to know that your business phones are answered by someone who will be upbeat. However, that can't always be you since multitasking lowers productivity so much, and you're doing the heavy lifting of running your small business.
If this is a problem for you and you want to get more done while at work, you should considering hiring a virtual phone service. These individuals are trained in customer service, so you know someone will always answer your phone and treat your customers well.
With this peace of mind, you can spend more time focusing on your work. That means you can streamline your day-to-day operations and improve your overall efficiency. In other words, you can get more done.