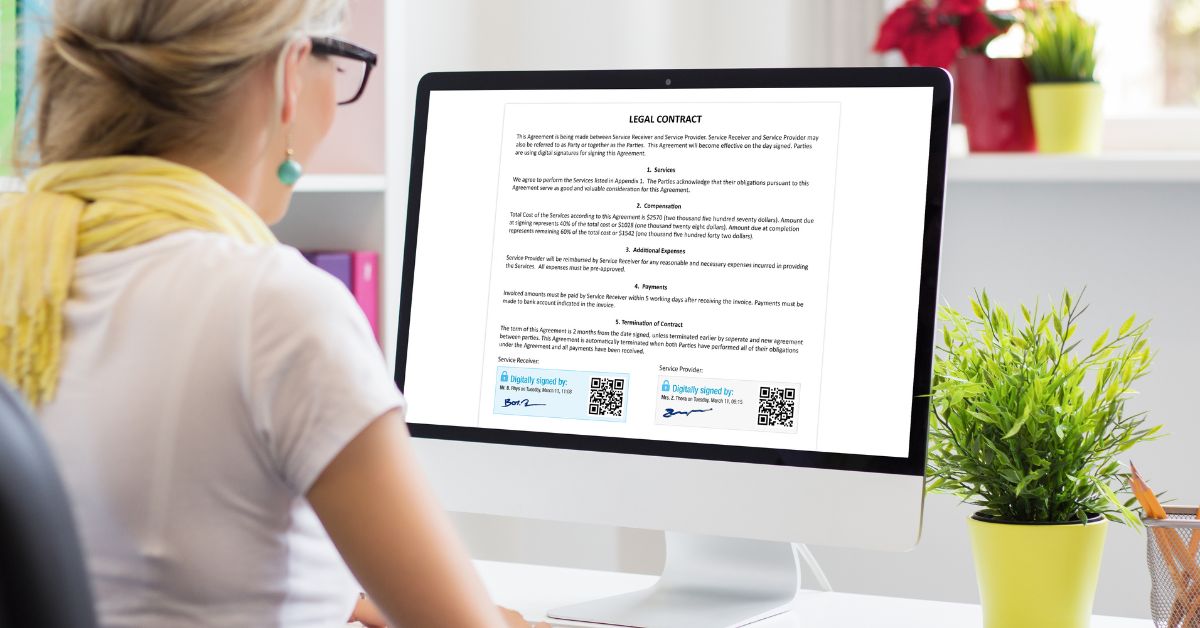 Brought to you by Artlogo:
Technology has revolutionized how businesses operate in today's rapidly evolving digital landscape. This digital transformation presents immense opportunities for women entrepreneurs to overcome traditional barriers and thrive in business. One such powerful tool at their disposal is the digital signature.
Digital signatures offer numerous advantages over traditional pen-and-paper signatures. They allow for easy authentication and validation of important documents, contracts, and agreements with speed and security. This article explores how women entrepreneurs can leverage digital signatures to streamline operations, enhance security, and ultimately pave the way for success.
The Power of Digital Signatures
Digital signatures, or e-signatures, are electronic versions of traditional pen-and-paper signatures. However, unlike their physical counterparts, digital signatures provide various advantages that make them indispensable in today's business environment.
With a digital signature, women entrepreneurs can authenticate and validate important documents, contracts, and agreements easily, quickly, and securely.
Streamlining Operations
One of the key benefits of using digital signatures is the ability to streamline operations for women entrepreneurs. Traditionally, signing documents required time-consuming processes, including printing, signing, scanning, and sending them back.
This inefficiency consumed valuable time and led to delays in crucial business transactions. Women entrepreneurs can eliminate these bottlenecks and accelerate their workflows by adopting digital signatures. With just a few clicks, they can sign documents electronically, saving time and resources while maintaining efficiency.
Enhancing Security
In today's digital age, security is a top concern for every entrepreneur. Digital signatures provide a robust security framework that ensures signed documents' authenticity, integrity, and non-repudiation.
The encryption technology used in digital signatures ensures that the document remains tamper-proof, making it nearly impossible to alter without detection. By leveraging digital signatures, women entrepreneurs can protect their sensitive business information, foster stakeholder trust, and mitigate fraud and forgery risks.
Accessibility and Cost-Effectiveness
For women entrepreneurs, accessibility and cost-effectiveness are crucial factors to consider. Traditional signing methods often required physical presence or expensive courier services. With digital signatures, geographical boundaries and logistical challenges are no longer obstacles.
Entrepreneurs can sign documents from anywhere in the world, enabling them to collaborate seamlessly with partners, clients, and investors across the globe. Furthermore, digital signatures reduce printing, postage, and storage costs, providing a cost-effective solution for business operations.
The power of digital signatures lies in their ability to enhance security, streamline operations, and promote accessibility in the digital era. Women entrepreneurs, in particular, can benefit immensely from digital signatures' advantages.
With this technology, they can protect sensitive information, optimize workflows, and establish trust with stakeholders. Using digital signatures not only simplifies the signing process but also contributes to a more sustainable and efficient business environment.
How to Make a Signature in the Digital World
Creating a digital signature is simple and accessible to all women entrepreneurs. Here is a step-by-step guide on how to make a signature in the digital world:
Choose a Reliable Digital Signature Provider
Research and select a reputable digital signature provider with robust security features, compliance with regulations, and user-friendly interfaces.
Sign Up and Verify Your Identity
Create an account with the chosen digital signature provider and follow their verification process to establish your identity. This may involve providing personal information and documents for verification purposes.
Create Your Digital Signature
Most digital signature providers offer tools to create your signature. You can either draw your signature using a touchscreen device or upload an image of your physical signature. Some platforms also offer the option to use a typed signature font.
Customize and Fine-Tune
After creating your signature, you can customize its appearance, size, and positioning. This ensures your digital signature is unique, professional, and visually appealing.
Test and Validate
Before using your digital signature in real business transactions, test its functionality by signing sample documents. Ensure the signature appears correctly, the document remains intact, and the verification process is smooth.
Start Signing Digitally
With your digital signature ready, you can start signing documents electronically. Most digital signature providers offer intuitive interfaces where you can upload documents, place your signature, and securely send them to recipients.
By following these steps, you can easily make a signature in the digital world and take advantage of the efficiency and security digital signatures offer.
Bottom Line
The advent of digital signatures has provided women entrepreneurs with a powerful tool to navigate the rapidly evolving digital landscape and overcome traditional barriers in the business world. By leveraging digital signatures, women entrepreneurs can streamline operations, enhance security, and pave the way for success.
Women entrepreneurs can streamline their operations by eliminating time-consuming processes and accelerating workflows. With just a few clicks, they can electronically sign documents, saving valuable time and resources while maintaining efficiency.
In conclusion, digital signatures have revolutionized the way women entrepreneurs conduct business. By embracing this transformative technology, they can harness its power to drive their success, overcome traditional barriers, and thrive in today's digital landscape and beyond.