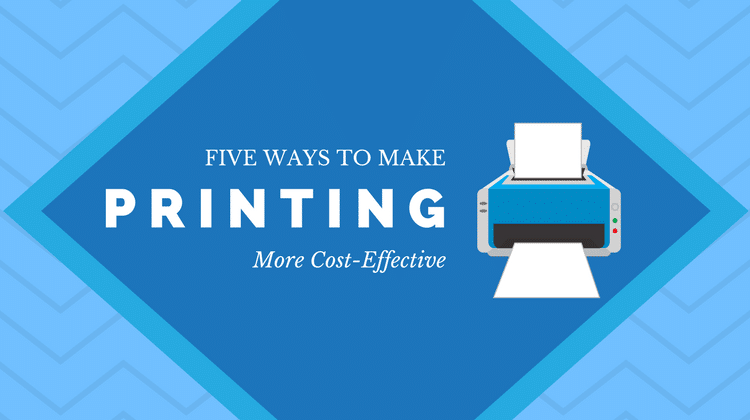 Sponsored by Printerland:
As a business owner, keeping costs to a minimum is very important. If you're spending money unnecessarily and failing to keep an eye on your expenditures, you run the risk of operating without making a profit.
The simplest way to prevent this is to analyze your current day-to-day systems and see where you may be wasting money. Not only will this help to bring down your monthly expenses, but it'll give you the opportunity to streamline your business and focus on the systems which bring in the highest profit.
In this guide, you'll learn how you can start making your business more cost-effective, beginning with your printing regime.
Purchase a Suitable Model for Your Needs
The first thing you should do when ensuring that your business printing setup is cost-effective is to make sure that you're using a model suited to your business' requirements. If you fail to do this, you may end up paying for a machine that doesn't allow you to perform key tasks and then re-purchasing another model in future.
If you're considering short-term costs, than a cheaper model is a smart option, but it could bring larger long-term costs. More expensive models usually have lower running costs and are a smarter alternative in the long run, so weigh-up the actual requirements of your office printer before selecting the perfect one.
Consider Eco-friendly Machines
You may also want to consider an eco-friendly machine when looking to make your printing regime more cost-effective. This is because the amount of power that your printer uses directly correlates to your utility bills.
Regularly printing documents from a model with a high energy consumption can bump-up your electricity bills, so it may be best to invest in a model with lower energy consumption, as this reduces electricity costs in the long-term.
Be Smart!
When you're sharing an office or using a printer with a large volume of people, you need to be smart about your set-up in order to make it cost-effective.
Don't use the office printer for the sake of using it, create guidelines for your team and always ensure they check their work before printing to decrease the amount of waste. Have a rule for font size and font type to ensure less ink is used, and consider banning employees from printing non-work-related documents from the machine.
Use the Best Ink
You'll also want to analyze the ink and printer consumables that you're using within your office printer when discovering methods to make it more cost-effective.
The simplest way to do this is by avoiding third-party ink or toner as they don't tend to last as long as manufacturer-produced ones. Although genuine cartridges might have a larger upfront cost, they're likely to last much longer, so you won't have to repurchase as often as you'll have to when using third-party alternatives.
You can also buy consumables in bulk to cut costs, meaning that your printer consumables are more cost-effective in the long-term
Opt for a Multifunction Machine
If you're a company that requires a printer, scanner, fax machine, or copier, an all-in-one printer provides each of these functions without having to fork-out the initial cost for each. You'll also benefit from not having to repeatedly purchase similar consumables for individual machines.
The Lexmark printer CX417de has all these capabilities and also offers its users doubled-sided printing. This gives you the additional benefit of halving the amount of paper you need to purchase for the machine.
Whether you're looking to print, scan, or fax your important documents, there are a variety of models that are suited for business use. Now, it's up to you to find the ideal machine for your office and ensure that your setup isn't forcing you to waste money unnecessarily.
Save