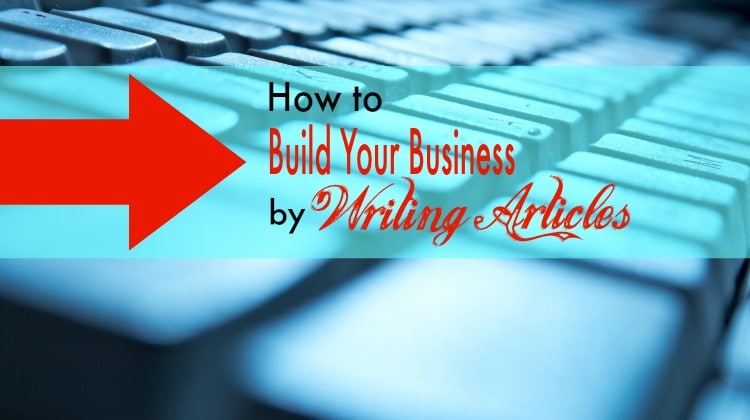 Article marketing was all the rage just a few short years ago as a way to build your reputation by churning out article after article in as many places as possible on the internet and even offline. But then some 'interesting' marketers decided to take it to a whole new level by taking one article and changing the words as many times as possible in order to generate lots more articles as quickly as possible.
This led to very poor quality articles showing up in all kinds of places on the internet, and Google had to crack down on it. Google's business depends on its ability to deliver great search results to their users, so having all these sub-par articles showing up in search results was not good for business. They did what any responsible business owner would do. They shut it down.
In came an algorithm change and lots of business owners lost their flow of leads and prospects in one foul swoop.
As a result, lots of business owners thought that article marketing was dead, but they missed the point Google was trying to make. Don't try to use shortcuts—do the work!
Using Article Marketing to Build Your Business
Is it possible to use articles still in your marketing machine in order to generate more leads into your business? Yes, it is still possible as long as you are willing to actually do the work rather than try to circumvent it.
One of the best ways to use article marketing is by writing guest blog posts. This is when you write up a post for use on someone else's site. For instance, this article you are currently reading is an example of a guest blog.
I am contributing my knowledge to this site, hoping to spread my message to a new audience while at the same time, supporting a fellow business owner and providing an informative article to you, the reader.
A true win-win-win.
And as long as I am willing to actually do the real work involved in creating useful information for you, the reader, then I have met my goal. You now know of me.
Yes, it is great to write blogs for your own site, but unless you are popular already, it can seem pretty hard work for very little reward, particularly at the start of your business. Regardless of what is happening with the search engines and social media algorithm changes, your business will not be affected if you are writing firstly for the people you are speaking to, rather than just as a way of gaming the system.
The problem people have is in coming up with enough content to write blog posts on their own sites and also offer content to another site. As a result, business owners hold back from trying to guest blog.
Lets keep it simple. Follow these three steps to build your business by writing guest blog posts:
Find a blog that you would like to write for in your niche.
Think through some of the challenges faced by people in that niche and either write a step-by step article or write something inspirational or something that polarizes so you attract more of the people you want in your world. Of course, the blog owner may have tell you what to write, in which case, that makes life a little easier (it does not happen that much, though).
Write the article yourself or pay someone to do it for you. Try to make sure it sounds like you and your business. There is no point getting the attention of people you do not want in your world.
And there you have it—a simple plan for creating articles that promote you as an expert.