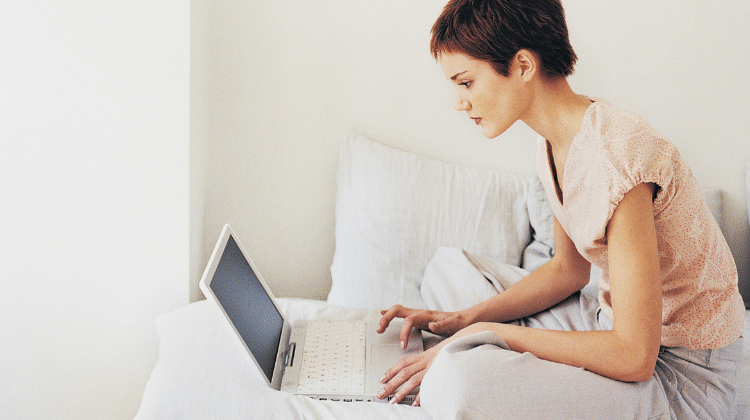 Brought to you by Canecto:
Even before the rise of technology, communication experts around the world strongly believed in the fact that humans are influenced to make decisions based on what they see and hear. This is true on your website as well as life in general.
Even for prospective customers who don't buy your product online, they have probably visited your website at some point – often, it's the first point of contact with a brand.
With this in mind, you need to set the scene for how you want customers to see your business. Instantly, they should have the right mindset for the journey on which they're about to embark with your company. Above all else, your most important task is likely to be content.
The problem? According to some statistics, around 90% of website traffic DOESN'T convert into business for the website owner. Why spend time and money getting traffic to a website when the real problem is what happens as soon as they arrive?
Fix Your Content with AI Technology
Traditionally, the issue of fixing content has been somewhat of a black box. No tools have been able to tell you how the content has been performing and what needs to happen to improve it.
In itself, the field also seems to have been reserved for experts. While most website owners will understand funnels, UX, user journeys, and other basic terms, the rest is a specialist field that requires a communication expert just to understand. Therefore, it's understandable that most website owners have been unable to attack content improvements in a systematic and data-driven way.
However, there is now a solution to this problem, and it could save lots of business owners headaches in the coming months and years. Much like many modern inventions, it utilizes AI (Artificial Intelligence). Luckily, in this case, the results can be presented in a non-tech way, so understanding your content issues is easier than ever before. What's more, you can also learn which actions will improve your content.
There are patterns in how your users interact with content, and this fact forms the foundation for this particular technology. If enough people react the same way, this becomes a trend. By knowing the most influential trends and how your content interacts with users, you suddenly understand why they react in the ways they do. Moving forward, this provides insights into what can be improved for even more reactions.
For example, let's say the strongest patterns are telling you that writing style is essential with content. From that moment forward, you can focus your attention on this area. Alternatively, it might be that the length of your articles is the most important factor that determines reader interaction. Either way, it offers a focal point and one that will allow for improved content for your specific audience.
The technology reviews lots of different patterns in user interaction, but you'll only be presented with the ones that really matter. What does this mean? For one thing, you don't need to waste hours and hours trying to interpret data like with conventional web analytics tools. This technology will isolate the patterns in your users' behaviors that can explain how they interact with your website. Compared to conventional analytics tools, this is a much simpler solution.
Additionally, the technology will even identify the pages on your site that require your attention most. With this, you'll know where to focus, what's wrong, and how to fix the content.
Make Data Analysis Easier
While there are many fantastic features with this technology, perhaps the best is the simplicity (its non-tech nature). Numbers, graphs, and statistics don't drive content improvement findings. Whenever a finding is presented, it's shown in plain text, so you don't need to have a degree or lots of experience just to understand the required action.
This means you can get started without the help (and cost) of an agency. If you don't want to, you don't need to understand the terms or what the graph means. As long as you have the actionable steps and framework to improve the content, you're all set.
In fact, the findings can be presented to you as a web analytics PDF report. In a management reporting style, it will also tell you what's wrong with the website and what you can do to fix it.
If you're looking for a solution of this type, one of the best is Canecto. Based at the Technical University of Denmark, this is a Danish company that really helps with website improvements.
Of course, not everything will be automated for you. You'll still need to do the actual content improvements, but knowing where to focus, which content has issues, and how you can improve is invaluable. Now, you know what you should aim for to get it right.
Without expensive experts, you can improve your content with confidence. By doing so, you ensure that you're doing the best you can to have your business and website running in harmony. Your website will be supporting your business, and vice versa!