Brought to you by Servpro Industries:
As companies begin to implement strategies to bring both consumers and employees back into their communal spaces, leaders must recognize that implementing a comprehensive cleaning and maintenance strategy is vital. By doing so, we actively demonstrate that the health of those around us and providing peace-of-mind is a priority.
If you're starting to put together a cleaning routine, here are four tips and practices to help level up your cleaning routine:
1. Develop a Cleaning Schedule
Consistency and frequency are the best policies when it comes to maintaining germ and bacteria-free environments. In a recent survey of business owners and upper level managers, 63% of respondents were actively developing a cleaning schedule with several intermittent cleaning sessions per day. In contrast, 34% of respondents plan to clean once daily, while 3% clean on a weekly basis.
What's the best option for you? Much of this depends on foot-traffic volume, number of communal spaces, employee or consumer needs, and accessibility. Consider developing an internal cleaning committee to help assess the best schedule for your building.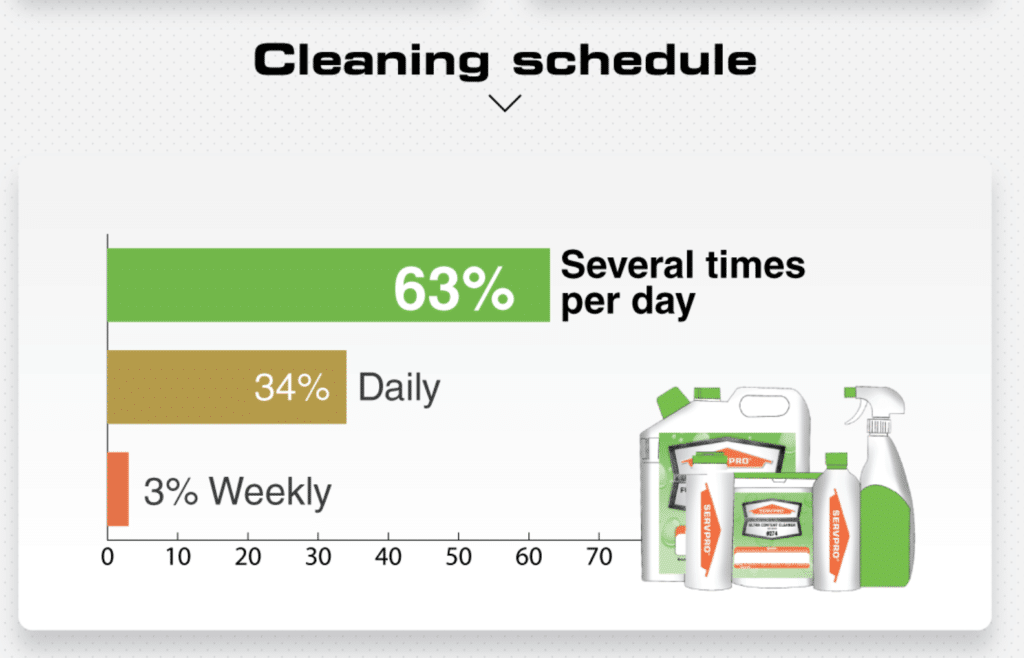 2. Diversify Your Cleaning Services
When we only look at a problem with one perspective, we'll likely find only one answer. This same principle can be easily applied to the way we clean our offices and retail spaces.
If you want to truly upgrade your approach, diversifying your tactics for sanitation can ensure that no space is missed. For starters, consider looking into each of the following:
Certified CDC-Approved Cleaning Company (Commercial Cleaning)
Janitorial Service
Internal Employee Cleaning
If you're unable to implement a rigorous or adequate cleaning schedule with internal resources, consider outsourcing the majority of your efforts to ensure that all cleaning practices are done correctly and often.
3. Provide Sanitation Resources
Empowering visitors and employees to manage their own hygiene practices and contribute to your space's cleanliness can have a big impact on your ability to prevent bacterial spread. Below are four different practices to implement:
Sanitation Station: Provide cleaning resources in high-traffic areas or communal rooms, allowing individuals to clean and sanitize as needed. These stations can include anything from cleaning wipes to hand sanitizer or disinfectant spray.
Replaceable Table Covers: Invest in paper covers for tables that can be removed and replaced after each use.
Personal Cleaning Supplies: Develop sanitation and cleaning kits for individuals within your building, especially those with office or desk space. Remember to label all products accordingly and with any relevant warnings or instructions.
Cleaning Education: Informing clients and employees of your cleaning practices, along with allowing them to participate and get involved in your process, empowers everyone to improve their cleaning routines and contribute to better public health.
Always remember to consider areas of vulnerability within your office as you develop these practices. While an outdoor seating area may not present a lot of risks, a breakroom or lunch space invites multiple opportunities for bacteria to spread.
4. Clear up the Clutter
One of the biggest barriers to effective cleaning practices is disorganized or messy space.  If you truly want to level up your cleaning routine, make sure to take care of the following before you get started:
Get rid of clutter; not only does this make for an easier wipe-down process, but it looks professional.
Organize cords.
Encourage employees or space managers to tidy areas before the end of each day.
Add mats and carpets to both the inside and outside of each exterior door to keep dirt, grime, and potential bacteria out.
While these might feel like simple initiatives, these practices can help make your cleaning routines more efficient, reducing the time spent sanitizing without risking the quality or impact of your efforts.