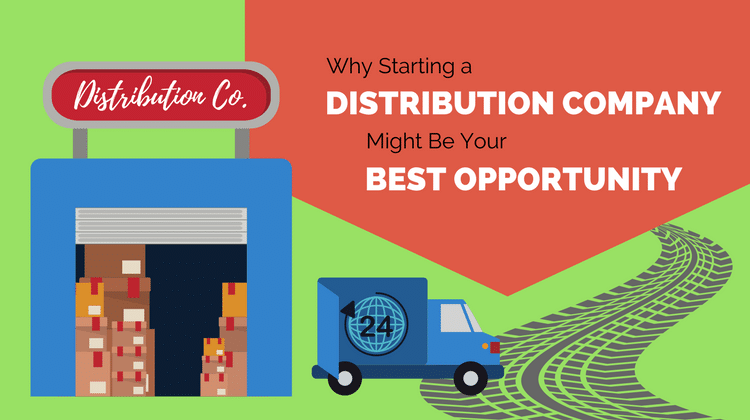 Brought to you by Oberlo:
Many of us think about starting businesses at some point in our lives. The first step that fuels the fire is when we notice a need in the market. We either see something that people need, a pain point that's not been addressed, or an opportunity to compete with other companies. Unfortunately, what we're really doing is limiting ourselves to selling a product or service to the end consumer.
Your first business idea is not always your best one. If you've never thought about where businesses get the products they sell to consumers, then you're not opening yourself up to the full range of opportunities around you! Instead of becoming a retailer or a service provider, there may be better chance for you to succeed as a distributor.
What is a Distributor?
Manufacturers make products and retailers sell products, but most companies don't buy their products directly from the manufacturers. Only large corporations or companies dealing in specialized products (think vehicles or expensive jewelry) are likely to deal directly with the manufacturers. So, where does everyone else get their products that they sell?
A large portion of the market gets their products through distributors. These are companies that act as representatives for manufacturers. Distribution companies seek out companies that want to sell a certain type of product, then they sell them the goods directly from the manufacturers. Essentially, a distributor is there to provide businesses with the type and quality of goods they want to sell.
Why Distribution Instead of Retailing?
It's easier to see opportunities for retail businesses, since we're exposed to the market every day, but distribution may be a better choice for some entrepreneurs. As a retailer, you have to try to appeal to the largest number of consumers or to a specialized niche consumer group. Without a lot of different customers, your company may not be able to grow or sustain itself. Competitors will also be trying to appeal to the same consumers as you, so you'll work harder to differentiate yourself.
As a distributor, you won't necessarily be as concerned about the bulk of companies you supply to, but the quality of the contracts. If you get a contract to supply for a large company, you won't need nearly as many other contracts to keep your business thriving. Even one new contract worth enough money can make a huge difference to your bottom line!
Distributors also have the advantage of being able to more easily build relationships with clients. Both manufacturers and retailers are more likely to stick with a distributor they are familiar with and that they have worked well with in the past, rather than searching for a new distributor. If you develop good relationships with your clients on both ends, your income will be more consistent and you won't have to aggressively market your business to attract new customers.
How Distribution Businesses Make Money
Unlike retailers, distributors cannot tack huge mark-ups onto products. Most distributors sell at wholesale prices that are only slightly higher than the price from the original manufacturer. Prices are usually not standardized for every product and should be negotiated with each new customer depending on the size of the order they're placing.
Selling in bulk is the best way for a distributor to make money. By purchasing products at the lowest possible price and selling them at just a slightly higher price, a distribution company can make their own profits without having to produce their own products.
Many distributors reach out to their existing clients and try to market new products to them when available. The more products you sell to an existing account, the more revenues your company will make without you having to seek out new customers.
Skills a Good Distributor Needs to Have
If you're considering starting up a distribution business, there are a few things your company will need to be successful. Those that want to try it solo at first will also need these qualities and skills to succeed:
Negotiation
If you want to make any money as a distributor, you have to purchase goods at a lower price than the average wholesale value in the market. This will require you to negotiate with manufacturers to get the right rates, so you can turn around and sell those goods at the market rate. You'll also have to negotiate with your customers to convince them to buy from you instead of your competing distributors.
Logistics Management
The main job of a distributor is to find products and deliver them to customers. This means your company will be responsible for collecting the goods from the manufacturer, storing them when necessary, and delivering them on time to customers. If you don't get the logistics right and make the right deliveries on time, you will be replaced by another distributor. This is arguably the most important thing you can do to retain your customers.
Key Accounts Management
This is a skill that will come in handy for retaining and improving your largest accounts. It's something that you can start doing from the beginning. According to the Pareto Principle (also called the 80/20 rule), about 80% of your company's revenue will come from around 20% of your customers. This means you'll want to segment your customers to find your most important accounts ("key accounts") and focus on retaining and expanding them.
Marketing
To get the right customers, you'll need to learn how to market for new retailers and how to approach any potential client leads. Don't expect new clients to come to you, but learn how to seek them out, identify good leads, and market your company and products properly.
Choosing Your Products
Before you can start distributing or looking for customers, you should decide what you want to buy and sell. To give you an idea of the broad choice in front of you, look at the GAF sales. GAF stands for General merchandise, Apparel, and Furniture. This includes almost everything that's bought by consumers minus cars, building materials, and food. It's a lot.
There are a number of large distributors who supply the largest companies, but many small retailers and medium-sized stores don't have consistent access to great distributors. Find a product type or store type and specialize in distributing in that niche.
Some of the best specialties to get into as a start-up are wholesale clothing, clothing accessories, unrelated discount items (bought from closeout sales), home décor, toys, and electronics. These types of items are usually in demand by many companies, they're small enough to store with relative ease, and they are not irrelevant during any season or time of year. The exception would be fashion clothing as fashion trends do tend to change rapidly based on the seasons.
Starting Out – Get Going!
If distribution sounds like a good opportunity to you or you think you have what it takes, you can start out in many industries without a huge investment. Choose a product type that doesn't require an enormous investment, choose a good place for storage, and start looking for your corporate buyers!
In the beginning, the business is going to rely heavily on marketing abilities. But as time goes on, you'll be able to settle into a more comfortable logistics and account management model that gives you decent profits without you having to deal with fickle individual customers.
About the Author
Georgi Todorov is a digital marketer. He recently started his own blog about digital marketing, DigitalNovas. His passion is to help beginners start and grow a successful online business. Hit him up on Linkedin or Twitter @GeorgiTodorovBG anytime.