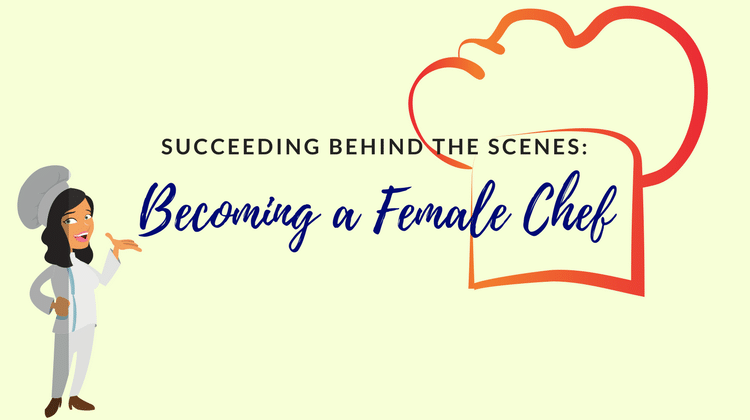 Sponsored by Chef Works:
Now, more than ever, women can become whoever they want to be. Whether it's a stay-at-home-mom, working a physically demanding job, or being the next big CEO, you can strive for anything.
How about a top chef? More and more you'll find influential female chefs running fast-paced, successful restaurants. It may not be easy, but it is doable. With hard work, dedication, and a willingness to learn and lead, you can work your way to the top spot behind the scenes in a restaurant.
Discover What Type of Chef You Are
There's not just one generic type of chef. There are so many paths you can take using your cooking skills. In fact, it can be almost overwhelming. So before anything, decide which path you want to take. Will you bake, specialize in ethnic food, or pursue steaks and high-end dishes?
Narrow down your desires at the start to help keep you focus on the end goal.
Train, Train and Train Some More
To make it anywhere in the kitchen, you'll have to know what you're doing. Formal education is a must if you're to move forward. Find yourself a culinary school that suits you best.
You'll have to prove yourself  in the kitchen when you first start. Having the education behind your name will give you a boost right off the bat.
But don't just stop learning once you've completed your formal schooling. When it comes to the kitchen, you'll never stop learning. Food continues to grow, even when it's on the cutting board. So continue to immerse yourself in ways to keep improving your already sharp skills.
Dress the Part
It's a very old saying, "Dress for the job you want, not the job you have." But it's still true to this day. How often do you see a leader in any field who doesn't look the part? How you present yourself matters — even when you're in the kitchen.
Invest in yourself. Find ladies chef wear that not only fits you but also makes you feel just as impressive as your food. Dress like you'll be the next head chef. It's what you're after anyway.
Gain Experience
Not very often will someone with little to no experience be tossed into a head chef position. Most of the time, those in leadership started at the bottom and worked their way up.
Be prepared to start at an entry-level job, but appreciate all the positions you're given. Use them as a way to gain even more experience so when the day comes that you take the reins, you'll know every aspect of the job.
Starting at the bottom is also a great way to watch how other people work. Pick someone to be your mentor and learn how they got to where they are.
Becoming a chef will be rewarding after the hard work is put in. It may require sacrifices throughout your life, but in the end, you get to see your creative mind come to life. Stay positive and keep your head high as you continue to follow your dreams.