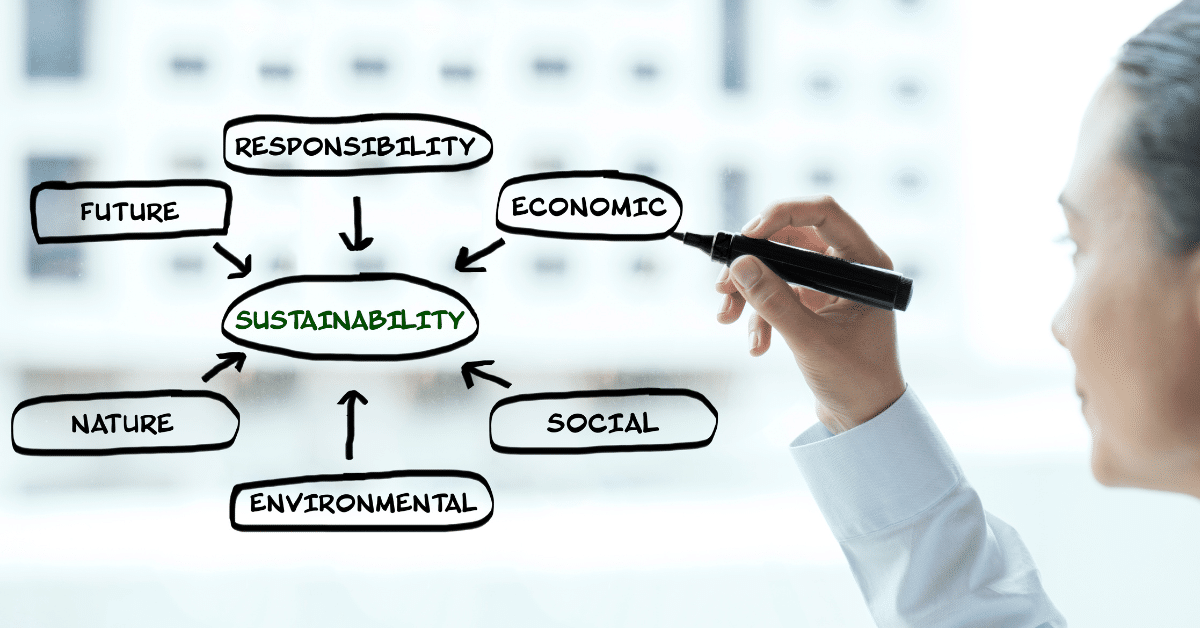 Brought to you by Signet: 
Corporate sustainability has become a hot topic in companies, big and small. Corporate giants like Walmart and McDonald's have stated that sustainability is a top priority moving forward, putting other companies under pressure to commit themselves and follow suit.
Whether you operate in the business world of packaging, the food industry, or mechanics, re-evaluating your company's operations to be kinder to the environment should be at the top of your to-do list.
What is Corporate Sustainability?
Corporate sustainability is not as black and white as it may sound. There is no exact blueprint to follow to know you are on the right path to creating a sustainable company. However, three key elements or pillars have been observed as the main factors on which to focus.
Each is needed to achieve and maintain sustainable goals, although there is some room for alternative interpretations. Ultimately, combining all three in a coherent and balanced way can help any company move towards a greener future.
The Social Pillar
Social sustainability ultimately ties back to a company receiving the approval and support of both its employees and society as a whole. It includes promoting environmental justice, health, resource security, and education, in addition to other elements. Creating an environment that encourages economic and environmental benefits should also be a priority.
Companies need to focus on treating their employees fairly and, respectively, maintaining healthy worker retention and providing employment benefits like maternity leave, education opportunities, and flexible work schedules.
For community engagement, being a good neighbor and contributing member of society is vital – locally and internationally. Therefore, businesses must actively give back to their communities through charity work, fundraisers, investments, and scholarships.
On a global level, companies need to be fully aware and transparent about how their supply chain is being conducted and filled. Ensuring that materials are being sourced ethically, workers are being treated fairly and being compensated correctly, and there is minimal impact to the environment are just some of the processes that need to be accurately observed in social sustainability.
The Economic Pillar
The economic pillar is likely where businesses feel the most comfortable. Of course, to maintain sustainability, there needs to be profit. But that does not mean that profit becomes the leading factor. In fact, focusing solely on profit contradicts what this pillar is about, as it also includes job creation and an environment most suited for cost-benefit analyses.
Research shows that high employment benefits both the economy and people's social well-being, proving that an economy that facilitates companies needing employees and people needing jobs can lead to social sustainability as long as the employment creates security.
This pillar is sometimes called a governance pillar, which describes a board of directors and management sharing the same interests and values as shareholders, consumers, chain suppliers, and the company's internal community.
This can be seen in investors requesting transparent accounting methods, stockholders being allowed to vote on important issues, assurance and proof that a company is not engaging in illegal activities, and no favorable treatment is being achieved through underhanded political contributions.
This pillar is crucial in convincing corporations to adopt sustainable strategies. Moreover, it provides an opportunity to implement extreme measures that some corporate bodies are forced to adopt, like abandoning fossil fuels and other chemical processes in phases instead of instant changes.
The Environmental Pillar
The environmental pillar is often the most talked about in today's world. As a result, many major global companies focus on reducing their carbon footprints, reducing waste, increasing recycling projects, and lessening their overall environmental impact.
Besides helping the planet, many of these changes present massive financial benefits through various governmental schemes, reduced operating costs, and customer loyalty. A recent and well-known example of this was observed through Walmart, which has implemented its zero-waste initiative in its packaging, prompting less packaging in the supply chain and more reused or recycled materials. 
Furthermore, companies will be required to investigate and track their impact on water and air quality, environmental impact, greenhouse gas emissions, and the preservation of natural resources by implementing renewable resources and organic materials.
Unfortunately, one of the biggest challenges with this section is that it is often difficult to fully calculate the impact of a business because only some of the waste produced by a company is its responsibility. In this case, it becomes essential to quantify these external factors to measure progress accurately.
The Impact of Sustainability
The leading question investors and executives of prominent corporations have is whether sustainable business practices benefit a company. And the simple answer is yes.
More than ever, consumers on any level are showing increased loyalty towards businesses that are active in their contribution to a greener future. This directly leads to an increase in revenue and increases their share value and investment opportunities.
In many countries, governments have created financial rewards for sustainable causes and those implementing eco-friendly practices. In addition, there is also noticeable favoritism shown towards employers who treat their workforce in a fair, safe, and respectable manner, further increasing their public image.