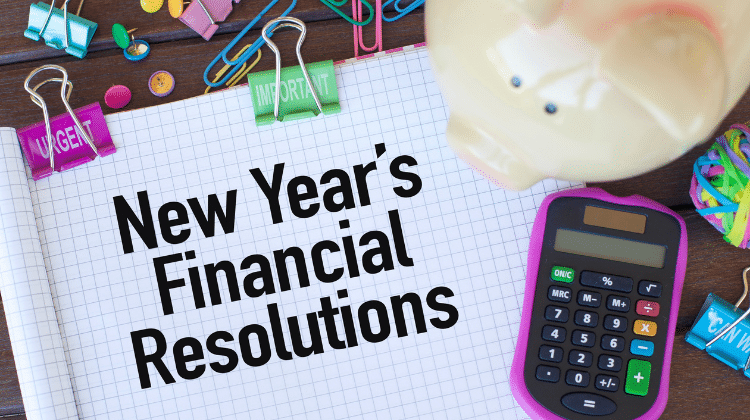 Never mind the New Year's resolution to lose weight. It didn't work last year, and it's considered the world's worst and least kept resolution of all time.
If you're making a list of things you'd like to improve in 2021, other than the fact that you'd like to be able to visit family, friends or be in public without a face covering, consider resolving to change your financial situation. This is something you have complete control over, especially in this day and age when the world is at your fingertips, literally.
Here are the top four financial resolutions to make for 2021 and to set you on the path to wealth:
1. Spend Less on Junk, Save the Money
It's very boring sitting at home during a lock down. Personally, I wouldn't know since I'm either chasing my 1-year old or I'm busy working for clients. But, I've heard it gets boring.
There was your hint by the way, if you're busy, you won't sit and shop online for needless stuff to fill the emotional upheaval of being home during Covid. Really ask yourself if you need that thing you're about to buy. It won't make you happy, but do you know what will? Seeing that money start to accumulate in your investment account.
2. Don't Pay Your Mortgage Down
Rates in Canada are at an all time low. Do yourself a favor and refinance your mortgage at the lowest interest rate you can get and don't pay any lump sums down. Why would you use cash that can be making you 6-8% growth to pay down something that's costing you 2% or less?
Think about that. If you're making 8% on your investments and you put $10,000 down on your mortgage, you just lost not only the growth of $800 but the money now sits in your house where it's no longer liquid.
So, if you want to borrow $10k what will you do? Bring the door of the house into the bank and say, "Hey, I need $10k, here's a door as collateral"? No. As long as interest rates are low, just keep making your principle and interest regular payments.
3. Save 30-40% of Your Income
Can you do it? It takes a tremendous amount of discipline. If you make $100,000/annum, can you take $30k and save it?
If you can do that for 10 years, you would have $500,000 saved. Now, things start to get interesting. Money means opportunities. If you can't save 30-40%, try starting with 5-10% and increase it every year. All of a sudden you will be a millionaire.
4. Start Hustling
Already work full time but can't stand your job? What would you love to do? A client of mine loves doing people's front door urns for all seasons. She just had the business November and December of her career.
She's been working from home with the Covid lockdown and decided she needed something creative to get herself motivated for her regular job. With about eight houses per week (she did it on the weekends and a couple evenings), she made approximately $2,400/week of extra income for about five weeks totaling $12,000.
She advised with me and we decided to use $2,000 for Christmas gifts for the family and put $10k into the TFSA. Now there's a side hustle!
I'm not telling you to keep eating junk and to not exercise. Do those things,but just make those lifestyle changes and not resolutions. I'm telling you to think differently this year. Make a list of what's bugging you the most in terms of your money situation and resolve those items off the list first.