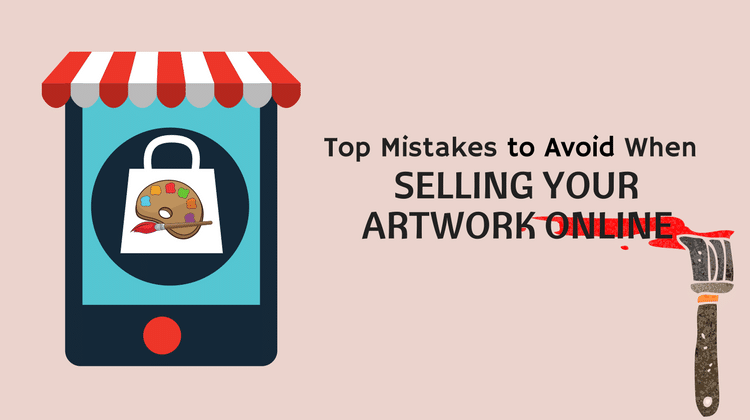 Sponsored by Shopify:
Setting out to open your own ecommerce business where you sell your artwork online can be a wonderful career choice. You have the luxury of owning your own company, being your own boss, setting your hours, and setting the goals of the business. Of course, it would be great to just get it right from the start, but unfortunately, people tend to make mistakes when setting up their businesses.
If you'd like to cut out the pitfalls as much as possible, then you'll want to take a look at these top mistakes to avoid as you set up your ecommerce business.
Don't Think You Can Succeed without Social Media
It doesn't matter if you plan on selling handmade original art pieces, crafts, or clothing, the fact of the matter is that the business landscape has changed over the last few years. Where it used to be that people found it was enough to just construct a website and sell their products there, today that isn't the case at all.
Today it is all about social media. If you don't embrace it and take advantage of it from the start, there's a good chance your ecommerce business won't be able to succeed. In fact, these social media sites can end up being a great place to sell your products.
Think about it. Maybe you are trying to sell artwork. If that's the case why not create your own Facebook page for your business and sell your work through social selling? Social selling is getting bigger and bigger, allowing sellers to reach a more targeted audience.
 There are global art marketplaces as well that allow you to list and sell your art. These are already established marketplaces, which means you won't have to worry about finding customers.
Don't Count on it as Full-Time Work
Another mistake that people make is in thinking that this new venture will be big enough to support them from the start. Instead, it's good to look at it as a side-venture and let it grow. When selling artwork online, look at it as a fun hobby at the beginning, and don't quit your day job until you gain more traction.
As you make more sales and you need to spend more time creating the art, then you can think about scaling back at your full-time job.
Don't Try to be a Techie
Rather than trying to create your own website and getting overwhelmed by the technical aspects, it's a good idea to look at apps that can help you sell your work. There are dedicated apps meant to sell artwork that are extremely user-friendly and filled with all the necessary tools.
Bring Your Creativity to Selling
Because you are clearly a creative person, it's a good idea to bring that creative nature to how you go about selling your art online. You may also want to think about if you plan to sell originals versus reproductions, which will tend to be more important as you grow.
Save