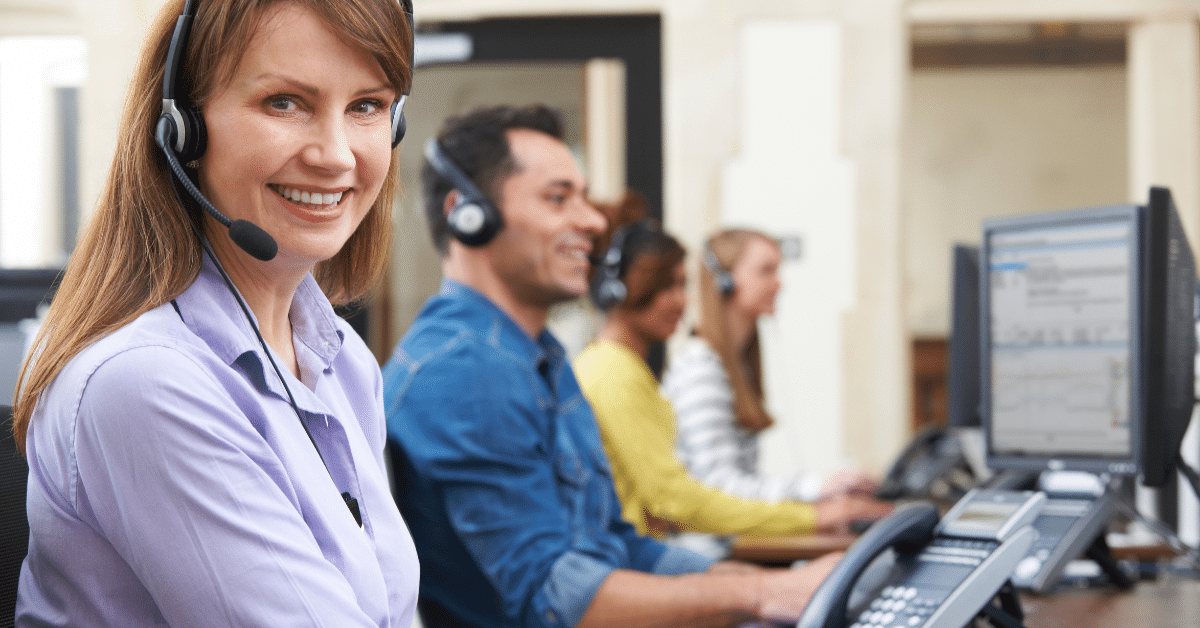 Brought to you by Best Call Center:
Taking calls from potential clients can be difficult when you spend most of your time representing a client in court, questioning witnesses, or gathering evidence. You might believe that if you have a voicemail system to record customer messages, you can quickly come back to them later and secure more business. On the other hand, these figures shed light on some really surprising information:
The vast majority of callers (72%), when connected to an answering machine, just hang up.
When they are unable to reach a live person over the phone, 67% of callers become frustrated and hang up.
75% of those who call in say they are frustrated by the length of time it takes to get through to a real person. This occurs as a result of the use of automated systems, such as phone trees.
The initial seven seconds of a customer's interaction with a company are important in shaping perceptions.
Hiring a professional answering service to handle all of your legal firm's calls in a timely manner will prevent you from losing potential clients. An attorney answering service can help your law company in many ways, regardless of the type of law you practice (personal injury, real estate, family law, estate planning, etc.).
Allows You Complete Freedom of Location
While the answering services are aware that lawyers generally aren't doing much sightseeing as of late, you'll soon be back to your regularly scheduled meetings and long days spent inside courthouses. You'll be grateful you have a legal intake staff behind you if and when those times occur again.
The virtual receptionist takes a call for your company and learns that the caller is a potential new client; they will immediately ask if they may transfer the call to a real person. The attorney answering service will guide the caller through a comprehensive legal intake process in your absence, such as when you're busy representing a client in court. After the call is done, you'll receive a text message and an email with all of the data they gathered about the client and the case.
As a result, you can pursue potential new clients without picking up the phone. A professional attorney answering service will push all new messages directly to your smartphone, so you'll never have to wonder if a new lead needs immediate attention. You won't have to worry about missing any crucial business calls while you're out of the office again. With an answering service, potentially pivotal new clients will never fall through the cracks of a hectic workday again.
Raising the Odds of Establishing a Clientele Base
As a solo attorney or partner in a small law firm, you have an ongoing internal struggle between taking on new clients and staying on top of your existing ones.
You need to keep your business moving forward by seeking new clients, speaking to leads, and spending time with prospects, but you also want to concentrate on your current client files so your time can be billed.
You need to strike a balance between taking care of current customers and reaching out to potential new ones.
You Want to Free up More Time to Focus on Billable Tasks
It's necessary to work on active client cases so you both satisfy your clients and earn money. This may include giving a written plea, preparing an examination, appearing in court, etc.
To cover the costs of running a law practice, you need to generate enough revenue from client bills to turn a profit. Hiring an attorney answering service for lawyers allows you to focus on billable work and respond to leads only once they have been pre-qualified.
You Want to Convert New Clients
In order to increase the number of leads that have a chance of becoming paying customers for your business, it's essential that you respond quickly when you receive a new lead or prospect. There is a risk of losing leads if you do not act quickly enough. Forever!
The lifeblood of every successful law practice is a steady flow of new customers. If you don't devote enough time to following up with leads and prospects, you risk losing business to companies that do.
Can You Bill Leads More Often?
An answering service makes your legal business more accessible to potential clients and gives you more time to focus on billable matters.
Any time a potential customer contacts your legal office, whether by phone, text message, online chat, or email, they can be routed to an attorney answering service who can handle the conversation.
These activities could consume a significant chunk of your day. Talking to potential customers could be a waste of time and will prevent you from getting any work done on your files.
You can profit from the services of an attorney answering service if you don't have an internal operational setup to reply to incoming queries, triage them, and pre-qualify and qualify a prospect with a lawyer.
Grow Client Trust
Before they can answer calls on behalf of actual law firms, members of the answering service team go through extensive training. It's important that they feel completely at ease during the legal intake process and when speaking with legal clients. Those that make it to the reception desk are well-prepared to handle any contingency that may arise during a contact with a law firm.
A skilled receptionist may do wonders for attracting new leads and converting them into paying customers. It's likely that the person who takes legal intake calls will be the first point of contact between your company and a potential client. Callers will have a far better impression of your firm if they are guided through a well-thought-out legal intake process by a person who exudes professionalism and expertise.
The attorney answering service legal intake specialists will answer the initial phone calls from potential new clients, making it considerably simpler to move forward with cases. In the event that your company has previously obtained the prospect's personal and case information, they will be highly prepared.
In addition, the answering service will provide you with details about the prospect's background and reason for calling, so during your follow-up phone conversations, you'll appear much more concerned and invested. Once you've won over the confidence of your new lead, you may return your attention to the business at hand – solving problems.
Respond to Your Leads to Expand Your Business
Just by taking the time to respond to prospective clients who get in touch with your law practice, you'll see an immediate uptick in your business's conversion rates and bottom line.
Making sure all leads are answered might help your legal practice expand.
First Client Contact is Critical
It's critical that the initial client contact with your legal practice goes smoothly.
Hiring an attorney answering service to handle your incoming calls and activities is one solution to the persistent problem of dealing with interruptions, lack of time, and overwhelming amounts of work.
Outsource Your Customer Service
You should use an attorney answering service if you don't have the money or manpower to dedicate a full-time employee to handle your leads' communications.
With a virtual receptionist, your legal practice can give immediate, high-quality customer care to everyone who contacts them. As a result, potential clients may be more impressed with your legal practice and more likely to hire you.
Legal firms can benefit from attorney answering services by increasing their professionalism. Everyone knows that the initial impression is crucial in forming an opinion about a person's reliability.
Impression is Key
Evidence suggests that people form opinions about reliability and professional ability within seconds of meeting someone for the first time. Think of the reputation that your legal company has built up through time as a persona with the power to sway potential clients' trust in you.
Consider Your Prospect's Path to Becoming a Client
Try to put yourself in the shoes of a potential client as they first make contact with your law firm. You've invested much in developing a first-rate law office website, used law firm SEO tactics to achieve high search engine rankings, established solid web credibility, and now clients are calling you. All your hard work will be for naught if you don't answer their calls!
Because of this, potential customers may be lost forever, and your rivals will have a greater opportunity to win them over as paying customers. The goal is to have as many potential customers become paying customers for your law practice.
Improve Your Legal Firm's Image by Addressing All Emails
The likelihood of converting a lead into a paying customer increases dramatically when a live person answers the phone, responds to a chat, or handles incoming communication. As a result of your prompt action, your law firm's credibility will increase, and the prospect will get the message that they can place their trust in you.
Make a Good First Impression on Potential Customers
If a customer calls and you don't pick up or it takes you a long time to get back to them, they may assume you aren't interested in expanding your business or that your current customers aren't all that important. There is no way around the fact that this is perilous ground for you to cross. Your legal firm's reputation and client retention rate will both increase thanks to your decision to use a virtual receptionist service.
More Free Time Will Be Yours
The elimination of the need for you to conduct legal intakes is a major perk of outsourcing this task to professionals. The process of taking in information, while crucial, can be tedious and repetitious. Aside from being a major distraction at work, it can throw off your entire day and prevent you from making any progress toward your billable goals. In a nutshell, it's not the type of task often assigned to lawyers.
Because their minds are constantly racing, lawyers don't make the best receptionists. When you hire an answering service to handle your firm's legal intake, you'll have more time each week to focus on revenue-generating activities. Keeping your lawyers' days from being bogged down with phone answering responsibilities can go a long way toward helping your firm get more done, which is always a top priority of modern law companies.
In addition, lawyers will welcome having some breathing room in their day because they won't have to immediately respond to every phone call that comes in. You won't have to cut your meal or another phone conversation short. If you're a lawyer, you can rest assured that the answering service team is always available to cover your phones and make your life easier.
Conclusion
You may find that it works well for your legal company to hire a virtual receptionist for lawyers and have them handle all of your client communication and service needs. When you do, your calls and emails will be filtered for appropriateness and ensure that they are always answered in a professional manner. As a result, you can focus on closing the deal internally when you've completed preliminary qualifying.
To supplement your one-person or small firm's legal services, think about getting a virtual receptionist. A pay-as-you-go pricing model spares you the up-front expenses of staffing a receptionist or customer care representative and giving them access to an office to do their job.
By using an attorney answering service, legal practices can gain access to skilled staff who are fully educated and equipped to manage inbound leads, all while maintaining tight financial controls and maintaining scalability to accommodate future growth.