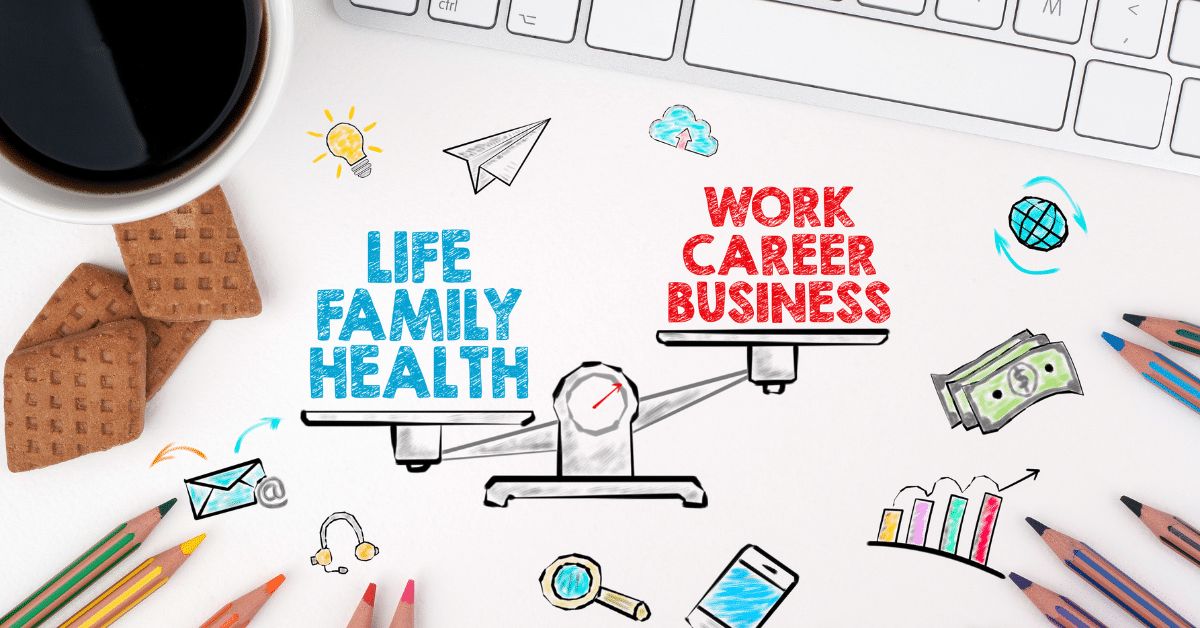 Brought to you by Adobe:
Today, work takes precedence over all other things. People's desires to succeed and thrive professionally can force them to push aside their health and well-being and put work above themselves and their personal lives.
That is why it's essential to have a harmonious work-life balance; to improve people's mental, emotional, and physical well-being while also caring for their careers. This article will define what work-life balance means and discuss some steps and advice to improve it and create harmony between the person's personal and professional life.
What is the Definition of a Work-Life Balance?
An individual's work-life balance is a reflection of how well they can juggle the demands of their employment with the rest of their life. This includes how much time they spend on work-related tasks at home as well as how much time they spend on leisure pursuits.
There is no perfect work-life balance; it depends on a person's job and how they conduct their personal life. However, in general, it's about not favoring one over the other and not allowing one to hinder the development of the other.
Technology and cloud-based software have made it possible to work from anywhere, making the notion of work-life balance a hot topic. There was formerly a distinct divide between one's professional and personal life since taking work home was unusual and sometimes impossible.
Most, if not all, people with a poor work-life balance suffer from stress. Employees always need to do more in less time, causing significant health and economic problems.
A central question in the discussion of work-life balance is who is responsible for ensuring that workers have a healthy work-life balance. Employees who are constantly under stress are more prone to making mistakes and doing less work; hence, it's often felt that employers should be the ones to shoulder this duty.
How to Improve Work-Life Balance
Realizing It Can Never Be Perfect
Very seldom does one manage to strike the perfect balance between a highly busy morning at work and an eagerness to relax with loved ones in the evening.
Instead of making a perfect schedule, try to make a realistic schedule. It's fine to spend some days focusing more on work and some days on yourself, your family, and your hobbies. Balance is something you build over time. To find balance, it's important to be willing to look at your needs and change them on any given day.
Finding an Exciting Job
Even though work is an expectation, a person's job shouldn't hold them back. No one can be happy if they hate what they do for a living. No need to love every part of the job, but it should be interesting enough that the person doesn't dread getting out of bed every morning.
Some career experts say that a person should find something they're so interested in that they would do it for free. And that's why so many people quit their 9-to-5 desk jobs and start their businesses, like street photographers, who take free pictures of people with interesting looks and styles and then post them on social media. That brings in enough money for them never to return to their old, boring desk job.
Moreover, some free online tools can help photographers do amazing edits, gaining even more fame and followers, like the free online photo editor. Jobs like that enable people to choose their work schedules in stress-free and enjoyable ways.
Prioritizing Health
Your priority should be your own mental, emotional, and physical well-being rather than your job. Even if it means leaving work early, make time for therapy sessions if you suffer from depression or anxiety and might benefit from it. People with chronic diseases should never feel guilty about missing work when feeling very unwell. If you overwork yourself, you'll never improve and will always require extra time off.
In most cases, prioritizing health does not consist of extreme or radical activities, and it can be simple, like daily exercise, meditation, or seeing friends.
Conclusion
People should never be afraid to unplug and sometimes cut ties with the outside world in a way that allows them to recover from stress and that gives them space for other thoughts and ideas to emerge. And managers should provide their employees with the space they need to increase their productivity.