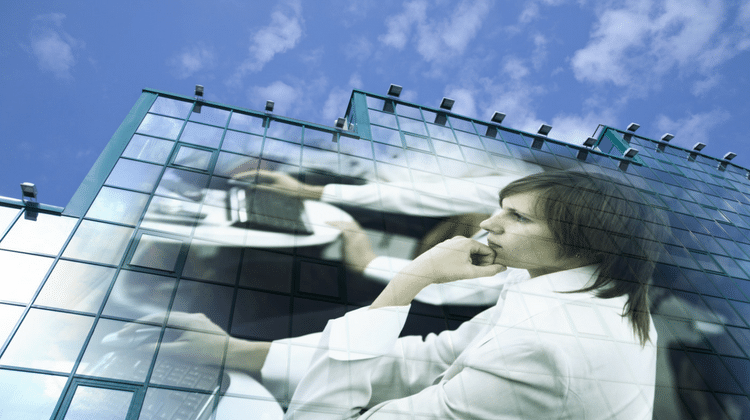 Sponsored by Landmark Sign Company:
No, it's not emblazoned on big, bold office lobby signs for everyone to see, but women in leadership roles — or who aspire toward an elevated position and platform — know exactly what it feels like to crash into the glass ceiling. It's a mixture of shock, awe, humiliation, exasperation, and of course, wholly justified anger at what has been, is now, and always will be a completely unfair and unjustifiable barrier to professional and personal growth.
Fortunately, things are slowly changing; and it's primarily because a growing number of courageous and talented women are demonstrating that it's possible and practical to break through the glass ceiling — without getting cut. Here are three well-used tactics from the playbook:
1. Embrace Ambition
One of the most tragic consequences of systemic discrimination is that it convinces and compels victims to undermine their own potential. Instead of asking, "Why not me?" they ask, "Why should I bother?"
Today's and tomorrow's women leaders need to guard against hitting the self-destruct button by embracing their ambitions, rather than apologizing for them. This country — and frankly, the best things on this planet — exist because visionary people aspired to greatness, instead of settling for someone else's artificially low standards.
2. Be Emotional
For centuries, the fact that women are considered more emotional than men has been used against them. Indeed, even movies and TV shows — especially from the last century — are riddled with examples of confused women worrying about the emotional impact of various decisions, while their (of course male) boss or husband is celebrated for making cold, calculated calls without thinking (or caring, for that matter) about the human factor. Well, that was then: and this now!
Today, emotional intelligence isn't a drawback. It's an advantage that, ironically, smart and self-aware men in leadership positions are striving to cultivate within themselves and across their teams. And this isn't just because it's the right thing to do, but also because building strong relationships, being authentic, and understanding the emotional and intellectual sides of an equation — not just the latter — are good for the bottom-line.
3. Don't Overcompensate
I saved the most challenging advice for last, but it's also the most important. Many outstanding women leaders feel a deep obligation to not just do their jobs well, but to do it far better than the men around them — because they're carrying the weight of other women on their shoulders and don't want to let them down. This quest is noble and women who undertake this burden should be commended. However, it's also not fair to them; and it's often not healthy either.
As Smart Meetings wisely advises: "Having it all is an elusive myth. Instead of striving for perfection in all areas, women should aim for growth in what matters most. This can be personal or professional and will morph over time."
The Bottom Line
As more women break through the glass ceiling — without getting cut — we're inching toward a time when this unjustified, unfair, and counter-productive barrier will be viewed as historical shame and not a contemporary reality. We aren't there yet. But we're getting there, one outstanding woman leader at a time.