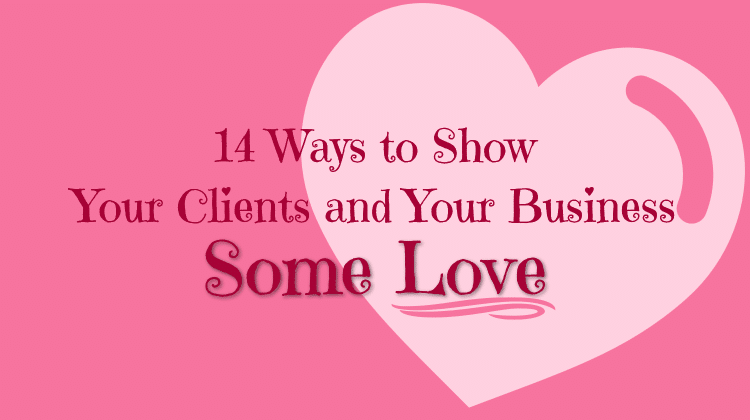 Valentine's Day may be fleeting, but there are still 14 days left in February to shower your clients, and your own business, with some heartfelt acknowledgement and appreciation.
This short 'n' sweet post will get you going in the right direction, internally and externally. Once you start down the list, you'll likely notice a few tactics you can expand upon.

For Your Clients
Host a Lunch and Learn event… Invite attendees to bring a guest for free, and send them off with a coupon for a discounted service.
Recommend a book or white paper… Share your recently read white papers or business titles that you found helpful/insightful.
Pay it forward… Make a donation in your client's name to a cause you feel passionate about (or one you're pretty certain that they feel passionate about). This is a great way to connect clients to nonprofits, and demonstrates your charitable side/community connectivity.
Share the social media love… Throw up a simple Facebook or Google Plus message, tagging your client and spotlighting an accomplishment or service that you value. It's free, takes less than a minute, and is sure to brighten your client's day with a burst of surprise positivity.
Pick up the phone… A spontaneous check-in call to past and current clients to see how they're/business is doing, how their new grand baby is, how their child's college process is going—things you paid attention to while courting, but may have since forgotten about. Remembering and checking in shows that you are thinking about them outside of the current project scope or sales cycle.
Send some sweets… Who doesn't love a good cookie, cupcake or box of chocolate? Just buy enough for the recipient to share with coworkers.
Be vulnerable… Invite honest feedback from your clients/customers. Let them know that you are continually aiming to improve their experience, and that for all the things you do right, there are certain areas where you're hoping to improve. Then sit back and let them lead the conversation.
 For Your Business
Rewrite your About page… Take the spotlight off of you and focus on what you want your customers to gain by doing business with you. The new golden rule is to treat others as they want to be treated: write your About page to energize current clients and to entice prospective clients.
Add new testimonials… Reaching out to past and current customers/clients in a friendly, earnest manner—again putting the focus on them—is a good way to get feedback on what you're doing right, and wrong, and may lead to conversations about current needs and how you can help
Get your taxes done… Early.
Freshen up your Services copy… Businesses evolve; does your website reflect the new skills and services you've added? Are there case studies or samples of work that you can upload directly to your site or to your LinkedIn and SlideShare pages?
Love thy network… Sending a friendly note of appreciation or thanks, or simply acknowledging that you've been reading their social media posts, love the content they're sharing, kudos for an award announcement. chances are they'll remember this and repay in kind at a future date
Update the look of your eNews… Revisit your digital newsletters from the past year, and along with your team, critique the use of white space, the font, the length of posts, the headlines and post titles, the quality of images… Then, compare your findings to those eNewsletters you have received and been impressed with. Where can you improve?
Send a gift card… Gift cards are an easy, not-too-extravagant way to say "thank you" to industry partners who have referred you to new clients, or have done a favor for one of your existing clients. Come to think of it, why not send out a few to your favorite vendors as well. These days, a few extra bucks, even if in plastic form, always comes in handy.
BONUS: Return an ancient email… This may seem silly, but the other day, I wrote back to a young man who's email I missed SIX MONTHS AGO, looking for employment. He was so surprised and pleased, he replied with a very nice note and thanked me for taking the time to acknowledge his email. I still have a few others that I found in SPAM to take care of. I know I am not the only one.
I'd love to hear the different ways that you show your clients, and your business, some love, so please leave a comment. And remember, your clients, and your business, are worth appreciating each and every day, not just on Valentine's Day.