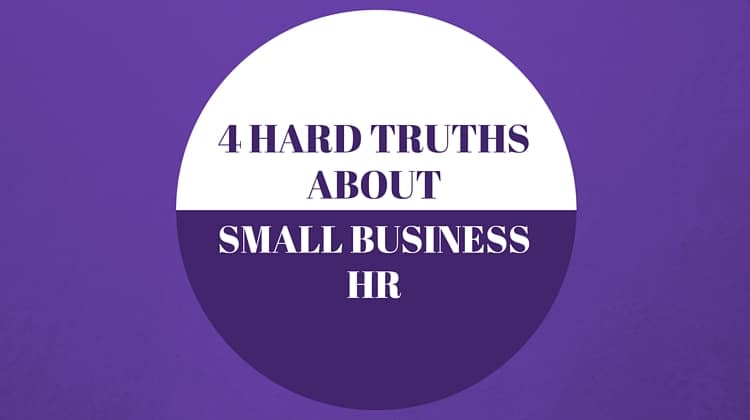 Picture an HR professional walking into a trendy office with a group of very casually dressed millennials. AWKWARD! Welcome to today's small business!
Sure the environment is fun, casual, and comfortable. But what about HR? Can HR really fit in?
Of course HR can fit in — as long as the HR representative can adjust to the new environment. Oh, and get rid of that age old stigma the word "Human Resources" brings.
In order for HR to succeed within a small business, it is important to first realize four hard truths.
1. Management Doesn't Really Want HR
Yup, that's right. Even after hiring an HR professional, management is still skeptical. A traditional Human Resources person with all that knowledge can be more trouble than they bargained for. Until now, the small business owner may have been thinking it's okay to not follow every rule or regulation. Technically, this is dangerous, since claiming ignorance is not a valid excuse if an agency gets involved.
However, HR was hired for good reasons. Maybe the company already had an incident or has gotten too big too fast. Whatever the case for hiring HR, it's still an uneasy relationship at first. It's up to management and HR to work together to form a comfortable and productive relationship.
2. Not Many Understand What HR Really Does
Small business owners and employees may not know all the facets of Human Resources. Some think its new hire paperwork and payroll, while others think its recruiting, payroll, and discipline. Yes, payroll is the go-to thought for many. But what about the rest?
Until an HR presence is introduced into the office, many employees (especially millennials) will not understand the benefits.
3. Formalities are the Devil!
There will be push back in regards to new forms and processes. The new small business is so easy going and casual, how dare we make things formal! An actual performance evaluation in writing? And what? Have employees sign an acknowledgment of policies and procedures?
Yup, even if it protects them in the long run, the thought of extra paperwork and formalities is just not pleasing. The benefits of such things must be explained. Even then, HR may have push back.
4. HR is Believed to Negatively Affect Culture
Culture is everything to a small business! How can rules fit into the culture? This is the tricky part, with an answer slightly different for each business.
Anything regulated must be compliant. We know that. However, there are so many areas not regulated (especially for small businesses). This gives the business room to craft policies and procedures that flow with the culture.
To Sum It Up
HR types have all sorts of stigmas in the small business world. In general, HR is unwanted and feared by many, but it is needed at some point. For this relationship to be successful, HR and management must mesh both worlds in a way that is cohesive to the culture. It is only when both parties are comfortable and employees understand the HR role, that the stigma can be lifted.
About the Author
Dawn Colangelo is the Editor-in-Chief for SMB HR and Founder & CEO of Human Asset Consultants. She has a passion for setting businesses up for success through careful analysis and development of processes, procedures, and strategy. Dawn's greatest strength is her ability to craft sound HR practices into small, but growing companies without having to change company culture.