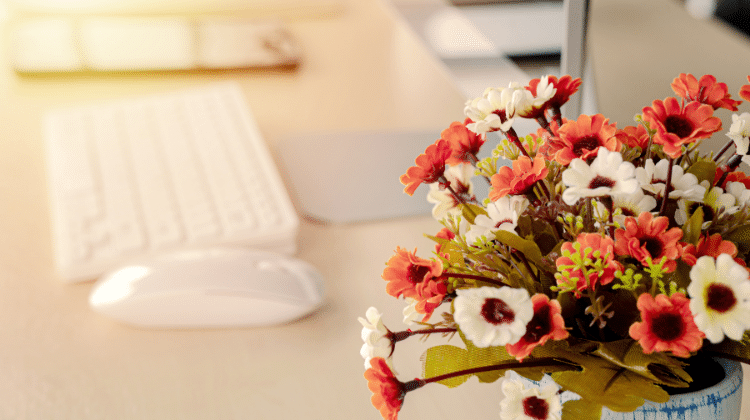 Brought to you by Juniper Flowers:
Female business owners and management leaders have changed the face of the corporate world over the past several decades. Over time, as more women smash through the executive glass ceiling, we are seeing companies proudly and competently owned and operated by women with skill and style.
If you're a woman who owns your own business or is a leader in your company, your style, work ethic, and management skills are always under consideration. Women may be more accepted and successful than in past generations, but many still need to work hard to be taken seriously in their industries.
One of the most visual factors for women who are trying to make their mark in business is the office environment. You may be a woman who likes feminine touches like floral arrangements from Juniper Flowers but is nervous about decorating your office in a way that fails to project your power and seriousness.
Your office space should convey both your natural personality along with your fierceness in your field. Let's take a look at a few office decor tips for female business leaders.
Warm Colors
Creating a professional yet inviting space is less about your color choice and more about the tone that you choose. Whether you go with green or grey, choosing a warm undertone is the priority.
Warm shades of any color create more of a welcoming feel to your office space. Office spaces tend to be industrial and cold, so it's essential to brighten up your office with warm tones.
Natural Light
Many offices use overhead fluorescent lighting, which can be overpowering. If you want to create a warm and inviting office, you should try to take advantage of natural light.
Offices with windows should be left unfiltered to take advantage of the natural light and create the added illusion of space. If your office doesn't have a window, avoid using your overhead lighting. Instead, add some multi-leveled lamps with warm white bulbs.
Comfortable Seating
As a business leader, you want your visitors and colleagues to feel comfortable when they meet you in your office. Hard-backed chairs are both tough for your guests to sit in and convey a message that is too rigid and cold.
You don't have to go overboard with fully stuffed reclining sofas to provide the right comfort. Test out a few executive-style chairs for functionality, style, and comfort for your office.
Feminine Touches
Women business leaders aim to be taken as seriously as their male counterparts, but there is no reason to give up all aspects of your femininity. Although it isn't recommended that you fill your office with flowers and frills, there is a place for some things that will convey your more feminine side. Softer accessories, wall art, and stylish floral arrangements are beautiful additions to any woman's office style.
Women business leaders are under a lot of pressure to make their mark in many male-dominated industries. As a business owner or executive, you should take careful consideration when choosing your office decor. Try some of these tips to help you create an office that will project both your personality and business skills as a woman boss.