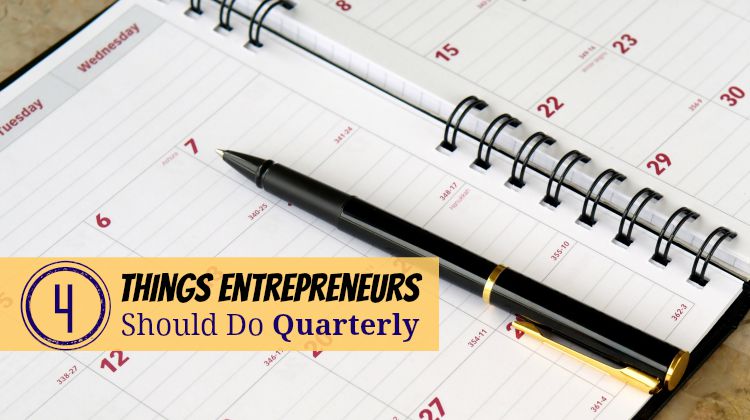 Often, entrepreneurs set business goals at the beginning of the year but forget to re-evaluate things as time goes on. We also forget that pleasing our customers is one of our top priorities because happy customers bring referrals.
Below are four things entrepreneurs should do quarterly to assist with continuous growth and sustainability:
1. Evaluate Old Goals and Create New Ones
Setting goals is extremely important regardless of what type of business you own. Typically, at the beginning of the year, businesses set goals they'd like to meet before the end of the year. Due to not being able to truly predict what will happen within our business through the year, our goals may change based on circumstances. It is a good idea for entrepreneurs to take a look back at the goals they've set to see what needs to be added, subtracted, or adjusted.
When reviewing your goals, use them as a checkpoint to congratulate yourself on what you've accomplished thus far. Entrepreneurs often forget to celebrate themselves—even the smallest accomplishment—and checking off completed goals is a great way to do so.
2. Review Pricing, Products, and Services
Entrepreneurs should invest in their business consistently. The more knowledge you gain and the more investments you make into your business, the pricing, products, and service you offer should reflect that.
For example, if you've invested money to attend five conferences that provided you with the knowledge to do something exceptional for your clients, that needs to be reflected in your pricing. You always want to make sure your business reflects you, and you are getting compensated for what you're worth.
Not only should you evaluate pricing but your products and services as well. Think about how you can add more value to what you already offer to benefit your clients.
3. Events
Events are a great way to keep your following interested and involved. Having events allows you to communicate with your consumers and potential consumers on an intimate level.
Being face to face with clients or even having teleconferences makes clients feel comfortable and confident in you and what you are offering. Being able to interact with your clients adds value to your business.
4. Customer Appreciation
Being personable with current and past clients is what keeps them coming back. Sending a short letter or handwritten card in the mail letting clients know how you appreciate them and how much they contribute to your business makes a major impact on sales.
Emails are great but they do not give off the same message as physical mail. Also, consider sending a special offer along with your letter or card. The special card can consist of a coupon, referral program, etc.
What things do you do on a quarterly or ongoing basis to keep your business growing? Share them in the comments below.