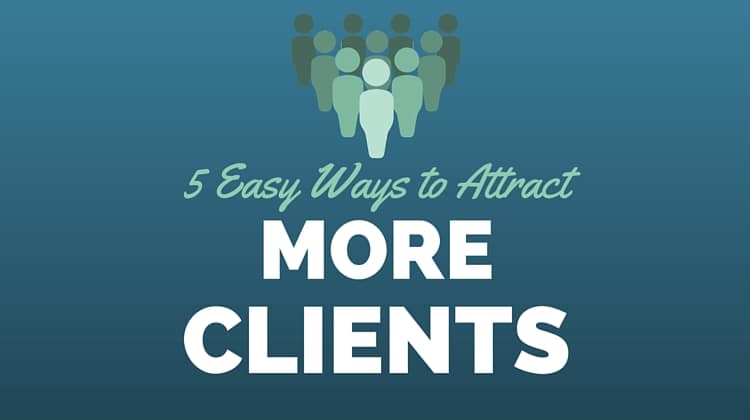 Whatever your business, position, or financial situation, attracting more clients is essential if you're aiming for long-term growth. While business may be booming and your current customer base more loyal than a golden retriever, if you're not allocating some time to work on generating new leads then you're failing to diversify your assets; something any stockbroker will tell you is very risky indeed.
It doesn't require a lot of money or even a lot of time to keep your horizons open. Check out these simple ways to attract more clients for your business that don't involve cold hard selling:
1. Update Your Website
Anyone who's started a startup, is a one-woman band, or juggling extra-curricular activities with their workload is probably guilty of failing to update their website. But in many cases your online presence is your only presence, and you'd better make sure that it's up-to-date. After all, you wouldn't walk down the street in a pair of dungarees with a scrunchy in your hair, so why would you present an image of yourself to future clients that looks like it's stepped out of the late 90s?
While you're at it, why don't you make sure that you test your contact forms, quote forms, shopping cart, and all other places consumers use to reach you. If they're not working, then you may be missing out on business; and there's nothing more off-putting than being met with an error or "under construction" message. It instills about as much confidence in your business as an ice hotel in the Sahara. Also, check for site speed. Customers are impatient. If it takes even several seconds for your website to load, prospects won't wait around.
2. Get Client Testimonials
Whatever you do, from handmade soaps to wedding gifts, life coaching to insurance, if you're doing it well and being told so by your clients, then make sure you ask for a testimonial. Make it as easy for your customers as possible. If you deal in B2B, write the text for your client and send it to them to approve. Not only will you have copy that you want written in decent English, but there's less thinking involved for the customer.
If your business is B2C, create a profile on Trust Pilot and link it to your site. Email your customers immediately after a transaction and let them know that it only takes a couple of minutes to leave feedback and would be greatly appreciated. If you want them to review you on Google (something not immediately obvious, especially for the non-tech-savvy) then create a step by step guide for them on how to do this and place it on a good-looking feedback form (here's a great example), or send it by mail.
3. Implement a Referral Program
You know those recommend a friend emails you're always getting? Have you thought about trying a scheme like this for your own business? Don't waste your time randomly sending out emails to old clients though. Make sure that you run a targeted campaign or automatically send an email after a successful customer experience. Ask for feedback and ask them to refer you to a friend. If you're really lucky or really good, they'll do it for free.
But the chances are, you'll have to work a little harder, so offer them an incentive to do it. $10 off their next purchase or a finder's fee should do it. Try different "hooks" and see which one works best for your company.
4. Register Your Company
There are tons of online sites out there supporting your business. If you're a local company, then register with the local Chamber of Commerce. If you do business internationally, then check out the most important authorities in your industry around the world.
From listing sites, like the yellow pages online, to more targeted ones dedicated to events and gifts, or professional services; make sure you're listed everywhere you need to be. Many of these are free and some may be worth paying for, if you can become an active member and contribute to their site (see below).
5. Start Building Alliances
You may not have a budget for SEO, or you may have an entire department dedicated to it. Whatever the case, make sure that building alliances (and links) is part of your strategy. And not just any old link. Search for industry blogs and sites that complement your business and attract a similar audience.
The best and easiest way to do this is to offer to contribute an article to their blog or latest news section that links back to your site. Be careful to ensure you create content that is of interest to their audience. "How to organize a children's party on a budget" for example, will be far more appealing than "My Company offers the best children's parties".
Another way of doing this is by offering a logo and link swap on your site, offering related to services to their clients for a finder's fee, or your own services to their company with a discount. For more about link building, check out authorities in this area, or consult with your SEO agency. It doesn't have to absorb all your time. Start slowly. Aim for one a month. Not only will you get your name out there and associated with some good sites, but you'll generate more traffic to your site and increase your ranking in Google.
Try to build at least some of these practices into your weekly schedule and they will be easier to break down and implement. Not only will you create a better brand image, but you'll be making yourself gradually more appealing to new customers at the same time.