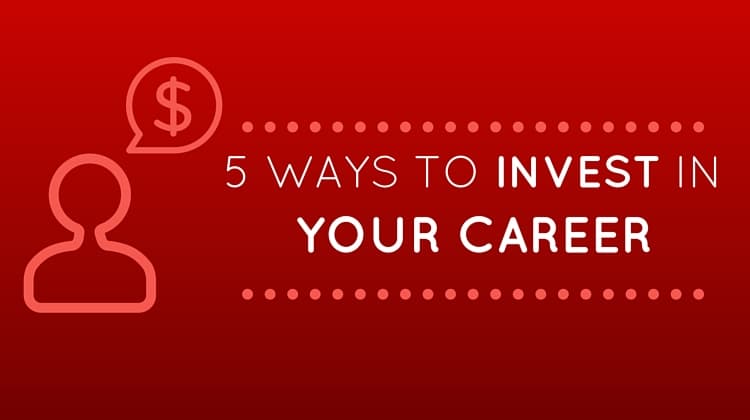 Do you invest in your career? Most of us have career goals but not as many of us are investing enough in ourselves so we can reach those goals. Often, the trouble is that we don't know what steps to take to start investing in ourselves.
The first step to invest in your career is analyzing your current situation. When was the last time you learned something new that supports your career goals? What skills and knowledge do you need to gain in order to achieve those goals?
Once you've identified what you need to learn in order to take the next step in your career, you have to figure out how you're going to learn it. Fortunately, there are so many ways to educate yourself these days.
Gone are the days when a high-priced college degree was the only option. For many of us, going back to school isn't in the budget. And even fewer of us actually have time to go back to school. Don't worry. All hope isn't lost.
There are ways to fit self-learning into your schedule (check out the visualization at the end of this article for tips), and there are ways to learn without going into massive debt. Most importantly, you have to prioritize your own education. Once you're ready to commit to learning, it's time to find ways to do it. Here are five options to get you started:
1. Massive Open Online Courses (MOOCs)
MOOCs are free online classes offered by a wide variety of providers, including Harvard University, Stanford University, and many more colleges from around the world. You can gain college credits, continuing education units (CEUs), and increase your skill sets to improve your resume and land your next job.
2. Traditional College
Of course, you can still go the traditional college route if you have the funds or your company will pay for it. Keep in mind, most schools offer great online programs, so you can fit traditional college learning into your schedule even with kids and a full time job.
3. Competency-Based College
There are a number of regionally accredited colleges that offer competency-based undergraduate and graduate degrees and certificates in a variety of subjects. Western Governors University and Capella University are two very popular schools that enable you to earn a valuable education at a fraction of the cost (and much faster) than traditional college programs provide.
4. Online Training and Education
There are so many websites that offer online training and education on just about any subject you can think of. From large providers to individual experts, you can find somewhere online to learn a new skill or topic either for free or at an affordable price.
5. Specialized Certifications
For some careers, you should get specialized certifications if you want to get promoted or pursue a new type of job. For example, computer programming, web development, application development, Six Sigma, and project management all have a variety of certifications you can get to increase your chances of reaching your career goals.
There are even companies that have created certification programs based on their own tools like Google Analytics Certification, Google AdWords Certification, HubSpot's Inbound Marketing Certification, and HootSuite's Social Media Marketing Certification. Use discretion when pursuing these types of training options. Remember, these are certifications created by companies to support use and sales of their tools. Make sure your career objectives require you to be well-educated on a specific tool before you invest in this type of certification program.
How do you invest in your career? Leave a comment below and share your tips.