I'm excited to announce that Allison Conway has joined the team of contributing writers at Women On Business. Allison has a diverse background and will bring fresh insights to the Women On Business community!
Watch for Allison's article coming soon, and in the meantime, you can learn more about her in her bio below.
About Allison Conway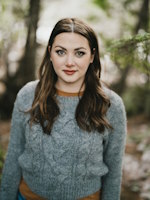 Allison Conway is the founder and Creative Director of Sealevel Agency®, a brand management and marketing strategy firm helping clients in traditionally "boring" industries create bold, fun, human brands.
Allison has been to over 40 countries, has walked the Camino de Santiago, wrote the bestselling book, "Friendshit", and briefly worked as the bookkeeper and office manager for a float plane operation in Alaska.
Allison believes business is simple in its purest form: a human has a thing and another human needs the thing. Branding and marketing is the act of getting to know each other through sharing our stories.
You can connect with Amy on LinkedIn.