Please join me in welcoming Anne Clarke to the Women on Business writing team.  You can learn more about Anne below.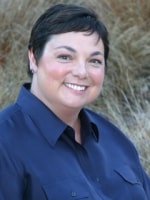 Anne Clarke is the founder and principal of ABClarke Coaching. A personal and executive coach and motivational speaker, Anne offers coaching clients and speaking audiences alike a fresh, informed perspective and dynamic, effective, presentations directed at supporting the ongoing change and growth that 21st century life demands. As Anne puts it "[my] job is to support my clients in achieving success however they define it."
Prior to opening her coaching practice Anne, a native New Yorker, came to California's San Francisco Bay Area as an attorney in the litigation department of a large local law firm. Anne's experience as a woman breaking into a traditionally male profession still informs her coaching.
In the decade after her three children were born Anne experimented with what she describes as "every possible combination of lawyering and parenting." In part because of these experiences Anne's areas of special interest include navigating personal transitions, work/life balance, women and work, goal setting, time management, communications, and professional skills for career advancement, among others.
Anne sees coaching as a natural evolution from lawyering.  She is still focused on supporting others in working out difficult situations, solving problems, and trying new approaches. But instead of offering clients advice for dealing with issues through the legal process Anne work as a partner with them in addressing challenges through the coaching process.
As a complement to her coaching and speaking practice Anne operates the website www.setting-and-achieving-goals.com to provide resources, information and support to people interested in learning about and applying this powerful tool to their own experience. For more information on Anne's services visit her website, send her an e-mail or follow her on twitter.