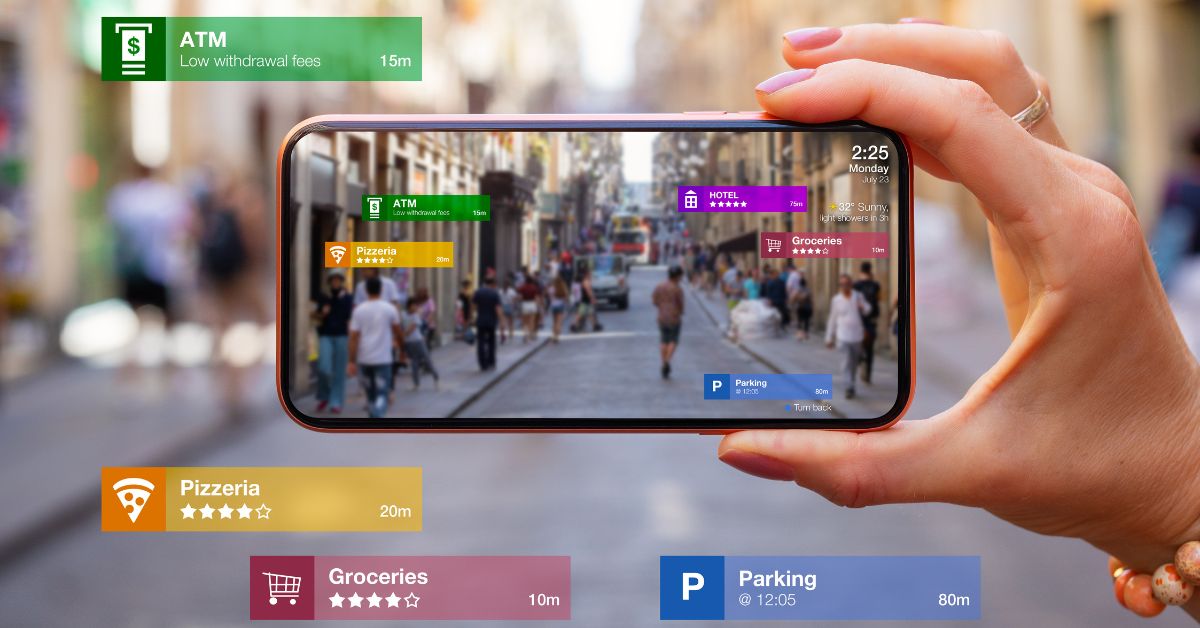 The world of art has always been an arena for creativity and innovation, with artists constantly seeking new mediums and techniques to express their vision. In recent years, augmented reality (AR) has emerged as a disruptive force, blurring the boundaries between the physical and digital worlds.
But the question remains: Is AR just another fleeting gimmick, or does it hold the potential to make a lasting impact on the artistic community, artists' careers, and the art industry as a whole?
This article delves into the various ways augmented reality is shaping the future of art, shedding light on its potential, challenges, and the transformative experiences it offers to both artists and art enthusiasts.
Interactive Art Installations
Augmented reality opens up exciting possibilities for interactive art installations. Artists can create immersive experiences where viewers can engage with the artwork through their mobile devices, triggering virtual elements and revealing hidden layers of meaning.
AR allows artists to transcend traditional static artworks and invite viewers to actively participate in the creation and interpretation of the piece. This interactive nature not only enhances the viewer's experience but also encourages a deeper connection and engagement with the artwork.
Digital Preservation and Accessibility
AR technology provides a means to digitally preserve artworks, especially those that are ephemeral or subject to decay. By creating AR replicas or digital representations, art can be accessible to a wider audience beyond the physical limitations of museums and galleries.
Augmented reality enables people from different parts of the world to experience and appreciate artworks without the need for physical proximity. This democratization of art fosters cultural exchange, broadens artistic appreciation, and preserves artistic legacies for future generations.
Enhanced Exhibition Experiences
Augmented reality has the potential to revolutionize the way art exhibitions are curated and experienced. By incorporating AR elements, exhibitions can become more immersive, educational, and interactive.
Visitors can use their smartphones or AR-enabled devices to access additional information about the artwork, listen to artist commentaries, or view virtual reconstructions of the artistic process.
AR technology empowers curators to provide a richer context and deeper insights into the artworks, elevating the overall exhibition experience for visitors.
Fusion of Physical and Digital Art
Augmented reality blurs the distinction between physical and digital art forms, giving rise to a new genre that merges the two seamlessly. Artists can create mixed-media artworks where physical components are augmented by virtual elements, creating a dynamic and multi-dimensional experience.
This fusion opens up a world of possibilities, allowing artists to explore new creative avenues and challenge traditional artistic boundaries. By combining traditional art techniques with digital interventions, artists can push the boundaries of expression and create captivating, thought-provoking artworks.
Collaborative Art Creation
AR technology facilitates collaborative art creation, enabling artists to work together in real-time, regardless of their physical location. Through shared virtual spaces, artists can collaborate on projects, exchange ideas, and contribute their unique perspectives.
This collaborative aspect of AR fosters a sense of community and encourages cross-disciplinary collaborations, pushing the boundaries of what is possible in the art world. The ability to work together seamlessly in a virtual environment expands creative possibilities and encourages artistic experimentation.
Engaging Art Education
Augmented reality has the potential to transform art education by providing engaging and interactive learning experiences. Students can explore art history through virtual museum tours, study techniques through step-by-step visualizations, and even create their own augmented artworks.
AR technology offers a hands-on approach to learning, enabling students to experiment, express themselves, and gain a deeper understanding of artistic concepts. By combining traditional art education with augmented reality, educators can inspire creativity and nurture the next generation of artists.
Augmented Reality for Art Sales and Marketing
Augmented reality has also found its way into the art market, transforming the way artworks are marketed and sold. Online platforms and galleries can leverage AR to provide potential buyers with a realistic visualization of how an artwork would look in their own space.
By using AR apps, customers can virtually place an artwork on their walls, allowing them to assess its size, color, and overall aesthetic appeal before making a purchase. This immersive experience helps bridge the gap between the online and offline art buying experience, boosting customer confidence and increasing sales.
Augmented Reality for Artistic Exploration and Experimentation
For artists, augmented reality serves as a powerful tool for exploration and experimentation. It allows them to test new ideas, concepts, and artistic techniques in a virtual space, eliminating the need for physical resources or materials.
Artists can use AR applications to simulate different artistic styles, experiment with color palettes, or even create virtual sculptures. This digital playground encourages artistic innovation, enabling artists to push their creative boundaries and discover new artistic possibilities.
AR as a Medium for Social Commentary
Art has always been a medium for social commentary and reflection. With augmented reality, artists can amplify their voices and address pressing social issues in unique ways. By overlaying virtual elements onto physical spaces, artists can create immersive and interactive experiences that provoke thought, raise awareness, and spark conversations.
Augmented reality allows for the exploration of complex narratives, challenging societal norms, and engaging viewers in a more participatory manner. This intersection of art and technology opens up new avenues for social change and artistic expression.
AR in Art Therapy and Healing
Augmented reality has also found applications in art therapy and healing practices. By combining art-making and virtual experiences, therapists can create safe and immersive environments for individuals to explore their emotions and traumas.
AR-based art therapy can provide a non-threatening space for self-expression, allowing participants to externalize their internal experiences and find healing through the creative process.
The interactive and customizable nature of augmented reality enhances the therapeutic potential of art, offering new ways to support mental health and well-being.
Ethical Considerations in Augmented Reality Art
As augmented reality becomes more prevalent in the art world, ethical considerations arise. Artists and creators must navigate issues such as ownership, copyright infringement, and privacy concerns when integrating virtual elements into physical spaces.
Additionally, questions of accessibility and inclusivity arise, as not all individuals may have access to the necessary technology or be able to engage with AR experiences.
It's important for artists, technologists, and policymakers to address these ethical considerations and ensure that augmented reality art remains inclusive, respectful, and mindful of the diverse audience it seeks to engage.
Conclusion
As we explore the evolving landscape of augmented reality in the art world, its impact on artists, audiences, art sales, therapy, and social commentary becomes increasingly evident. Augmented reality has the potential to reshape artistic practices, democratize art, and engage viewers in new and exciting ways.
While challenges and ethical considerations persist, the integration of augmented reality in art presents a thrilling frontier for artistic exploration and expression. As artists continue to push the boundaries of creativity and technology, we can expect augmented reality to play an ever-growing role in shaping the future of art.
About the Author
Christi Tk is the co-founder of Hyper Origin, an augmented reality tech company driven by a vision to transform the world into a more immersive and dynamic place. Hyper Origin strives to add hyper-immersive layers to our reality.